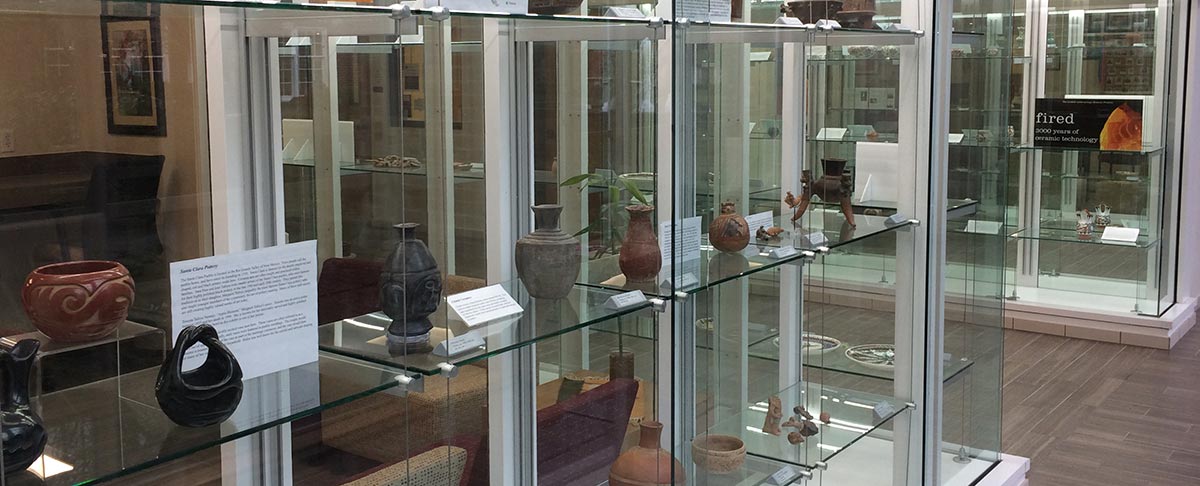 Linfield Anthropology Museum
About the Museum
The Linfield Anthropology Museum (LAM) collects, preserves and exhibits objects of ethnographic and cultural importance. These provide Linfield students with opportunities for training and practice within the field of museum work; to educate and engage the Linfield community and the general public through student-prepared exhibits; and facilitate an understanding of world cultures.
LAM cases are showcased throughout the first floor of Walker Hall. The exhibits change twice a year and include some created jointly between courses and individual student-curated exhibits. Recent exhibits have looked at material manifestations of love and hate, the history of the museum itself, as well as "What have you seen?" about folk beliefs about the supernatural.
About the Collections
Linfield Anthropology Museum has items of historic and cultural significance from a variety of world regions and time periods. Most of the objects in the collections have been donated by alumni, faculty, staff and members of the community. The museum was officially established in 1987 but includes many objects that have been at Linfield since the early 20th century.
Time Periods/Regions Represented
Ancient Mediterranean/Rome, Greece, Anatolia
Pre-Inca and Inca/Andean
Classic Maya/Central America
19th and Early 20th Century/Cameroon
19th and Early 20th Century/ Turkey
Historic period/Europe, Nepal, India, Japan and Korea
Prehistoric/North and South America
Historic/Northwest Coast, North American Plains, American Southwest
Contact the museum
Hours: Monday - Friday, 8 a.m. - 5 p.m.
Style: Self-guided
Admission: Free
Leslie Walker
Instructional Associate and Coordinator of the Anthropology Museum
Walker Hall
503-883-2504
lewalker@linfield.edu