What is The Alumni Scholarship Fund?
The Alumni Scholarship Fund, established in 1988-89 by the Linfield Alumni Association, is awarded to students who are children, grandchildren or siblings of Linfield alumni, who meet the minimum GPA of 3.25, and who demonstrate involvement in school and/or community activities. Scholarship recipients will be selected by the Alumni Scholarship Committee in February for the next academic year.
Award amounts can vary. For the 2020-21 academic year, scholarship awards were $6,000 (to be divided over four years).
Interested in applying?
Apply online and be sure to include your uploaded resume and short essay. Applications are due on February 1 the year before official enrollment (matriculation) at Linfield.
Who is eligible?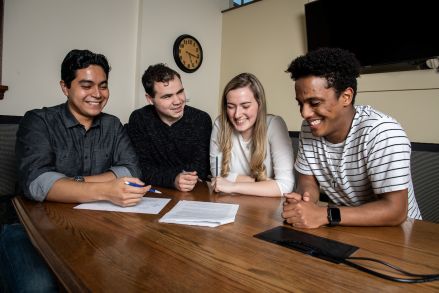 Applicant must:
Confirm that he/she is the child, grandchild or sibling of a Linfield alumnus/a by submitting the name, class year, current address, phone number and email address of the alumni relation
Be an entering freshman or transfer student
Demonstrate academic success by having a GPA of 3.25 or above.
Submit an essay of between 300 and 500 words addressing the topic:

"Describe a problem you've solved or a problem you'd like to solve. It can be an intellectual challenge, a research query, an ethical dilemma – anything that is of personal importance, no matter the scale. Explain its significance to you and what steps you took or could be taken to identify a solution."

Supply a resume listing any job experience, community service, school activities and other accomplishments.
Plan to enroll full-time in the fall semester. (Distribution of the award depends on confirmed full-time enrollment of 12 units or more.) 
Preference is given to those with financial need; have a FAFSA® form on file with the Financial Aid Office.

The award process
Once applications are submitted, applicant information will be verified, including the applicant's alumni relation, financial need and cumulative GPA. The applications will be evaluated by the Alumni Association's Scholarship Committee.
The application process requires the application form, an essay and a resume. View a sample resume. Applications are due February 1 the year before the student officially enrolls at Linfield.
Questions?
If you have any questions about applying to this scholarship or even making a donation, please contact the Office of Alumni Engagement. We look forward to connecting with you!