We are currently working on new events to share with our alumni community. Check back soon!
Did you miss a recent virtual event?
Meet the Deans
Get to know our inaugural dean of the School of Business, Jennifer R. Madden, and the inaugural dean of the College of Arts and Sciences, Joe Wilferth, joined by our ongoing dean of the School of Nursing, Kim Jones. Witness this new and dynamic leadership team in action, learn a bit about them and hear updates on the direction of Linfield University.
Watch the recording
Teaching Today: Supporting K-12 Parents during distance learning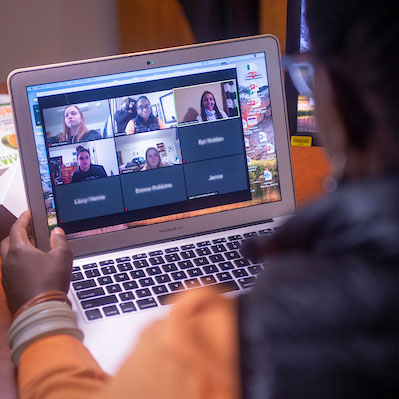 Are you among the many parents who have become at-home educators? Join Linfield's Department of Education as current Linfield students and faculty facilitate a conversation with K-12 educators around supporting parents during Comprehensive Distance Learning (CDL).
Watch the recording
Pizza & Politics: The future of American Democracy

Linfield's political science faculty analyzes and explores the implications of the recent attack on the Capitol, the inauguration of President Biden and the future and health of American Democracy. Our faculty share different perspectives of the fields of political science and international relations. (January 2021 event)
Watch the recording
Pubs & Profs: Election 2020 – What happened and what's next?

Linfield's political science faculty Nick Buccola, Patrick Cottrell, Dimitri Kelly and Dawn Nowacki discuss the 2020 election and what it might mean for the future of the U.S. and global politics. (December 2020 event)
Watch the recording
Pubs & Profs: Eric Shuck discusses economic warfare in WWII

Following the release of "Greyhound," starring Tom Hanks, Eric Schuck, professor of economics, presents the story of a U.S. Navy Commander leading a convoy of merchant ships across the Atlantic at the height of the U-Boat menace in 1942. (August 2020 virtual event)
Watch the recording
Questions?
For more information on Pubs & Profs and other Linfield alumni events, contact our Office of Constituent Engagement.