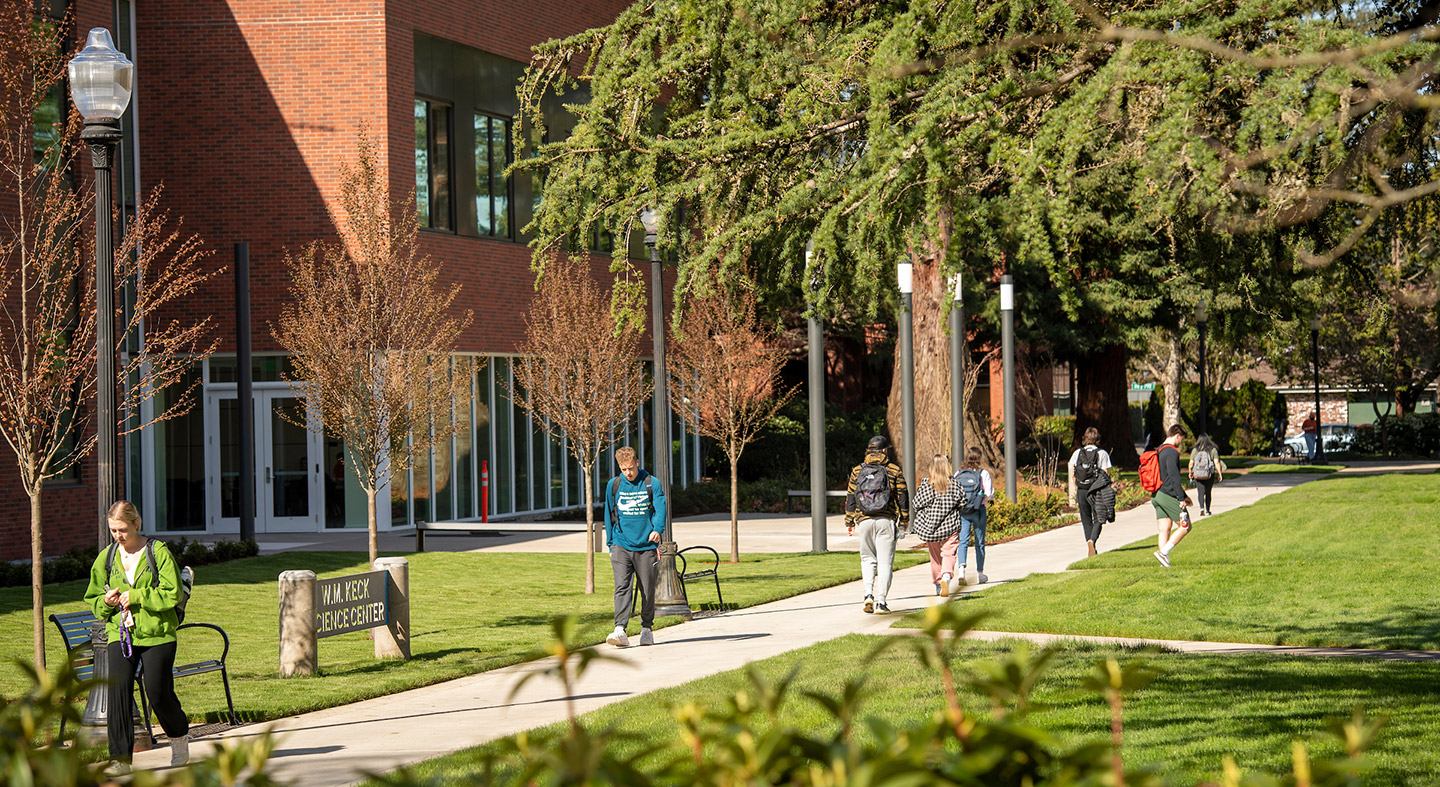 Linfield Pikes Walk a Mile in Her Shoes
There are plenty of ways to get involved at Linfield University. Whether it's through sports, joining a club, volunteering or even joining fraternity and sorority life (FSL). Sometimes joining one entity encourages students to join more or host collaborative events across multiple areas of interest.
Every April, the Pi Kappa Alpha (Pike) Fraternity seeks to do just that. 
Walk a Mile in Her Shoes is an annual fundraising event run by the fraternity.
They partner with the Henderson House located in McMinnville, a couple blocks from campus. The Henderson House is a shelter for survivors of domestic and sexual abuse. They provide shelter and prevention education, among other advocacy services. 
The first Walk a Mile began in 2014 and has been continuously successful as Pike's annual fundraiser. This year, the ninth annual walk was held on Saturday, April 15.
"It's a really fun event and it's kind of amazing to see how the community responds to it," said Charlie Owens '25, president of Pike. "We have a lot of support, not just from students, but from faculty and people in the McMinnville community as well."
Members of Pike each set up a CrowdChange account, a platform specifically used for fundraising events. Each brother will have their own link which will be sent out to friends and family to collect donations.
All donations will be gifted directly to the Henderson House. And this year a physical booth was set up for in-person donations as well.
The walk takes place around the academic quad of the McMinnville campus.
"At the start when the representatives of the Henderson House come to talk and share about the work they do, it's really moving and it's really powerful," Charlie said. "A lot of the brothers walk away with a new sense of perspective before they are literally walking in their shoes."
Following the brief introduction about the event and the importance of donations, the brothers slip into shoes a bit more uncomfortable than their own and proceed to lap the academic quad. Charlie claimed it takes about five laps to reach the mile mark. For safety reasons, there's no time requirement for brothers to complete their mile. 
"I think it's inspiring to see students dedicate their time and energy to supporting survivors," said Rachel Flores Juarez, the development director of Henderson House.
"It's a cause that impacts virtually everyone, and it's exciting to see our Linfield students, who are a big part of our community, champion our work."
According to last year's CrowdChange, Pike raised $3,035, which set the benchmark for this year's goal. Saturday's walk has already totaled around $2,000 and Pike members' CrowdChange accounts will stay open for another week to collect more donations. Over the years, Pike has raised $44,459 to support Henderson House, proving the popularity and success rate of the event.
"I don't even think I could pick a favorite part if I'm being honest," Charlie said. "We're wearing these tall heels and we're trying to make a difference."