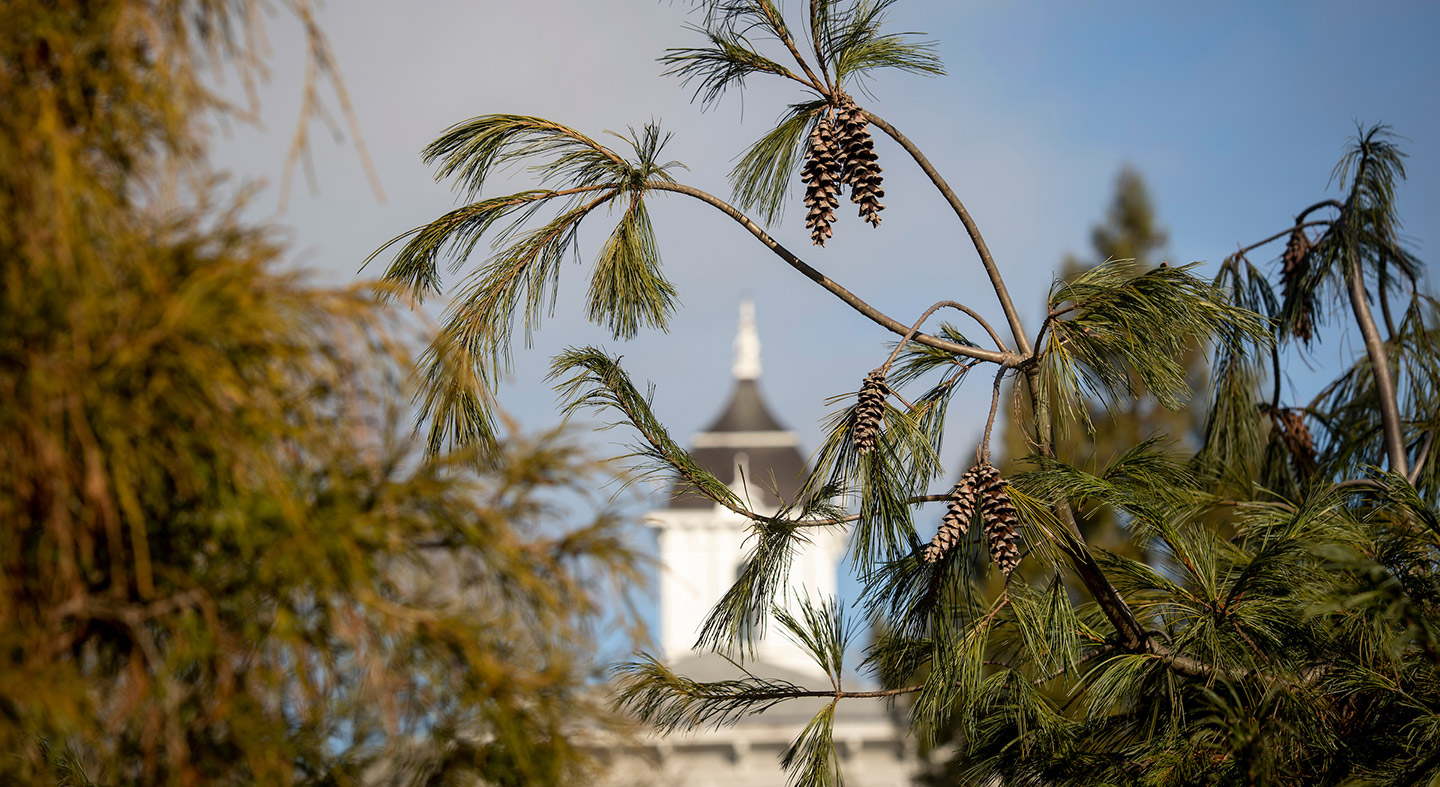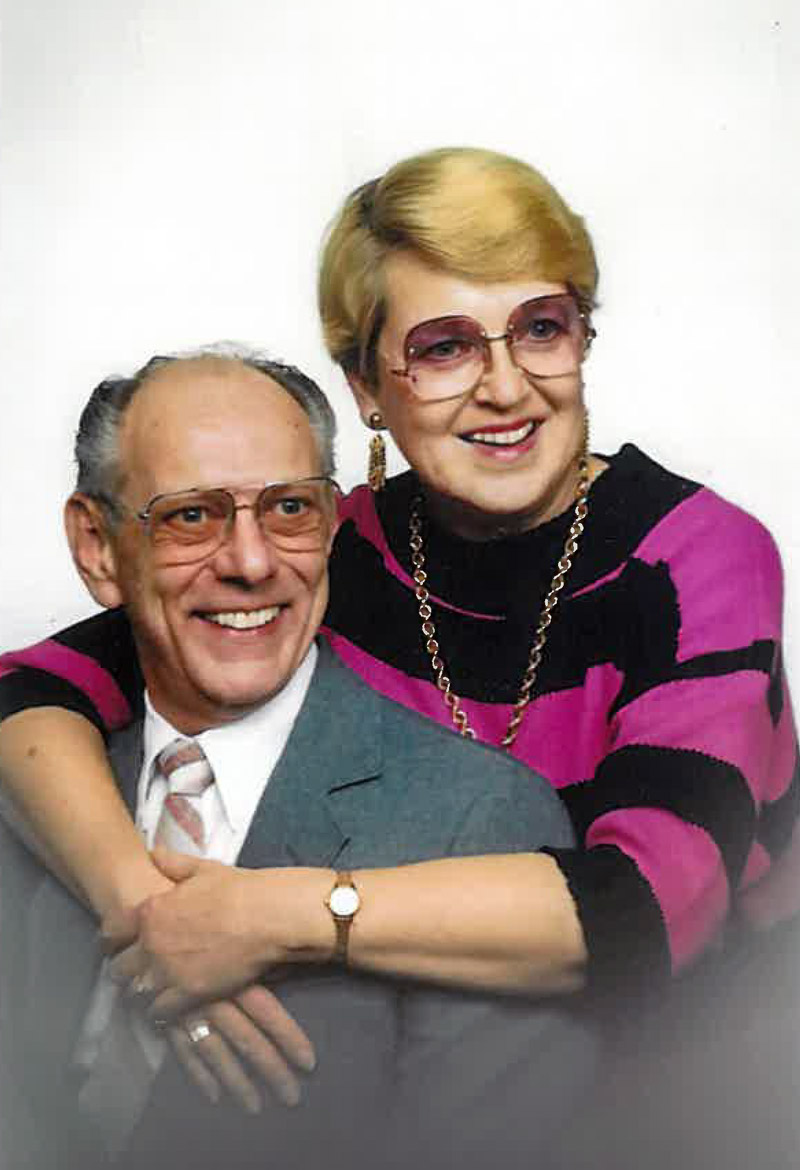 February is known as the month of love. We recently asked our alumni to share their stories of finding love at Linfield and the response was overwhelming! Here are a few stories of Linfield love connections throughout the decades.
Al Van Cleave '53 and Carol Ann Buebke Van Cleave '55
We met at Pop's Shop sharing a piece of cherry pie and coffee in the fall of 1951. It became our routine after 7:50 a.m. classes. We were married on my birthday, June 15, 1952, at First Methodist Church in Portland.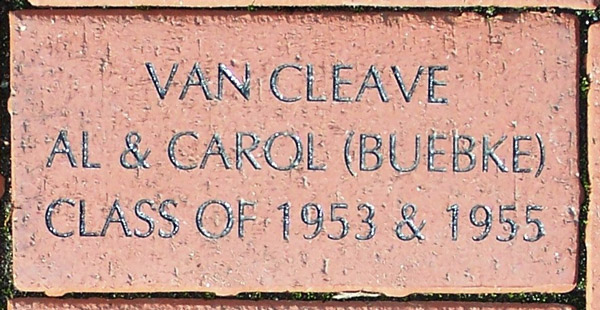 Six years after I received my degree in business at Linfield, my employer transferred me to their Chicago office and we moved there with family in 1959. I was subsequently transferred to Minneapolis in 1970 and retired there in 1993.
Carol [also a business major] and I were married for 58 years before her passing in 2010. She was my only love and I miss her bright smile every day, and I can never forget courting her while she willingly typed my business law case analyses under the Old Oak in front of Pioneer Hall.
Linfield was a part of our lives all during our marriage. There is one brick in back of Riley Hall imprinted with our names forever uniting us with loving memories at Linfield.
Brenna Gomez (Stinson) 2016 and Trevor Gomez 2014
I first saw Trevor running 300/100 sprints for the Linfield Track & Field team. He was a junior and I was a freshman. Trevor was late to join the track team and as a result a little behind in his workouts, which caught my eye.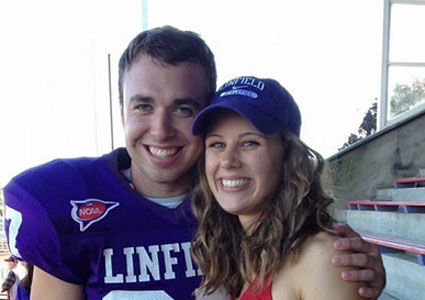 It took a while to work up the courage to ask him to hang out, and even when we did, it was a group date. He had no idea I was interested.
Trevor was unlike any guy I had ever met. He had very strong convictions and a tenacious work ethic. Sparks flew and a few dates later, he officially asked me to be his girlfriend over a sandwich from Sandwich Express.
Throughout the rest of his time at Linfield majoring in finance, we dated. In November 2014, Trevor took me on a visit to the Oregon Zoo. He arranged for a private tour to feed the giraffes. Unbeknownst to me, he slipped a ring into the handful of food. I was so surprised I thought it was fake. Seven years later, we are still happily married Wildcats!
Cheers to my Bachelor of Science degree in chemistry and becoming a Mrs., both from Linfield!
Richard A. Hughes '75 and Rachelle (Martin) Hughes '76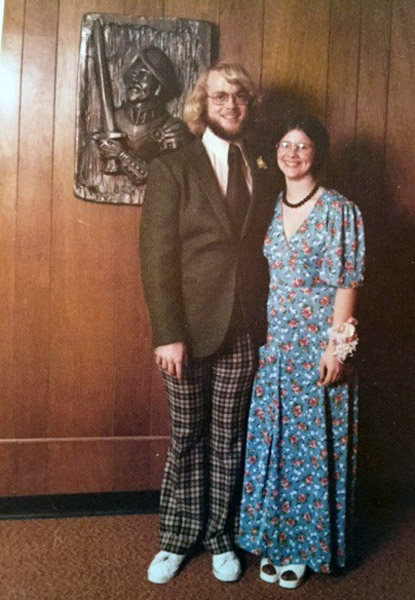 My [Richard, who goes by Dick] 21st birthday was in February 1974 while I was attending spring semester classes in Greece and living in the second-cheapest hotel in Athens, where breakfast consisted of a Coke and a stale roll. To celebrate my birthday, I reserved 10 minutes on the international telephone circuit – one had to reserve time in those days – to call a girl in Pioneer Hall whom I liked more than she liked me.
She didn't want to talk long with me so she gathered her friends and passed around the payphone receiver, including to Roki [Rachelle's nickname, pronounced "Rocky"]. Roki was/is socially chatty. I didn't really know Roki. To get her off the line so I could talk to the other girl, I promised Roki I'd bring her back a Greek wedding outfit.
To the best of my knowledge, that's the only promise to her I've ever broken.
When I returned to campus in the fall of '74, I was editor of the Linews (now the Linfield Review) and she became my secretary.
We were from very different backgrounds. She was a first-generation college student studying biology, with a full-ride scholarship through the Carnation Co., where her father had been a milkman. Both my parents had master's degrees. I was studying psychology.
We started dating. After only six weeks, I proposed totally on the spur of the moment, with no forethought or planning, as we were walking in the Oak Grove toward the president's house. She paused, then said yes. But she had to hurry off because she was spending the night with college friend Nadine Ingersoll (now Kincaid).
The next day or so, Roki and I took the bus into Salem and bought a promise ring for $25 at Jackson Jewelers. On July 4, 1976, we finally were able to buy her engagement/wedding rings (for $280) and my ring. Rachelle (her parents preferred that to her nickname) graduated a semester early, having promised to earn her degree before marriage.
We got married in March 1977 in Lakewood, WA, just outside Tacoma. Several Linfield students participated in the ceremony as musicians, as bridesmaids/groomsmen and in other ways. A Linfield dean, John Hanson (I think his title was Dean of the College), was our best man. Admissions Director Tom Meicho and Dean of Women Mary Frances Cram were among the attendees.
We didn't have money for much of a honeymoon, and I'd neglected to make travel plans, so we spent one of the nights with college friends at their house in Medford, OR. Rachelle has stuck with me anyway – celebrating 45 years in March 2022.
Erick Valenzuela '90 and Ada Amador '90
We were both part of the Campus Fulbright Scholarship program from 1988 to 1990. I am from Guatemala and I majored in management; Ada is from Panama and majored in international business. We met at Linfield College, and now we have two daughters, one son and two grandchildren.