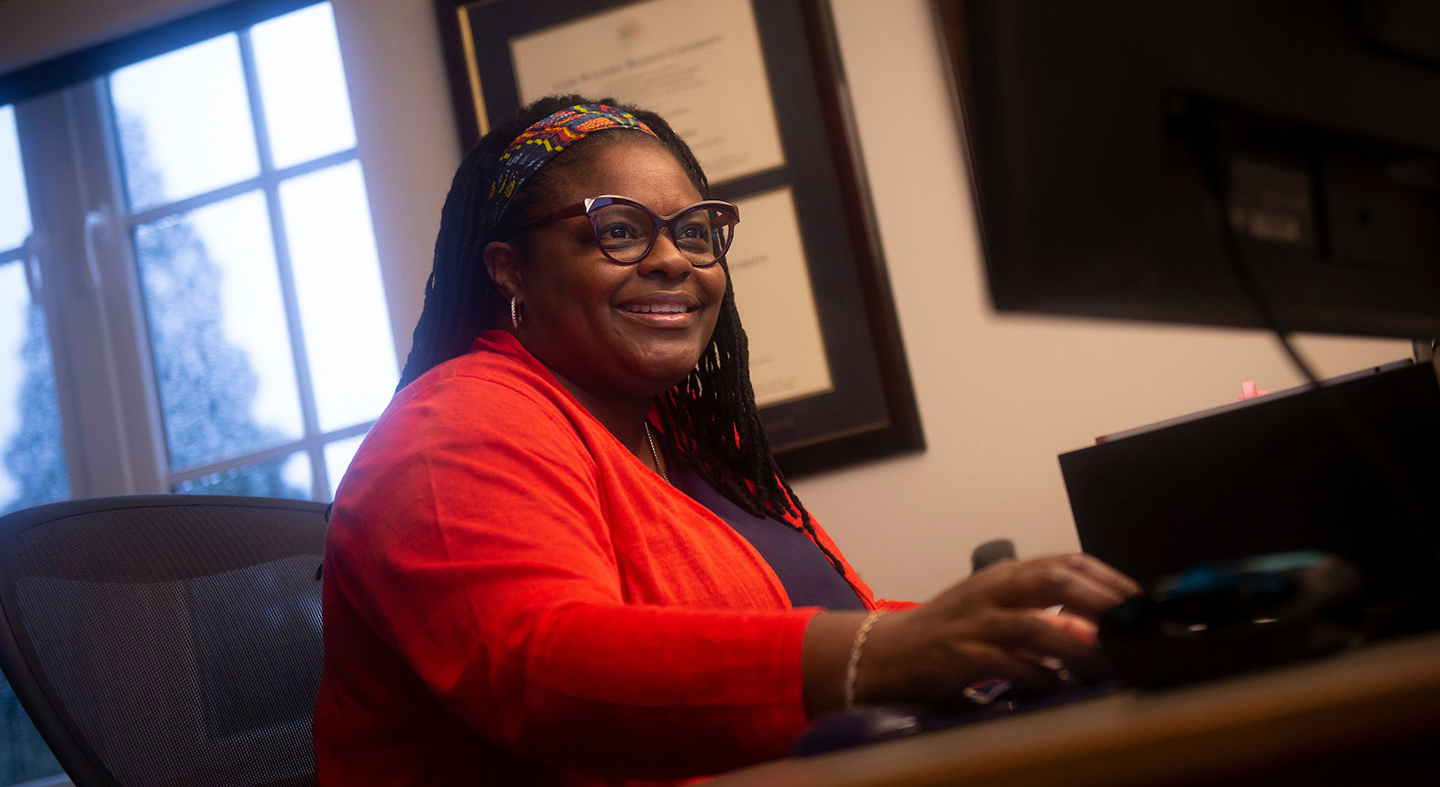 Meet Dean Jennifer R. Madden
Carrying Out a Vision
"This notion of the glass cliff is that oftentimes people in underrepresented groups take on challenges because they feel they need to prove themselves. You take on this challenge, without seeing that there's an edge there and that you could fall off of it," explained Professor Rainer Seitz.
He then asks Dr. Jennifer Madden the new dean of Linfield's School of Business if she has ever taken this idea into consideration during her life.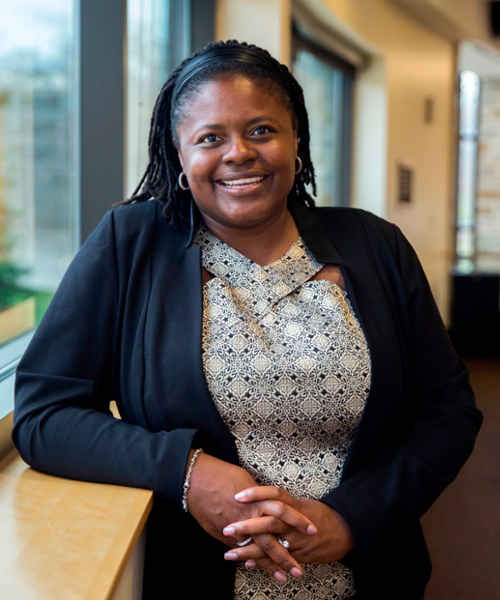 "It's true, I think my life has been a series of glass cliffs,
" Dr. Madden replied. "But I promise you, I just have a set of wings."
When Linfield transitioned to a university in 2020, Dr. Madden was hired as the inaugural dean of the newly formed School of Business.
"I remember when we met her, I was in the very first round of interviews," said Professor Natalie Welch, a member of the committee in charge of hiring a new dean. "I was just so excited to have the opportunity to bring her to campus and have her join us in the school of business."
Dr. Madden spoke on Feb. 5 at WildXchange, a campus discussion forum held every Friday over Zoom. Also called WildX for short, the weekly event is held to encourage discussion between members of the Linfield community, bringing in different guests to give unique insight on various topics. Dr. Madden's appearance kicked off the group's celebration of black brilliance during Black History Month.
"What was young Jennifer Madden like?" Professor Welch asked at the event.
"I think the young me was kind of similar to me now, but with less student loan debt," she answered, laughing.
Dr. Madden attended Case Western Reserve University, where she received a Ph.D. from the Weatherhead School of Management, a master's degree in nonprofit management and an undergraduate degree in economics and American studies.
The new dean reflected on a piece of advice she received from a former advisor that inspired her to pursue nonprofit management. "Sometimes we can see potential in people that they don't see in themselves and it's important that we voice that," Dr. Madden said.
"We can make things visible for others, even when they can't see that pathway and that's something that I really take to heart."
This passion motivated Dr. Madden to start a nonprofit art center in an urban Cleveland neighborhood after receiving her master's. "The marketing, the outreach, the engagement, the connecting with the residents, the fundraising and every time I had a question I could just go to the classroom and decide how to do better in the work," she said. "Our ability to connect higher education with real-world experience is just incredible."
The California-native came to Linfield after spending six years at Carthage College in Wisconsin. There, she was department chair and associate professor of management and marketing. Dr. Madden also notably developed and directed Carthage's Master of Business Design and Innovation Program in 2017.
Now, she looks forward to further growing and developing Linfield's School of Business. "We can only be distinctive in our areas of strength. That's why I always look for what is good, what is powerful, what is possible in people because that's how they can be distinctive," Dr. Madden said.
"I want the School of Business at Linfield University to be the institution of choice for studying business," she concluded. "I walked into that vision, and I am proud to carry that vision forward."
You can watch Dr. Madden's entire WildX conversation below.