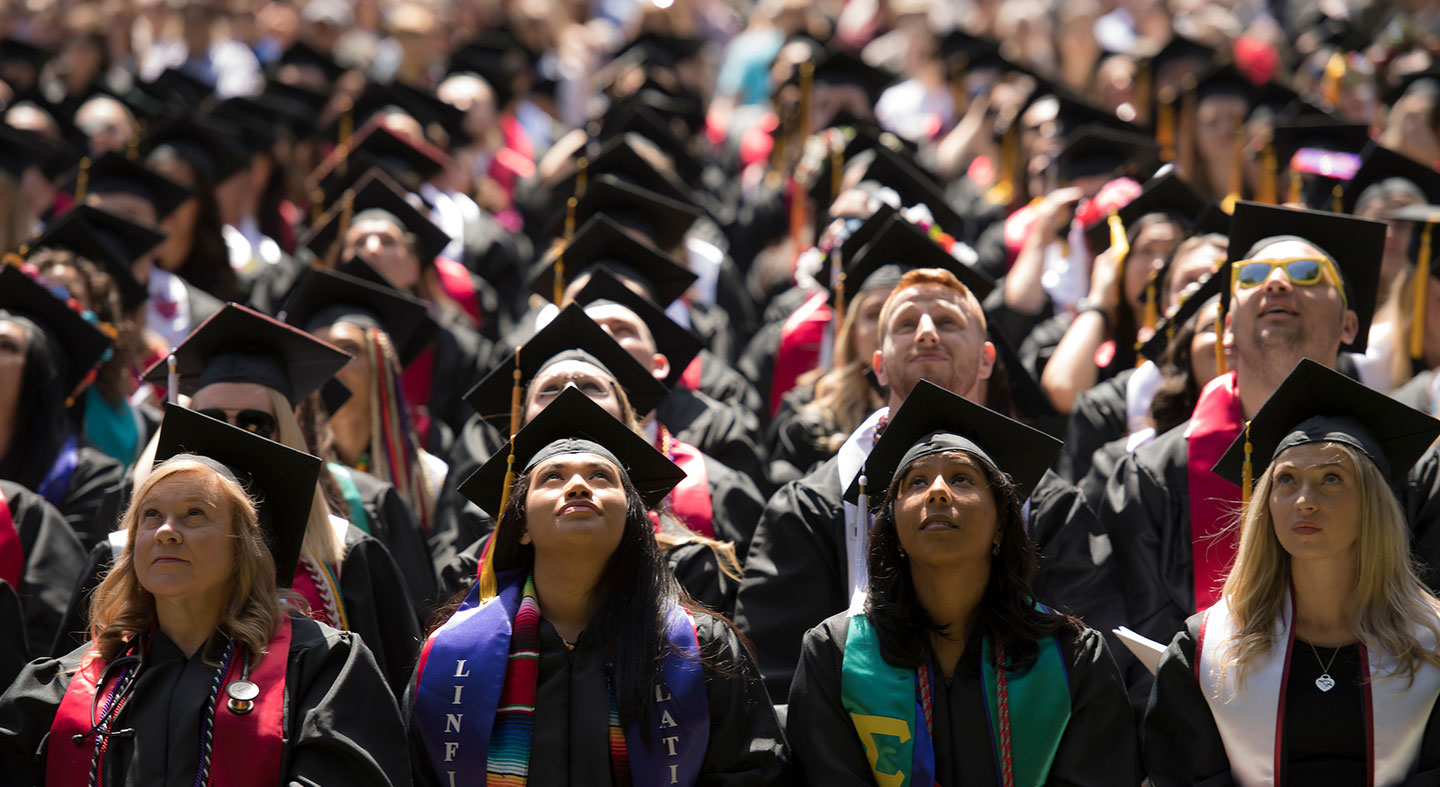 Congratulations, Graduates!
Commencement 2021
Linfield is committed to celebrating the achievements of the Class of 2021.
Last updated: April 5, 2021
We recognize this has been an unusual year. Because safety is our top priority, 2021 Commencement celebrations will look different. We are pleased to offer a variety of events – some that will take place in person, some online and others in combination.
"Carmencement": In-person celebration
Sunday, May 2
McMinnville campus and Online and Continuing Education (OCE) non-nursing students who have completed graduation requirements are invited to participate in "Carmencement" on Sunday, May 2.
Graduates, you will sign-up for a specific time slot and arrive on foot or by car with your family or friends. You will then move through a series of stations that will have stops for photo opportunities.
Stations will include activities such as walking across the Commencement stage, receiving your diploma, turning your tassel and the tradition of returning your acorn for the next generation of Wildcats.
Families are welcome to accompany you while remaining masked and socially distanced from those outside of your family unit. We are excited for graduates to share the joy of this milestone event in person, on campus and with loved ones. You will receive more details about this plan soon and there is a page answering your frequently asked questions.
Virtual celebration
Sunday, May 9
The following week Linfield will offer a virtual ceremony. The virtual Commencement will be shown on the Linfield University YouTube channel and show highlights from "Carmencement." The virtual ceremony will also include a roll call of the graduates, traditional Commencement speeches and more.
Graduates, you can expect to be contacted soon about what to submit so Linfield can make the virtual ceremony as personalized for you as possible. 
Virtual Nursing Pinning
Saturday, May 22
Nursing graduates complete coursework at the end of May. Complete details for nursing celebrations will be announced in the next few weeks. However, we do know that the pinning ceremony, the official entry into the nursing profession, will be shown on the Linfield University YouTube channel on Saturday, May 22.
Other Commencement weekend activities
You can look forward to various smaller events related to Commencement throughout the week leading up to the May 2 "Carmencement." Some of these events will be in-person while others will take place virtually.
Continue to watch your inbox and this page for announcements and updates. Email commencement@linfield.edu with questions.
Information for the class of 2021
Graduates, what you need to know