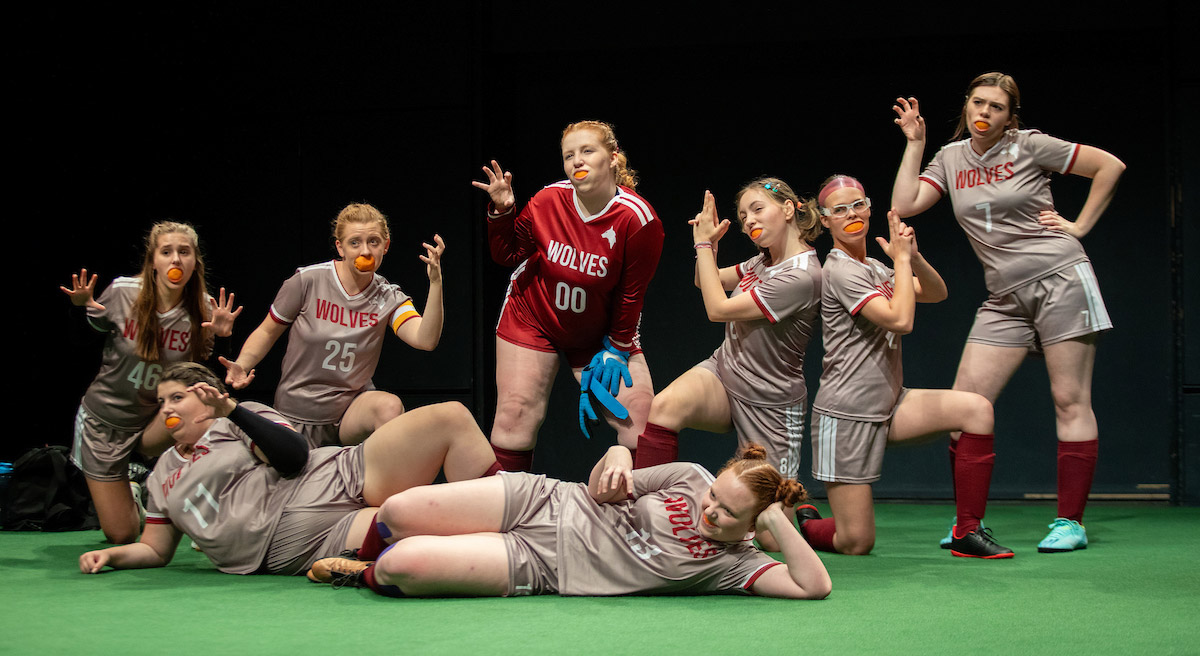 Linfield Theatre Presents
The Wolves
About the production
Performance dates: Oct. 26-28 and Nov. 2-4 at 7:30 p.m. and 2 p.m. on Sunday, Nov. 5. in the Marshall Theatre in Ford Hall.
The Wolves, a 2017 Pulitzer Prize finalist and Obie award-winning play by Sarah DeLappe, follows nine teenage girls on an indoor soccer team as they navigate daily life while doing soccer warm-ups and preparing for games. Directed by Lindsey Mantoan, associate professor and Lacroute chair in theatre studies.
The New York Times called the play a "nine-headed hydra, rushing at you on a stream of exploding hormones," as the girls' rapid-fire chatter covers the mundane and the intense issues high schoolers confront while maturing into young adults. During all these interactions, the unique identities of the girls surface and intertwine to provide a fascinating portrait of young women as their friendships, priorities, minds and bodies evolve – both in expected and unexpected ways."
Warnings: This play may not be suitable for all audiences due to mature themes and language. It is recommended for ages 13 and older. Children 6 and under are not admitted to our productions.
Special events
Oct. 26: Opening night reception
Please join us after the performance on Oct. 26 for wine and light refreshments to celebrate the opening of The Wolves and our 2023-24 A Season to Thrive!
Nov. 2: Post-Show Panel on Gender, Sport and Health
Panelists include the director Lindsey Mantoan, Associate Professor Sarah Coste and Professor Laura Kenow, both from the Department of Health, Human Performance and Athletics (HHPA), and Associate Professor of Anthropology Hillary Crane.
The panel discussion is free but tickets are required to attend the performance
About the playwright
The Wolves is Sarah DeLappe's debut play. She is a playwright and screenwriter based in New York and has been a resident artist at the Sitka Fellows Program and SPACE on Ryder Farm. She wrote the screenplay for the 2022 film Bodies, Bodies, Bodies and is currently working on adapting and producing the film Cassandra at the Wedding and is a writer on the upcoming HBO miniseries The Regime. She received her MFA at Brooklyn College.
Sponsorship
This production is sponsored by the Linfield Theatre Program and is presented by arrangement with Concord Theatricals on behalf of Samuel French, Inc. (www.concordtheatricals.com)
Box office
The box office opens at 3 p.m. on Oct. 24. Tickets are $12 for full price; $10 for seniors (62+) and Linfield faculty and staff (two tickets per ID); and $8 for students (any school, one ticket per ID). Seating is reserved.
Located in Ford Hall, box office hours are from 3 to 5 p.m. Tuesday through Saturday and until 7:30 p.m. on performance days. It will also be open from noon to 2 p.m. on Sunday, Nov. 5. The box office is closed Mondays. We encourage you to order online for safe, contactless ticketing with our mobile ticket or print–at–home option.
The Marshall Theatre is accessible. Please contact the box office for help with accessible seating. For more information, call 503-883-2292.
Directions to Ford Hall and Marshall Theatre
From Highway 99W in south McMinnville, turn east on Keck Drive at Albertsons. Take Keck Drive to Lever Street and turn right. Take the next immediate right at Ford Drive into the theatre parking lot. Ford Hall is located at the west end of the parking lot.
Playwrights Welcome
Playwrights Welcome is a program created to provide free access to theatre for theatre writers around the country. Developed for the Dramatists Guild of America members, this national ticketing initiative was created by Samuel French, a Concord Theatricals company, along with input from other publishing and licensing houses. To receive a ticket through Playwrights Welcome at our theatre, please contact the box office up to 24 hours before the performance. Writers must present their Dramatists Guild membership card when obtaining a ticket.