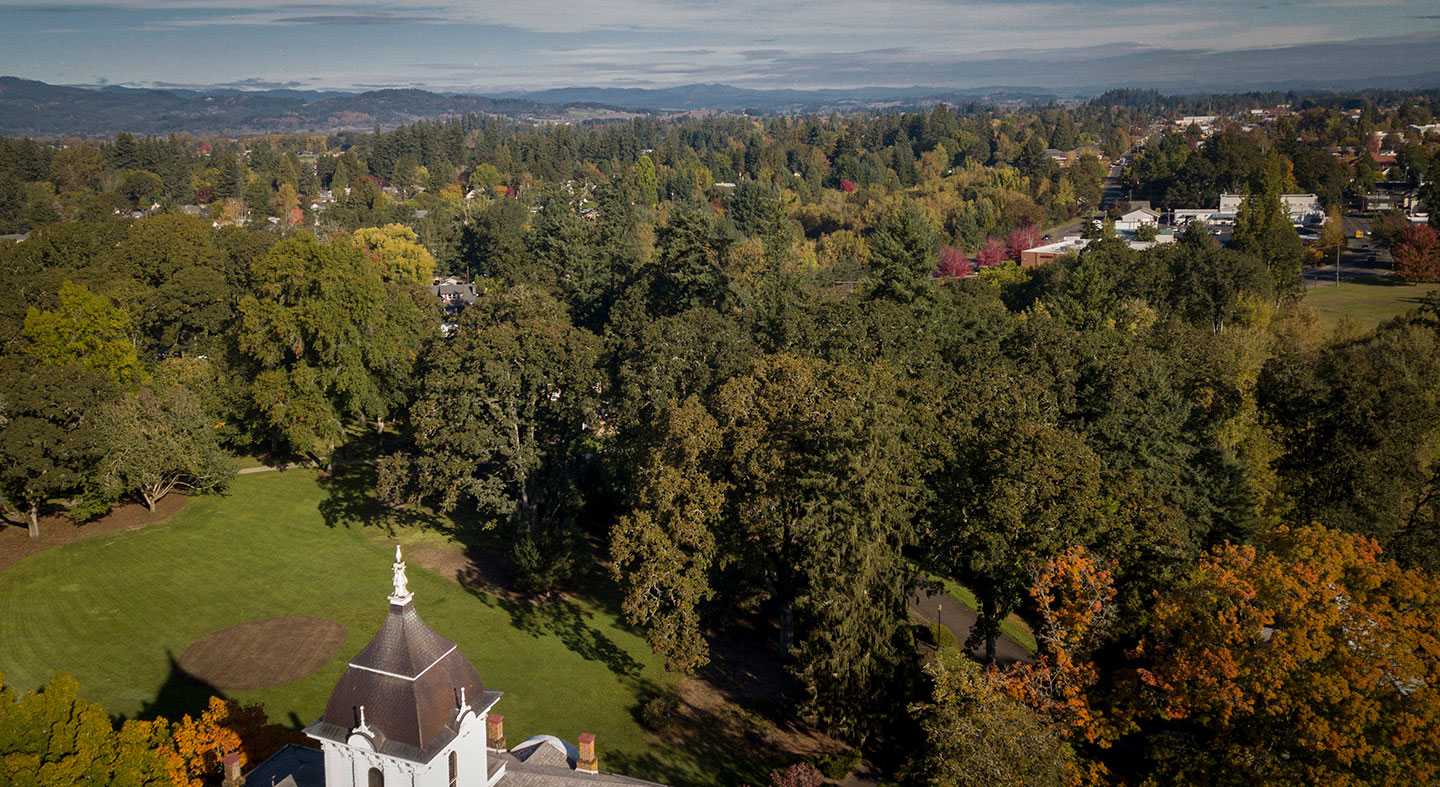 Application for Admission to our Online Program
Linfield University Application for Admission to the Online and Continuing Education Program
Congratulations on taking the first step toward a degree or certificate through Linfield University's Online and Continuing Education (OCE) program.
To apply to a Linfield OCE program, follow the directions below.
If you have previously attended another college or university, you are required to submit all official transcripts. Students with fewer than 60 transferable credits must also submit an official high school transcript or copy of GED scores.
If you have already started an application with Linfield University, click on Log in. If you are unsure of your username and password, you can request a new password. Otherwise, create an account to start a new application using your email address, first and last name and birthdate.
A temporary PIN will be sent to your email address (subject line Linfield University Online Registration) to activate your account. You will use the temporary PIN to set a new password and enter Linfield's Application Management Portal.
Click Start New Application, where you will be given the option to start the Online Degrees & Certificates application. In the pop-up box, click Start New Application.
Your application will include:
Personal Background
Academic History (please list all schools attended including your high school and post-secondary studies)
Employment
Academic Interests
Financial Aid
Application Fee ($50, non-refundable, payable online by credit card)
Once submitted, an admission counselor will follow up regarding your application status, next steps and additional requirements. You will also be able to check the status of your application at apply.linfield.edu/status with the email address and password you created.
Please review additional information if you are:
As a reminder, you must submit official transcripts from all previous institutions attended, even if you do not believe or do not wish to attempt to transfer courses to Linfield.
Transcripts should be sent to:
admission@linfield.edu

Office of Admission
Linfield University
900 SE Baker St
McMinnville, OR 97128
Note: We are unable to accept applications from students for any program who reside in Massachusetts or for those interested in the RN to BSN program who reside in Kentucky.
Admission for former Linfield students:
Your admission application for Linfield's online program will remain active for two years (or eight semesters). If you haven't finished your application or started courses within two years of applying you will need to submit a new application and official transcripts.
If you are returning to Linfield's online programs after a leave of absence, you will need to submit a completed re-admission form and transcripts from any institution you have enrolled in since your last course at Linfield University.
Admission for international students:
Submit the online admission application and request an official copy of your transcripts from all colleges and universities you have attended.
Students with international credentials will need to submit a translated credential evaluation with their admission application, please contact your admission counselor for additional information.
International students residing in the United States must follow the U.S. immigration regulations for online course enrollment.
Applicants who had international credentials, but are citizens or can file for Federal Financial Aid are exempt from submitting proof of English proficiency.
Applicants to Linfield's Online and Continuing Education Program who are non-native English speakers will be required to show evidence of English proficiency prior to admission. Students who present TOEFL scores of 550 and above (paper-based exam) or 213 and above (computer-based exam) are generally eligible for admission with a minimum grade point average of 2.0 in previous college work. Prospective students may choose to take a Linfield Essay Test in place of the TOEFL. Those who earn a score of 0-3.5 (out of a possible 6) on the essay test are not admissible to Linfield. Those who earn a score of 4-5.5 are admitted and are required to complete the Inquiry Seminar INQS 126 within their first year in the program. Students who score higher than 5.5 are admitted with no restrictions.
Non-degree-seeking students interested in taking classes
Students not currently enrolled in any of our degree or certificate programs are welcome to register for classes without going through the full admission process. Upon approval, these students can register for classes and are eligible to complete up to 30 credits without being admitted as a degree-seeking student.
To take classes as a non-degree-seeking student:
Review and select the course you are interested in taking (as well as two alternates) in the Course Schedule. Choose the Subject Search tab to find the courses listed by department.  (Please note that course schedules may not be finalized until registration opens up for that term.)


Winter Term (January)
Spring Term (February – May)

(Please note that course schedules may not be available until registration opens up for that term.)
Submit a non-degree student application to the Office of Admission.
Once your application is approved, the Office of Admission will walk you through the registration and bill payment process. Non-degree students will be registered for requested class after the following dates:

December 1 - Winter (online only) and Spring term
May 1 - Summer term (online only)
August 1 - Fall term

Non-degree students may qualify for tuition remission if they are one of the following:

Over the age of 65 and not wishing to receive credit
A regular, full-time or part-time, Linfield faculty member, administrator or non-exempt employee
A dependent of a regular Linfield employee