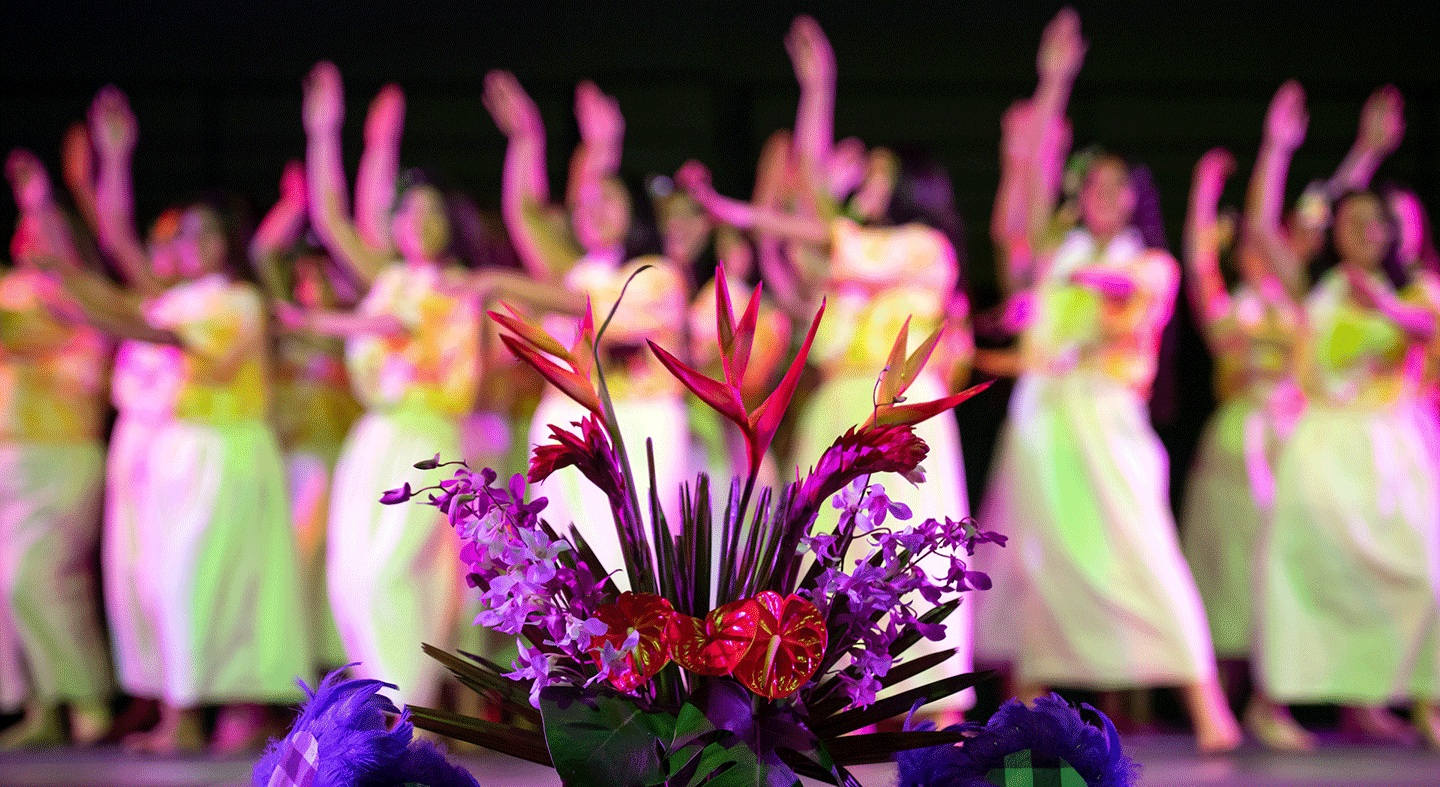 Celebrating 50 Years of Pacific Island Heritage
Linfield University's 50th Annual Lū'au and Hō'ike was a vibrant celebration of Pacific Island culture.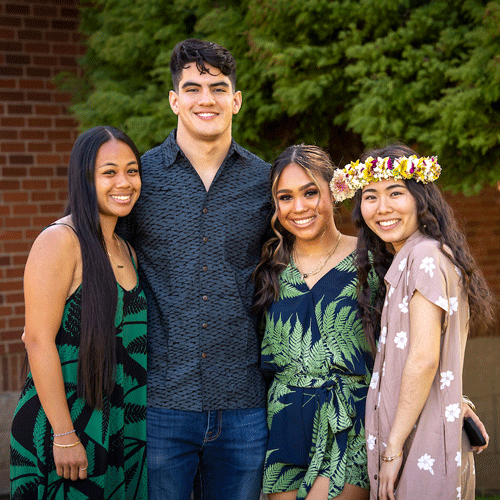 The community-favorite event is organized every year by the student-led Hui o Lōkahi club. More than 1,200 attendees, including Linfield students, faculty, staff and alumni, alongside members of the McMinnville community, came together on April 29, 2023, to commemorate 50 years of sharing the rich heritage of the Pacific islands.
Special thanks to this year's program organizers who all played crucial roles in bringing this year's event to life:
Mako Minoda '23, co-chair and performance kumu (teacher)
Cruz Braun '25, co-chair and performance kumu
Taetum Lynn Kalani '25, co-chair and performance kumu
Kami Echiverri '25, co-chair
Citlalli Cruz '23, performance kumu
Kayley Dombrigues '25, performance kumu
The theme "Ma'ohi Nui" represented the unity of Polynesia and honored the shared heritage of the Pacific people, and showcased a variety of dances, performances and traditional arts.
Cruz Braun '25, a sophomore music major from Wailuku, Maui, explained, "When coming up with the 'Ma'ohi Nui' theme, we [the co-chairs] wanted to have something that represents all of Polynesia."
The theme reflects the great migration of the Polynesian people and emphasizes the unity and shared ancestry of the Pacific Islands.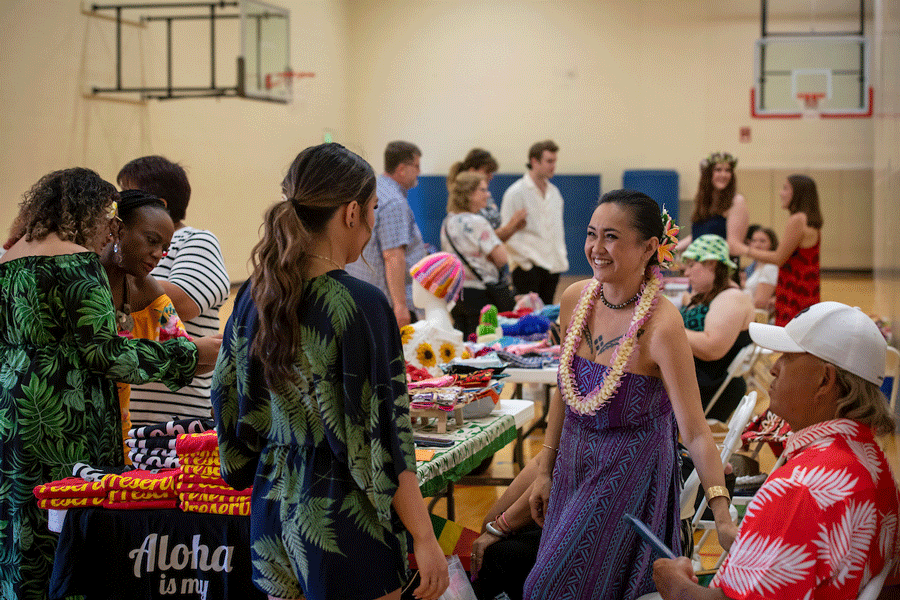 The lū'au and hō'ike holds significant importance for Linfield students from Hawai'i, as it provides them with an opportunity to celebrate their culture and educate others about their home. Sophomore Taetum Lynn Kalani '25 expressed that sharing the stories of their ancestors is a deeply fulfilling experience and a reminder of the journey that has brought them to where they are today.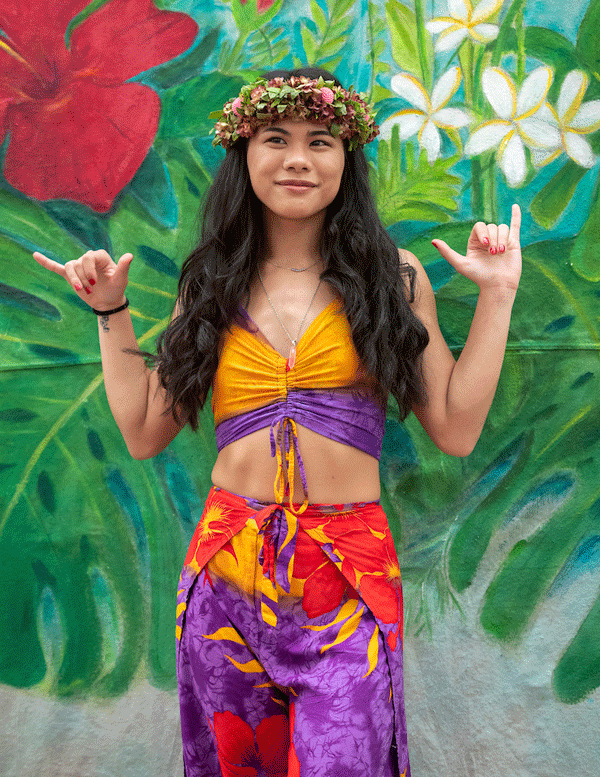 Over the past 50 years, the lū'au and hō'ike has evolved in various ways.
In the 1980s, the intimate event was held in Dillin Dining Hall. This year's milestone celebration filled the Ted Wilson Gymnasium, becoming the second biggest event at Linfield following Commencement. The change in just the venue reflects the growing love and support from the McMinnville community for the native Hawaiian culture celebrated at Linfield University.
Kami Echiverri '25, a second-year student majoring in exercise science, felt a sense of warmth and gratitude when the committee dance came together after practicing tirelessly over the spring semester.
Mako Minoda '23, a senior majoring in public health from Kailua-Kona, HI, expressed her appreciation for the significance of the lū'au and hō'ike. "We are able to share the stories and culture in Polynesia with everyone through hula, haka, Tahitian, etc. It also brings families and everyone together to celebrate and have a fun evening."
Each co-chair played a crucial role in making this year's event a success.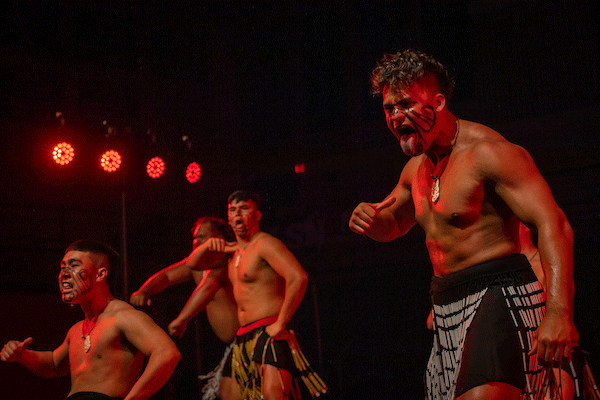 And they say it would not have been possible without the contributions of many volunteers, parents and staff, including:
Uncle Doug Hire, senior associate athletic director
Abby Thomas, director of Diversity, Equity and Inclusion (DEI) and advisor for Hui o Lōkahi
Eric Stenehjem, senior director of safety and risk management
Jason Arnoldt, administrative assistant and event coordinator for the Department of Music
James Spears, multimedia support specialist
Auntie Nohea (Taetum Lynn's mom)
Shannon Hussey '22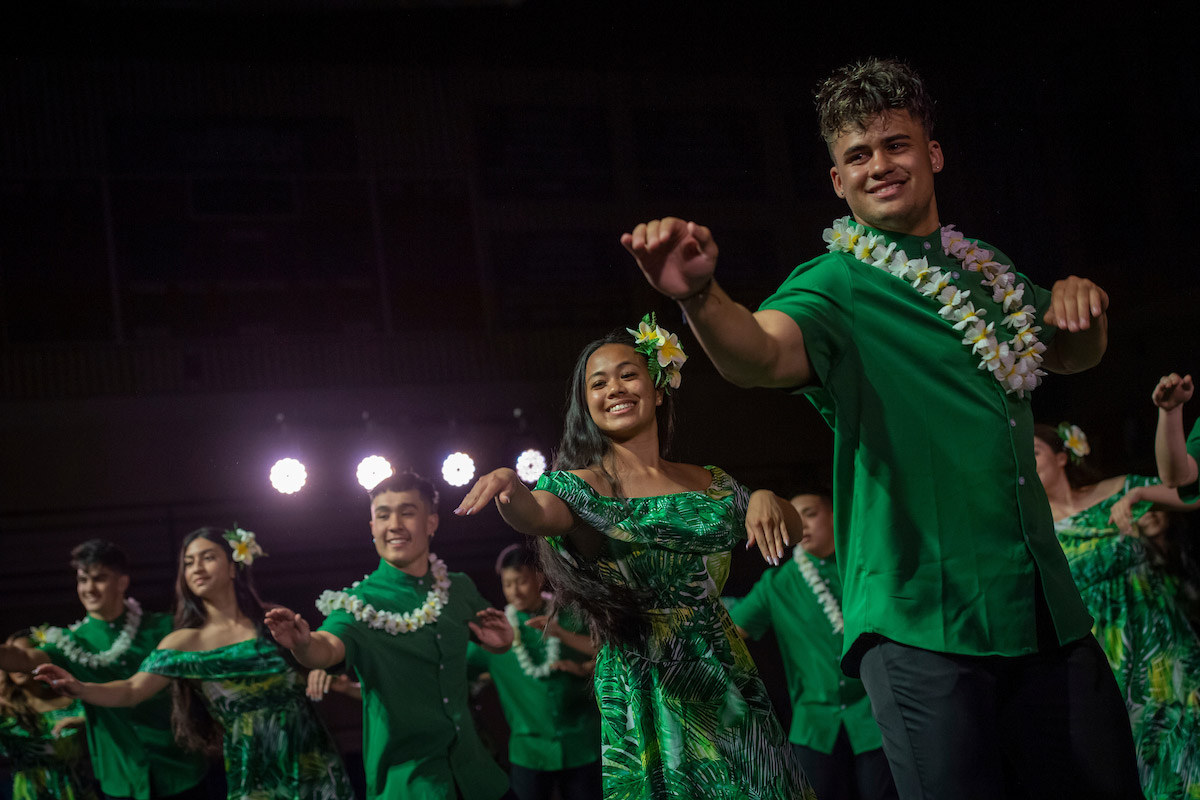 Citlalli Cruz '23, a senior wine studies major from Gresham, gave a special shout-out to Shannon. "Shannon Hussey choreographed all the Tahitian dances. She volunteered a lot of her time when she didn't have to in not just choreographing the dances and teaching them to me but also helping make hair pieces and hip pieces. I don't think the Tahitian dances would have been as good as they were if it weren't for her help."
"Since the conclusion of this yearʻs lūʻau, we have been asked to perform at multiple events around the state," said Cruz. "We are bringing the Linfield lūʻau to Adidas Headquarters in Portland in May!"
Hui o Lōkahi members are already looking ahead to the 51st annual lū'au and hō'ike.
Kami and Taetum, in particular, are eager to collaborate on fresh ideas for next year's event. And Taetum encourages anyone wanting to get involved with the club to "just go for it! There is no harm in trying something new or different. It is always better to say that you tried rather than regretting you didn't. The atmosphere we have created is so welcoming to anyone wanting to learn more about our Pacific Island culture."
If you have any questions about Linfield's Annual Lū'au and Hō'ike or would like to join Hui o Lōkahi, please reach out! Mahalo!