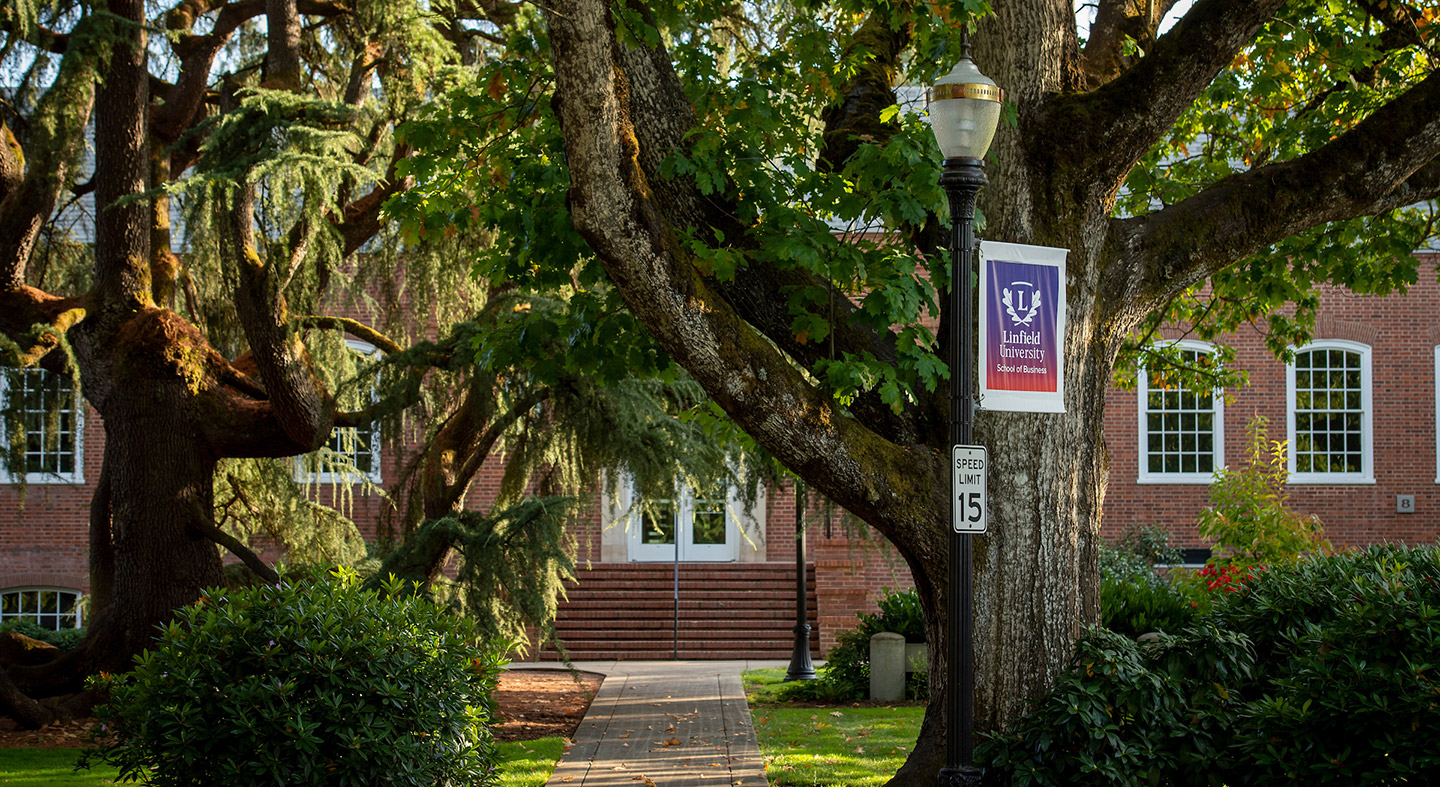 Meet Ray-Ray Crain '21
The Struggle to be Seen, Heard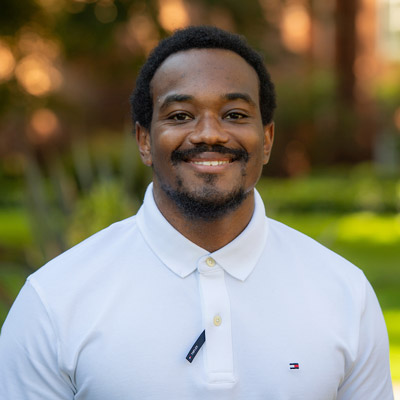 By Starla Pointer, News-Register Staff Writer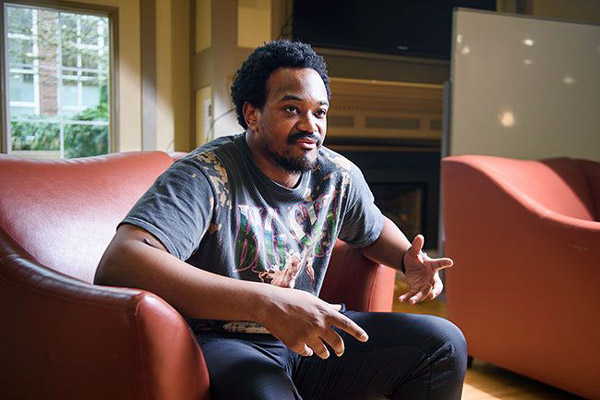 Photo credit: Rusty Rae, News-Register
Linfield University master's degree candidate Ray Crain '21, who goes by "Ray Ray," likes to carry his research materials and other belongings in his backpack. It's handy, and he always has things with him that way, he said.
But when some people see a Black man with a backpack, Crain said, they might think he's stealing.
"It's bright pink!" he said, trying to see humor, rather than malice in other's assumptions. "Why would I carry a pink backpack if I was stealing?"
It's the kind of misperception Crain has to deal with daily, not just because of the color of his skin, but because he is part of a very small minority at his school and in McMinnville.
"You can't really afford to make any mistakes if you're a person of color," he said.
Sometimes people assume he's at Linfield only for athletics, for instance, he said. Many students pursue sports in college, he said, but at Linfield, most are there for learning, too. Yet some people forget that when the student is Black.
"At moments, I feel like I'm overshadowed, or not trusted to hold up my end of a group project," said Crain, who makes a point of choosing seats at the front of classrooms so he won't be overlooked.
He considers himself introverted, he said, but his professors, especially in the master's program, encourage him to speak up. 
Yet he often feels pressured to prove that he's academically qualified. He definitely is; he received his undergraduate degree last year with a 3.7 grade point average.
That diploma made him the first in his family to finish college. And it made his mother cry happy tears.
She was his inspiration, Crain said.
She always worked hard, holding down three fast food jobs to keep a roof over her children's heads, he said. She was upset when the electricity was turned off or there were other setbacks, he said, but she persisted in her efforts to raise Ray Ray and his older siblings. 
"Her determination, day in and day out … helped me finish," he said.
Crain, 25, is president of Linfield's Black Student Union, which is organizing campus events for Black History Month. He wants to bring more attention, and pride, to African American history, culture and people. He'd like that to extend beyond February, as well.
"For me, Black history is every day," not just during the shortest month on the calendar, he said.
But he also appreciates the spotlight Black History Month brings. Maybe it will make some people reconsider their misconceptions.
"Racism is still with us. When is the change going to come?" he wondered. "I want people to see us like us, not like a color." 
This month, Crain spearheaded several events in conjunction with Linfield's Office of Diversity, Equity and Inclusion. One featured a panel of Black leaders, including coaches from the Massachusetts Pirates, the indoor football team he interned with as a member of the community relations and sales teams, and assistant to the defensive coordinator.
He also put together a "Paint and Chat" evening at which students could paint portraits of admirable Blacks from history. For his own painting, he was thinking of depicting a musician, such as singer/songwriter and entrepreneur Sam Cooke. Known as the "King of Soul," Cooke also was a key figure in the Civil Rights Movement.
"He changed people's perspectives," Crain said.
On Friday, Feb. 25, Crain and the BSU will host "Black Wall Street," with Black vendors on campus to offer their clothing, accessories, food and other products, as well as talking with students. The event will be open to the public from 3 to 5 p.m. in Riley Hall.
Also on Feb. 25, a concert from 7-8 p.m. in the Fred Meyer Lounge with Portland rap artists Donte Thomas and Bocha. Events are free; masks are required and COVID-19 safety protocols followed.
Linfield's BSU has been active for decades, although its membership often has been fairly small — a reflection of the enrollment. Students are interested in the BSU's cause, Crain said, but also are very busy with classes and other activities.
Still, about a dozen members get together regularly for group chats. They talk about their lives and experiences, as well as activities for the organization and other students.
"We all love each other," he said. "I'm willing to go the extra mile for this group."
They also get together for trips to Portland — which has more resources for Black students than McMinnville does, he said. They eat at food trucks operated by Black owners or take part in cultural activities.
One of his missions as president is to make sure the BSU continues to remain active. He's helping recruit next year's leaders and make plans for years to come, he said.
He also wants to build connections with Linfield's Hawaiian Club and LatinX Adelante, or LULA, a group for those of Latino heritage. He noticed both organizations when he arrived on campus in 2019, he said.
"I love supporting their events, like the lu'au," said Crain, who has helped to organize some joint activities with the other groups, such as a "cultural giving" feast that was held in November.
"But I wondered, why don't we have big celebrations, too?" he said. "We're here; we want to be seen."
Crain was born in Austin, Texas, and moved to Portland when he was in high school.
At Jefferson High, he was more interested in sports than studies, he said. "I just wanted to play football," he said. His grades reflected his interests; his GPA was 2.4 when he graduated.
Although he had torn his ACL in high school, he pursued his football dreams at Victorville Community College in 2015-16.
He realized football wasn't a long-term plan for him, though, so he started looking for something that would prepare him for the future.
He also took classes at Portland Community College, then decided to transfer to a four-year school.
He heard about Linfield, he said. "There's a great education program here," he said, as well as a great football team.
And while once he was all about playing football, he said, "I like school now. I belong here." Over the years, as he has matured, studied and built relationships with a variety of people, Crain said, he had been "learning who I am as a person."
He said he realizes now that "education is key, and that it might be the best route for me to become a better version of myself."
Crain plans to share that insight with younger family members, including his nieces and nephews, goddaughter and cousins, he said.
He wants them to know, "it's never too late to chase different dreams and goals … you can meet challenges and beat the odds."
He's done it himself, he said: As an African American male, he's beaten the odds that say he might not reach his 18th birthday; he's beaten the odds against graduating from high school, from college and soon from graduate school.
What he would like for himself and other minorities, he said, is to be treated with respect. That's how he treats other people: respectfully.
Crain will finish his graduate program in business in May, then go to Barcelona, Spain, for a trip with other master's degree grads.
After that, he plans to work for a professional sports organization.
He's not sure which one yet, though. Maybe he'll return to the Massachusetts Pirates; or maybe he'll accept an offer from the San Jose Panthers, another indoor league. Or maybe another team will offer him a position.
He would like to have at least three to pick from. He will be an asset to whichever team he chooses, he said, confident in his skills and the value of his Linfield education.
Originally published Feb. 22, 2022 by the News-Register. Read more about Linfield in the News-Register archive.
Starla Pointer, who believes everyone has an interesting story to tell, has been writing the weekly "Stopping By" column since 1996. She's always looking for suggestions. Contact her at 503-687-1263 or spointer@newsregister.com.