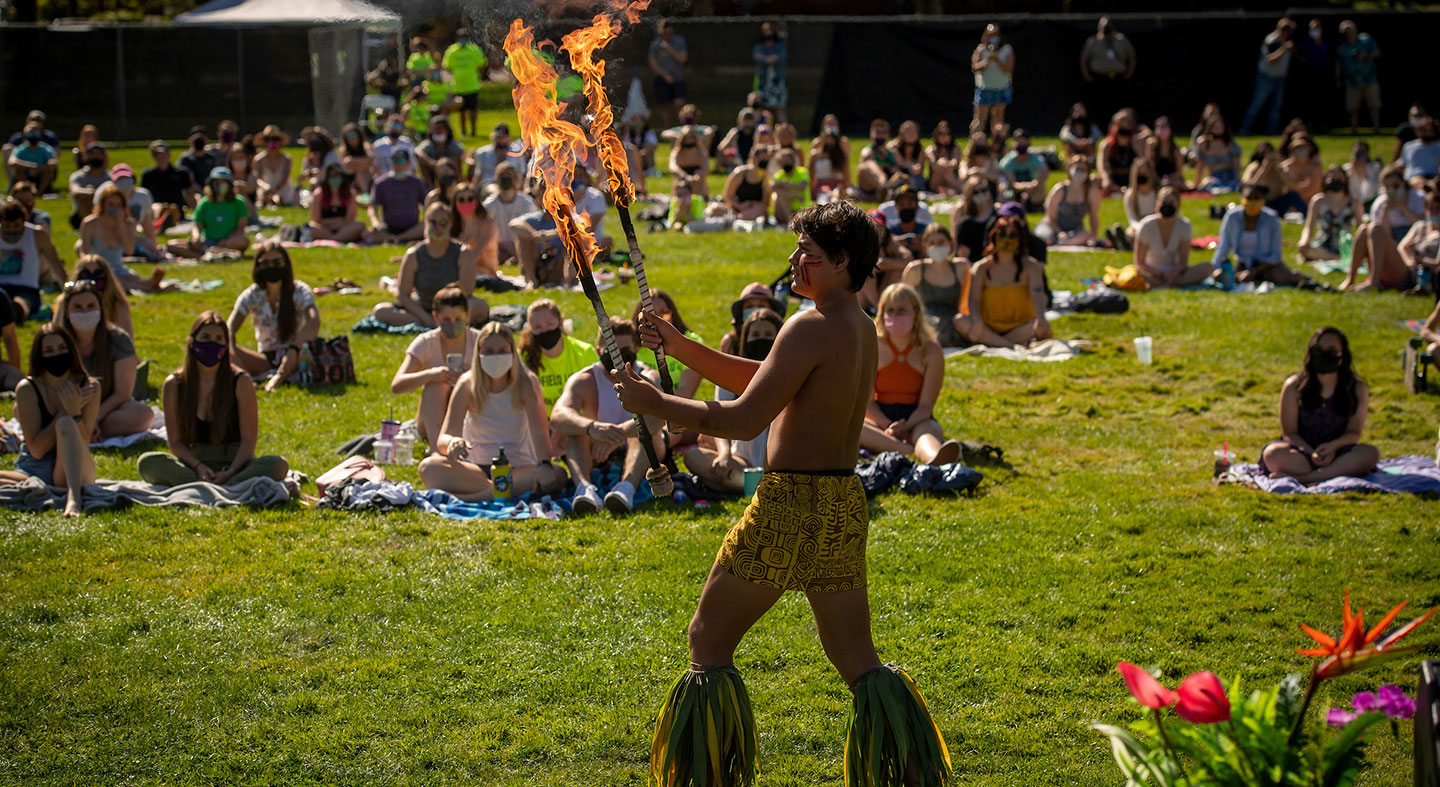 Linfield's Hui O Lōkahi Club
48th Annual Lu'au and Ho'ike
Campus buzzed with excitement all week long as walls began to go up, the stage was erected and music echoed from the middle of campus. For months on end, the Hui O Lōkahi Club prepared, perfecting their choreography. 
Then, on a sunny Saturday afternoon, all the hard work paid off as the community gathered for the first time in over a year to watch Linfield's 48th Annual Lū'au and Ho'ike. 
The event had never been held outside before, but it proved to be a success.
The warm sun shone down on students as they sat (socially distanced) on blankets in the grass. It was the nicest day of the year, reaching 80 degrees, and the field was filled with bright dresses, shorts and other articles of clothing that almost never see the light of day in rainy Oregon. 
Hawaiian music took over the intramural field as talented dancers in vibrant outfits took the stage. Each performance was a beautiful celebration of culture, community and art under the theme of No Ka Lāhui, which means "for the nation." This phrase grew out of a movement to protect sacred Hawaiian land from desecration.
And at the end, they beautifully honored seniors with a slower, heartfelt dance that celebrated their time at Linfield.
After a bow and a thank you, the crowd dispersed into the surrounding activities and Hawaiian food offerings. 
After more than a year of restrictions keeping the community physically separate, the lu'au was the perfect celebration to bring together Linfield students, faculty and staff. It marked a hopeful new era on campus, as the light at the end of the tunnel gradually approaches and COVID-19 vaccinations become commonplace.