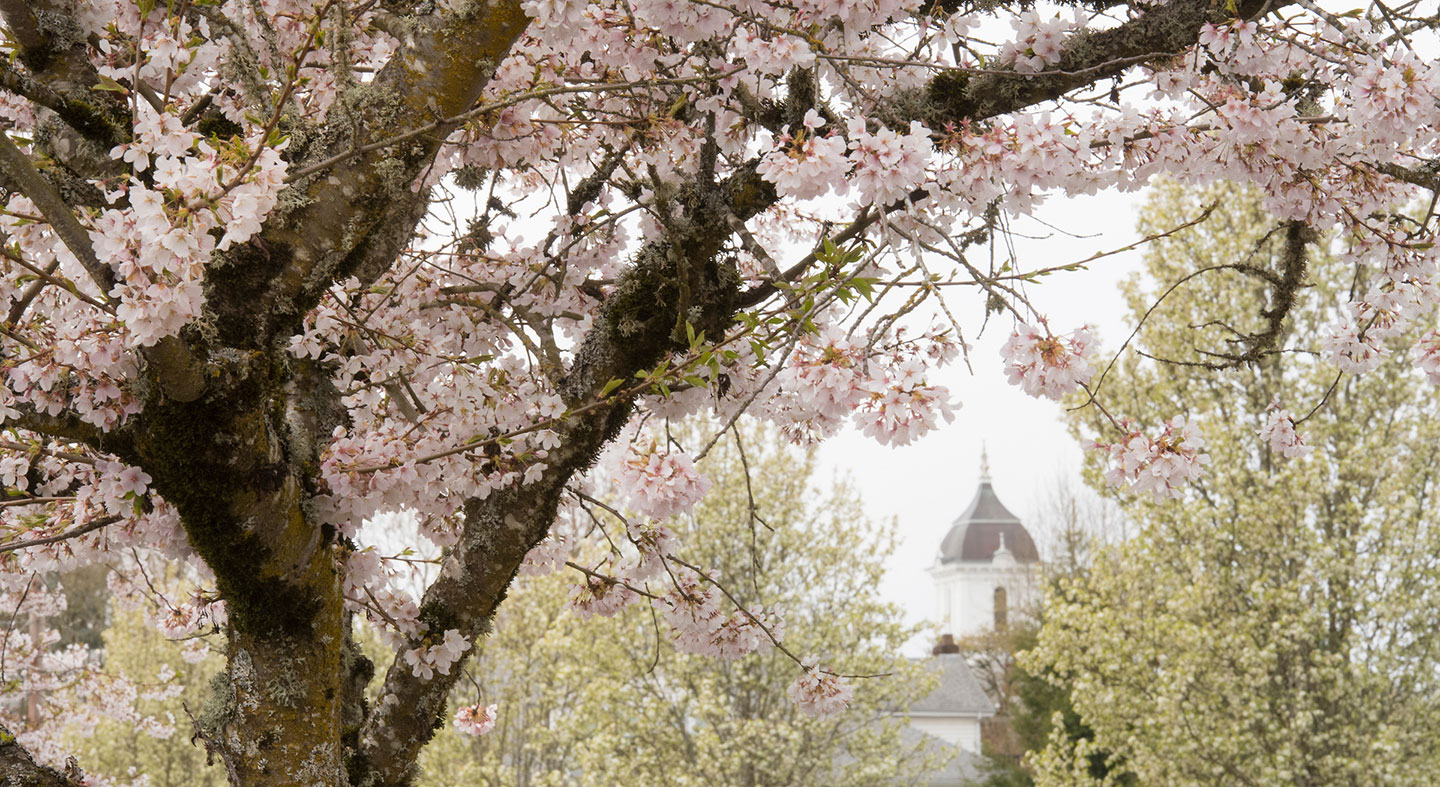 Celebrating Scholarship and Creative Achievement
The 29th Annual Linfield University Student Symposium will take place on Monday, April 26, 2021.
This event is open to the public.
Pre-register here!
The Student Symposium is a celebration of the work done by Linfield students. The work ranges from student performances to short films, to research in the social and behavioral sciences, the natural sciences and the humanities. This year's Symposium features work from over 60 students from 17 different departments and disciplines in a wide variety of formats.
Descriptions of student work are posted in DigitalCommons@Linfield.
The Student Symposium is sponsored by the Office of Academic Affairs and the Wendell L. Foote Science Endowment.
2021 Symposium Presentations
9 - 9:15 a.m.
Haoran Song
9 - 9:30 a.m.
Kylee Simdorn, "Reproductive Policies and Female Labor Force Participation"
9 - 9:30 a.m.
Rain G. Bailey, "Wild Nights - Wild Nights!"
Thomas Sagers, "I Sing to Use the Waiting"
9 - 9:30 a.m.
Kenna Tanouye, "BIPOC Queer and Gender Non-Conforming Artists, the Significance of Pop Concept Albums & the Music Films That Coincide with Them"
9:15 - 9:30 a.m.
Robert Meng
9:30 - 10 a.m.
Elizabeth Thompson, "Tilings of Modified Rectangles by Ribbon-Tile Pentominoes"
9:30 - 10 a.m.
Bronwyn M. Boyd, Hanna Shields and Lottie R. Steward, "Gene Annotation of GlyS in Drosophila Species"
9:30 - 9:45 a.m.
Yansong Liu, "Relationship Between Thermal Conductivity and Free Electrons in Metal"
9:30 - 9:45 a.m.
Bri Sanford, "Marketing Lululemon in Nigeria"
9:45 - 10 a.m.
Jordan Leis and Trinity Ronk-Degraffenreid, "Macrofungi in Urban and Rural Forests"
9:45 - 10 a.m.
Jayden Commendatore, "Securing Pint Glasses on Serving Trays With Magnetic Attachments"
10 - 10:15 a.m.
Connor Ashmun, "Estimation of a Tourism Demand Function for Aotearoa (New Zealand)" 
10 - 10:15 a.m.
Ben Whitt, "Design of an Altitude Compensating Carburetor for an Unmanned Aerial Vehicle"
10 - 10:30 a.m.
Angela McKelvey, "All Alone: The Impacts of Lack of Communication on Identity in Solitary Confinement: A Graduate School Research Proposal" 
10 - 10:30 a.m.
Jeremy Johnson, Will Burghardt and Haley Fujimori, "Athleticism as Predictors of Basketball Performance"
10:15 - 10:30 a.m.
Joseph Murphy and Becky Smith, "2D Materials Under the Scanning Probe Microscope"
10:30 - 10:45 a.m.
Anna Akots, "The Colonization of Africa and the Propagation of HIV"
10:30 - 10:45 a.m.
Joseph E. Simpson and Joseph S. Overstreet, "Infectious Disease Propagation Modeling"
10:30 - 11 a.m.
Pedro Graterol, "Violin Partita No. 2 in D minor, BWV 1004 by Johann Sebastian Bach (1685-1750) V. Chaconne"
10:30 - 11 a.m.
Hitomi Uchiyama, Jakob Longbottom and Kellen Atkins, "Effective Drone Usage for Wildfire Coverage in Victoria"
10:45 - 11 a.m.
Emmaline Irvine, "Gender, State Production, Chicha: A Stylistic Analysis of Eight Unprovenienced Chimú-Inka Ceramic Vessels at a Small Museum"
11:00-11:30
Nissa Jensen, Melissa Gutierrez, Aaliyah Kahaloa-Young, Alexis Matthiesen-Johnson, McCall Bennion, "Associations between Media Exposure and Attitudes about Sexual Interactions and Assault
11 - 11:30 a.m.
Eldon Long, "Light Rail Transportation and Its Impact on Home Values"
11 - 11:30 a.m.
John Lutaaya, "Tennis Is Big Yet Still Small"
11 - 11:30 a.m.
Kendall Harrison, Alexandra Feller, Nathaly Sanchez and Dane Affleck, "Great, Groovy Gatsby: A Short Radio Play"
11:30 - 11:45 a.m.
Deric Wagner, "Disaggregated Phillips Curve Regression"
11:30 - 11:45 a.m.
Natasha Kathryn Bailey, "The Butte"
11:30 a.m. - 12 p.m.
Josie Ciaciuch, Tessa Doerfler and Mariana Fernandez, "Associations among Motivations for Media Use, Academic Self-Efficacy, Procrastination and Grit in College Students"
11:30 a.m. - 12 p.m.
KC Larranaga, Saumay Narayan, Carolina Gaspar, "How Drone Technology Can Help Minimize Natural Disaster"
11:45 a.m. - 12 p.m.
Clara Jones, "In Memoriam"
12 - 12:30 p.m.
Rosario Rucoba and Patricia Bocanegra Sanchez, "First, But Certainly Not Last: First-Generation Student Experiences"
12 - 12:30 p.m.
Savannah Simmons, Isabella Kloha and Whitney Wells, "Sending Mixed Signals: A Study of the Melanocortin-1-Receptor"
12:30 - 1 p.m.
Max Bonda, "Stroke Play: The Effect of Strokes Gained & Traditional Golf Measurements on PGA Tour Golfers' Performance"
12:30 - 1 p.m.
Sungmin Park, "Performance of "Nightsongs" for Fluegelhorn and Trumpet with Accompaniment, by Richard Peaslee"
12:30 - 1 p.m.
Madison Reimer and Angie McKelvey, "Peer-led Bystander Intervention Training: Best Practices and Application"
1 - 1:15 p.m.
Tawny Ventura
1 - 1:15 p.m.
Grace Curry, "Gender Transformations in Chinese Culture: The Case of Taiwanese Buddhist Nuns"
1 - 1:30 p.m.
Stella Mason, "Kū'ē: Sovereignty and Violence"
1 - 1:30 p.m.
Payton Person, "Does Income Inequality Affect Import Demand in the U.S.?"
1:15 - 1:30 p.m.
Colin Anderson
1:15 - 1:30 p.m.
Cameron Perron, "Stress of Collegiate Athletes"
1:30 - 1:45 p.m.
Sungmin Park and Samuel C. Brinda, "In the Midst of the Gloom, Hear the Watchmen Singing: Wachet auf, Ruft Uns die Stimme"
1:30 - 1:45 p.m.
Gretel Valdes
1:30 - 2 p.m.
Morgan Balovich, Cole Hoskins, Shakayla Snyder, Riley Regalado, Bayleigh Snaric and Lia Shaffer-Tropeano, "Intercollegiate Wine Business Invitational – Pandemônio" 
1:30 - 2 p.m.
Hannah Curry, "Challenges and Successes of Adapting Theatre for Film"
2 - 2:15 p.m.
Tara Baker, "Feminine Archetype of Musical Drama: A Multimedia Presentation"
2 - 2:30 p.m.
Katie Russell, Allie Walter and Paris Green, "What Is an Adult?: A Prototype Analysis of Attributes of Adulthood"
2 - 2:30 p.m.
Daniel Johnson, "An Analysis of College Graduation Rates"
2 - 2:30 p.m.
Caitlin Meek, Joe McDowell, Margo Stewart, James Weiser and Katie Jones, "Linfield Forensics (Speech and Debate) Showcase: Debate"
2:15 - 2:30 p.m.
Sean Webster, "Detection of 3,3'-Dihexyloxacarbocyanine iodide by SERS in Silica Sol-gels"
2:30 - 3 p.m.
Pedro Graterol, "When There Are 9: Podcast"
2:30 - 3 p.m.
Rosario Rucoba, "The Portland Hipster Versus the Rural Oregonian: The Urban-Rural Divide and the Rise of Resentment in Oregon"
2:30 - 3 p.m.
Shayla Wacker and Chelsea Armstrong, "Linfield Forensics (Speech and Debate) Showcase: Prepared Speeches"