Recruiting the Next Generation of Talent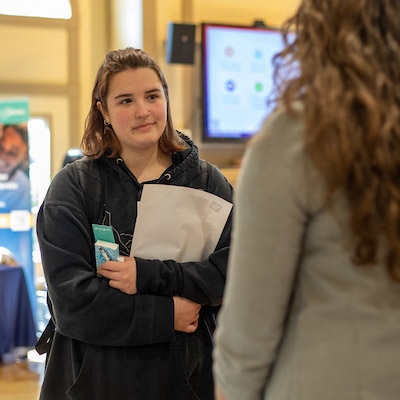 As students walked through the doors of the Fred Meyer Lounge on Thursday, March 16, they were greeted by more than 20 local employers seeking to connect, network and hire Linfield students. Recruiters from different industries were there, ranging from health care to entertainment, automotive insurance and even the local police department.
Each employer presented opportunities for students: internships, professional advice and even jobs. 
Also there, was Michael J. Hampton, the senior program director for career development. 
"The Job Fair provides students a great way to apply the professional development skills they've been learning to a real-life setting with potential employers," he said. "You have the opportunity to develop connections and relationships that might lead to a job and/or internship."
The Office of Career Development helps connect students with potential employers and build their network. The staff helps students explore careers, apply to graduate school, find internships, write resumes or prepare for an interview. They also host Lunch & Learn events, alumni panels, virtual Career Treks and the annual Job Fair.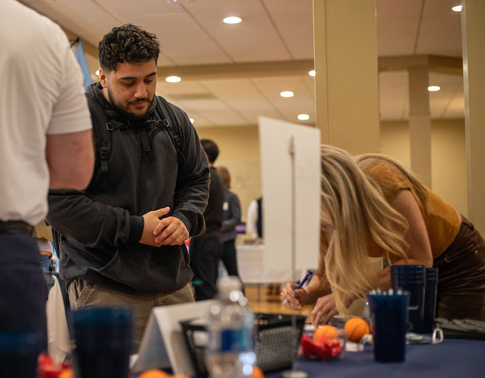 Samantha Burby '10, director of recruiting at Pacific Office Automation, was at the Job Fair, as well. Samantha graduated from Linfield with a degree in business management, and right out of college, she obtained a job working in customer service and training. After spending five years in advertising in Chicago, she returned to Oregon and began working at Pacific Office Automation.
"Being an alumnus myself, I know the quality of students that Linfield produces," she said. "It [a liberal arts education] sets you apart from the rest."
Both Samantha and Pacific Office Automation, find on-campus job fairs beneficial recruitment tools. The company is known to hire employees directly out of college.
"It [a job fair] allows students to find local opportunities and build connections," she said. "The job fair shows how many employers are out there seeking to hire ambitious, passionate and driven students.''