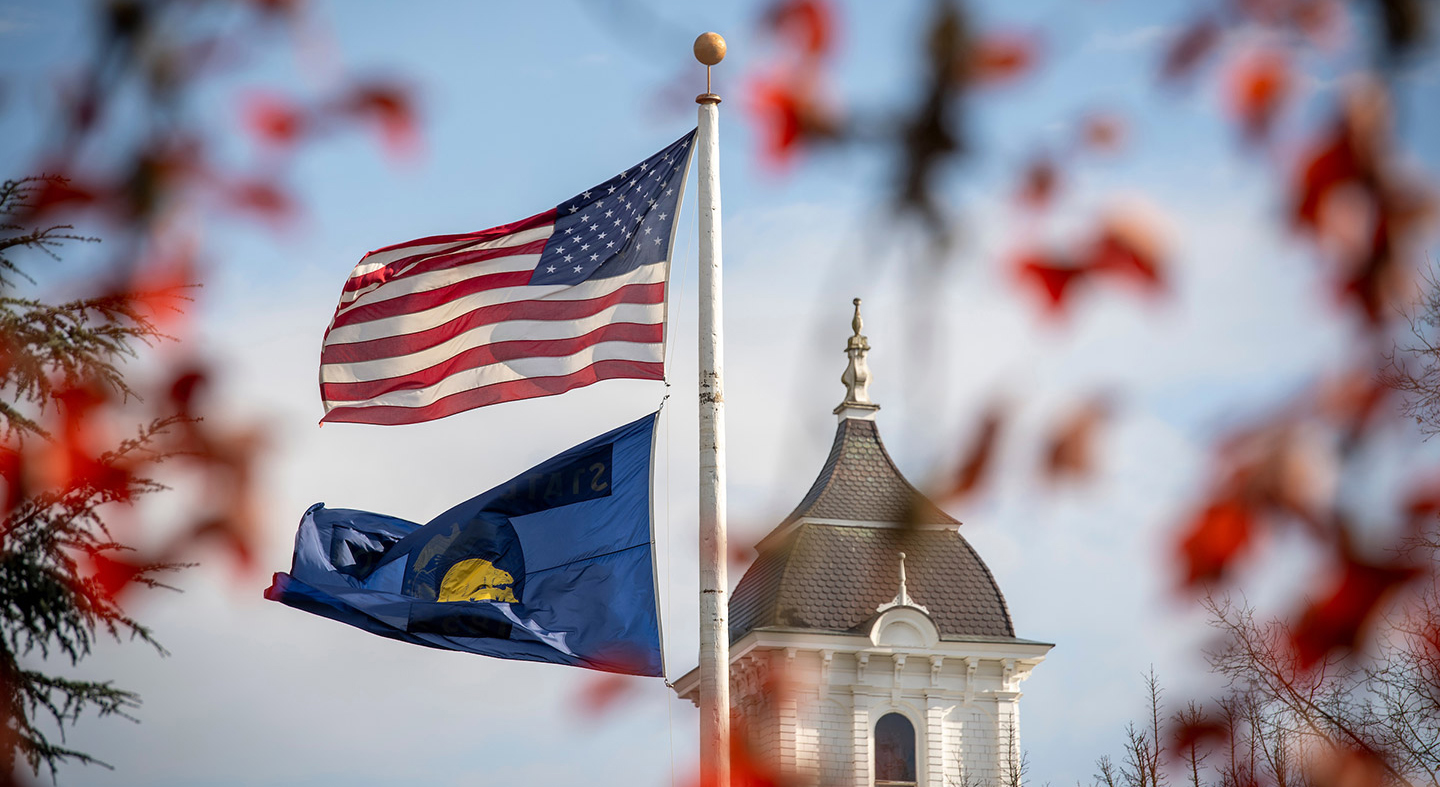 Celebrating Veterans
Beyond 'Thanks For Your Service'
Linfield veterans share what they wish civilians understood about military life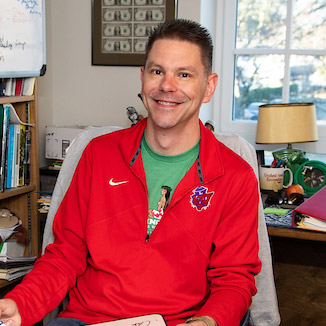 Sometimes, Eric Schuck wonders what Veterans Day means to the average member of the Linfield community.
Eric, a professor of economics and a Navy Reserve executive officer for the Reserve Detachment of the Fleet Logistics Center Pearl Harbor, noted that unlike in previous generations, most of us aren't directly related to a veteran, and many don't know anyone who has served.
"There's a tendency to think of military service as something someone else does — veterans tend to be older, and as time moves on, there's fewer and fewer people who have those direct relationships," he said.  
As the second-in-command for the reserve detachment, the third-generation naval officer makes the 5,124-mile round trip between his McMinnville home and Oahu every five to six weeks. 
This Veterans Day, he has an ask
Rather than just thanking someone for their service, he said, take the time to engage with their experiences as veterans, even though there are things that civilians will never be able to fully grasp.
"Not that many people find opportunities to communicate meaningfully with veterans, and ask what it means," he said.
A simple question can allow people to share as much or as little as they want: what do you wish people understood about service? 
"Like being a first-generation student, being a veteran is an invisible identity," said President Miles K. Davis, himself a former Navy aviator who served in 1991's Gulf War. "For someone who was directly involved in war, they may be reluctant to discuss certain parts of their military life." 
His own children had never heard much about his experiences until they watched 2012's Red Tails, a movie about the Tuskegee Airmen. He brought out his flight jacket and began to talk.
Being a veteran in academia, President Davis said, can pose unique challenges.
It's hard to move from the defined protocols, chain of command and structure one finds in military life to the open-ended, dialectical nature of higher education. 
Tucked amongst the books and memorabilia in his office is a photo of his squadron, though you'd have to look close to find it. Sometimes veterans haven't felt at home in universities, he said, which has inspired him to build a vet-friendly school. 
Jason Brazel, a former Navy diver who now works as the student rights and responsibilities coordinator in the Office of Student Affairs, said veterans arrive at college with vastly different life experiences than, say, students who attended senior prom within the past six months. 
"I was in for 8.5 years, so when I started (college), I was a very different age than most of the students," he said. "It's hard to interact fully with the other students, many of whom are 18 to 22-year-olds, and you're not always sure how to interact with faculty and staff, because it's so different than the hierarchy of the military."
Dr. Davis first met Jason, a disabled veteran, at a local gym several years ago. When Dr. Davis found out the university Jason was attending at the time didn't have much of a Veterans Day celebration, Dr. Davis invited him to Linfield's, which he hosts in his home each year. They stayed in touch, and Jason joined student affairs in September 2022.
Linfield, Dr. Davis said, should be a place where the experience and identities of veterans are honored and considered.
Part of that is representation in faculty and staff. 
For example: some veterans of 2003's Iraq war are particularly sensitive to fireworks due to the nature of that conflict, which civilians might not know or consider. When Linfield used them in a celebration for seniors last year, students were warned in advance.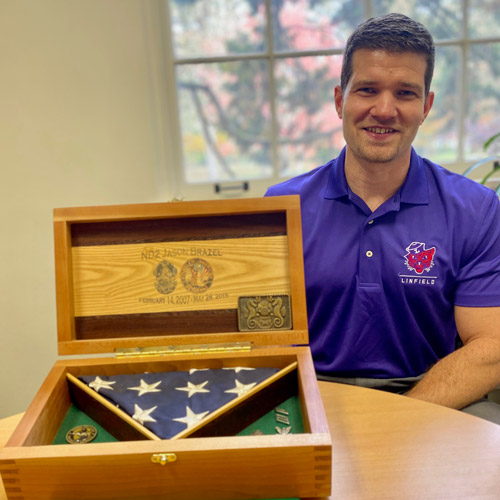 Veterans, Dr. Davis said, need the same types of spaces as students of color or those who identify as LGBTQ, for the same reasons. Those outside can't fully understand, he said, and those inside deserve a place where they can share their experiences freely and without judgment.
"You address it by having a space where people feel comfortable talking in their most authentic voice," he said. "No one really understands what you've been through unless they've been through that. 
As a civilian, having a conversation without coming across as disrespectful or patronizing, he said, is a matter of establishing a genuine relationship with a veteran, then letting them take the lead in sharing that part of themselves. 
For his part, Jason has his folded flag and shadow box up in his office, which is both an important part of his identity and a way to open conversations with students.  
"For me, personally? I'm an open book," he said. "And students ask questions, they're like, 'That's really cool — can you tell me about that?'"
Get involved
You can make a difference in the lives of veterans through the Oregon Department of Veterans Affairs' Veteran Volunteer Program whether you yourself have served or not. After an in-person or virtual training, volunteers serve veterans and families in their communities by helping them recognize potential earned benefits and services and connecting them with individuals and organizations for additional assistance.