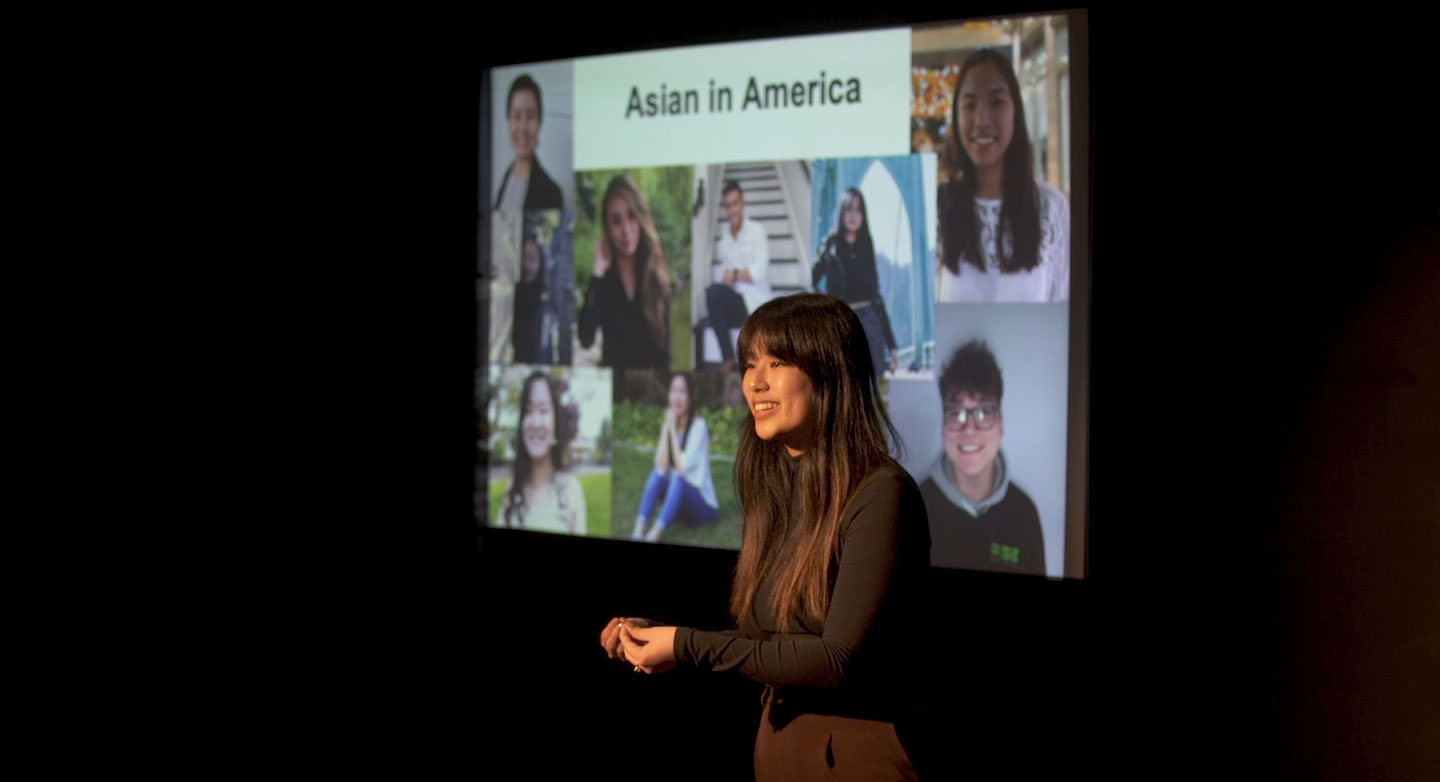 Closing the door on Linfield's inaugural LAB summit
Linfield's first LAB (Learning Across Boundaries) Summit successfully wrapped up on last Thursday evening with a persuasive speaking competition for students. Junior Nicole Makar came out on top as the "Top Speaker" after the audience voted on the best performance.
Competitors came prepared to respond to the question, "What is one of the next biggest problems society will be facing and what should we do now to best prepare ourselves to deal with it?"
"I was so happy to hear from my peers who also felt passionate enough about a topic to write their speech," Nicole said. "Taking home the first-place prize was very rewarding for me because I realize that my actions truly made an impact on where Linfield students will put their efforts next year. Our generation has the potential to create drastic change, we just need to decide what type of change that will be."
The week's events included TEDx-style speeches from faculty and students on Monday, a keynote address from the renowned Dr. Alisha Moreland-Capuia on Tuesday and a student workshop on Wednesday that encouraged discussion regarding ways that the Linfield community and beyond can make the world a better place. 
"Our first summit was a huge success, and it established LAB as a hub for collaborative, interdisciplinary community engagement," LAB Director Lindsey Mantoan said.
"We're all so pleased by how many people attended and the ways in which they engaged, including by chat, email and other interactive online features."
The theme of the entire summit focused on one student-generated question that was established at the beginning of 2020's fall semester: "How can we (students, faculty, staff at Linfield) help to address complex social problems and global crises?" 
During Monday's "LAB Talks" event, nine members of the Linfield community spoke on various topics related to the week's theme, including junior Kenna Tanouye's talk titled "'Guidelines' to Being Mixed: Gatekeeping Identity & The Media Portrayal of Naomi Osaka," Assistant Professor Natalie Welch's "Below Average Athlete, Above Average Impact" and a speech by senior Mara Youngren-Brown titled "Virtual Spaces and Conscious Communities."
Mara's speech dealt with harnessing the power of social media to build communities, especially for individuals from diverse backgrounds. 
"The inspiration for this talk came from my own experience in growing up a Chinese American adoptee in a small town in Alaska," Youngren-Brown said. "For much of my childhood, I felt like an outsider in my own community because of racism and a lack of diversity. It became a goal in my life to find a community where I felt like I belonged. I found this community, or rather built it, in the virtual space."
The senior said that she was honored to have the opportunity to speak amongst her talented and well-spoken peers. 
"From the preparation process to the filming to the actual premiere, I grew throughout this process and am so glad to have participated," she said. "I'm so extremely proud of Linfield for putting this event on, and I cannot wait to see where it goes after this year."
On Tuesday, Dr. Alisha Moreland-Capuia (better known as Dr. AMC) addressed the community with a speech focused on systemic racism as a form of trauma. Dr. AMC is an expert and frequent speaker on topics regarding trauma, global health, addiction and system development. She is currently the associate director of the McLean Hospital in Cambridge, Mass. and a faculty member at Harvard University Medical School. 
Wednesday's Student Action Workshop was held over Zoom and offered students an opportunity to brainstorm problems and solutions to the world's issues in breakout rooms. Topics ranged from issues existing in the Linfield community to the global community. 
"Every constituency of Linfield, from current students to alumni, staff, faculty and administration, was involved in LAB's 20-21 Summit, and people came together to discuss challenges that affect us all," said Lindsey. "We're already looking forward to next year's summit."