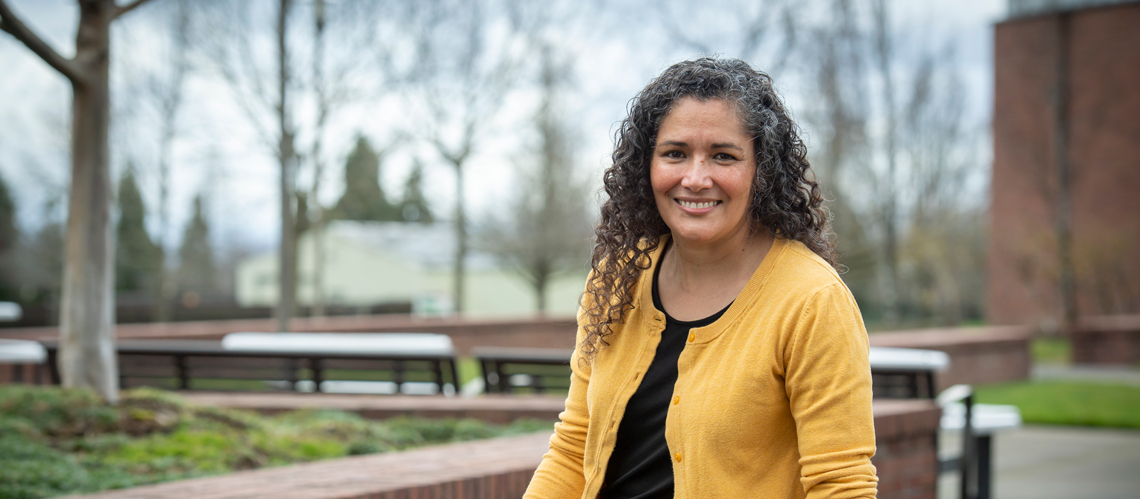 Meet Elvia Graves
Breaking Barriers
It's common for nursing students at Linfield University to spend two years on the McMinnville campus, then join the School of Nursing community on our Portland campus.
Current student Elvia Graves followed a different pathway.

Elvia, 47, began working in the healthcare system 19 years ago. The Hillsboro native was part of a health promotion team in Benton County, Oregon as a health promoter aid. During this position, she traveled to rural areas and educated local workers on healthcare topics.
In 2013, Elvia started working in a hospital as a lactation consultant. As a lactation consultant, she worked with in-patient and outpatient prenatal patients. While working in the hospital, Elvia was able to assist prenatal counseling, teach breastfeeding, see patients in the birth unit, and help patients as a postpartum facilitator for the hospital support groups.
After working nearly six years in the hospital and finding a passion for working with mothers, Elvia's peers and coworkers insisted she looked into becoming a nurse. After consideration, she decided to return to school and receive her nursing degree.
"It became about trying to do more for my patients, specifically Latinx and Spanish speaking patients," Elvia said.
Before working in the hospital, she attended an orientation class at Linn-Benton Community College to learn more about the pathway to becoming a nurse. However, with no prior college education, a job and three kids, she was unsure that she could succeed.
It wasn't until she found Linfield's two-year nursing program that she realized her goal was achievable.
Overcoming language barriers in her education was another obstacle. Elvia is a first-generation college student with English as her second language. Born and raised speaking Spanish, she was 20 years old when she started to teach herself English.
"I have struggled with school, I have to dedicate myself a little more than some people. But, I know that when I am put there in the field, I will be able to help somebody," Elvia said.
While being bilingual can have its challenges, Elvia's second language has come with many benefits.
Thankful for her diversity, Elvia has had many patients in the past who have been very grateful when a nurse speaks and understands their language.
"One time, a nurse told me, 'Oh! She doesn't have any breastfeeding questions!' but the nurse was asking the patient in English. Then when I came into the room, the patient was so thankful that I was there because they did have questions, but they could not communicate their questions [to the nurse] in English," Elvia said. "It could be just because we speak the same language, but they also feel like they can trust me."

Now entering her final semester as a nursing program student, Elvia credits her success to the faculty and staff at the Portland campus and the flexibility of Linfield's nursing program. Because of the diverse experiences she has gained within the nursing program, she no longer sees herself focused on one area of nursing. Instead, she hopes to work and learn in other areas as well.
"There are a lot of great people that have contributed to me being able to get through the program because it has been very demanding. I do believe that they all want the students to succeed. Just like any program, there are good and challenging things, but I think overall it has been a positive experience," she said.
In the future, Elvia hopes to find more resources and opportunities for older students wanting to attend college, students who speak a different language and those who are the first in their family to attend college.
Overall, Elvia believes that there is no disadvantage for anyone returning to school to further their education later in life. She believes that while it might take extra effort as an adult at times, there are things that end up no longer scare you, like asking questions in front of the class.
Elvia is excited to finish her last semester strong at Linfield's new Portland campus. After she graduates in the spring she is excited to return to the hospital as Nurse Elvia Graves and continue serving the people in her community.
"It wasn't until I started studying psychology in nursing that I used to think that we're getting older and were no longer growing in our brain capacity, which is not true. I wish that people knew that you can always expand your brain, and it always keeps growing and making new connections. Everyone comes into the program with different qualities, but my qualities would be experiencing," Elvia said.