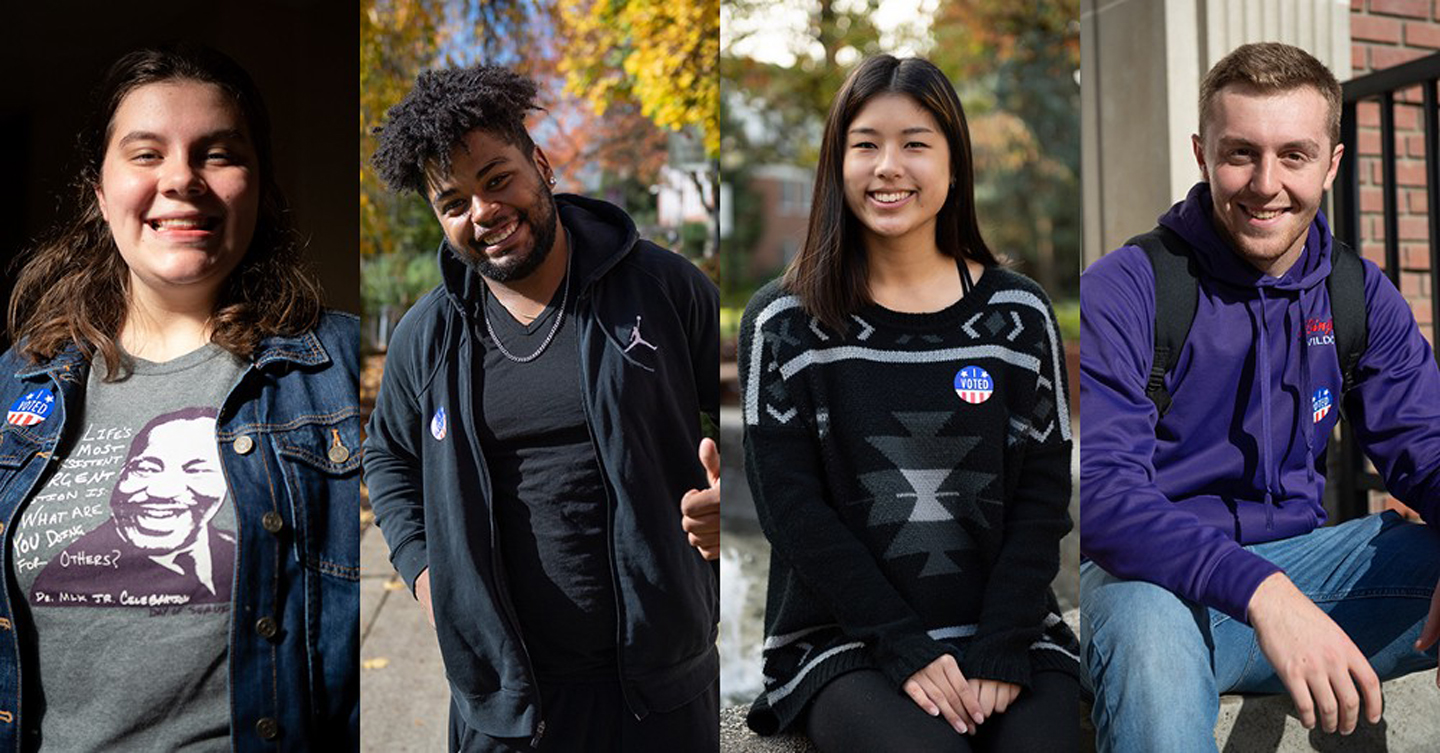 Making their voices heard
The problem of low voter turnout is not a new issue.
Only 20% percent of 18–29 year-olds voted in the 2014 midterm elections. But, that same demographic jumped to 36% in 2018, and it was even higher among Linfield College students.
Engaging the younger demographic in voting is something that politicians and even celebrities habitually discuss during election season. At Linfield, engaging in the civic action of voting is an action that is encouraged by clubs, student government, and faculty alike and it's earning national attention.
52.9% of Linfield students voted in the 2018 midterm elections. That is significantly higher than the 39.1% across all college campuses. More than 50% of students actively participating in democracy contributes to the culture of advancement and learning at Linfield. Part of the reason this culture is prevalent is because of the efforts form political advocacy groups, such as Linfield College Democrats.
"Linfield College Democrats has led the charge for the last couple of years in campus-wide voter registration drives," said Maddie Brunkhart '20, club president. "We've worked with members of the Linfield community, helping them register to vote or update their registration information."
Linfield's student government also places an emphasis on increasing student voting.
"Voting allows us as students to be active and engaged members of our communities," said ASLC President Daniel Endicott '20. "It encourages us to think critically about the future we envision for ourselves and our communities. Participating in civic engagement allows us to take direct action now on the future we hope we come to realize in the future."
The importance of civic activity is not only supported through clubs and student government, but it is also a reoccurring theme in the classroom.
"Through the discussions I have had in my classes, I believe that civic engagement and voting are strongly intertwined through the culture in which a person was raised as well as the values in their upbringing," said International Relations major Mark Lehmann '21. "I also firmly believe that partisanship is a very prevalent factor when it comes to voting."
Educating students about civic engagement and encouraging them to stay updated on current events is one of the ways that Linfield connects Learning, Life and Community. Linfield stays cutting-edge by constantly emboldening students to seek out more and to stay active.
Taking action is key
"So many of us get worked up about something and angrily vent about it on Twitter or to friends (myself included). While that can be therapeutic, it isn't the best way to affect actual change. The easiest way for us to advocate for ourselves is to open a dialogue with those in positions of power. This can mean calling your Senator or Congressperson to ask them to advocate for students' rights in Washington D.C., or it can look like setting up an appointment with Linfield administrators to talk to them about issues that you think affect this community."
As the 2020 elections draw ever closer, Linfield plans to continue impressing the importance of student expression and involvement and supporting opportunities centered around such activities.
"We as student leaders realize the positive change that can take place when people vote," said Endicott. "Not only when some people vote, but when all people vote. When more people are registered and voting, the outcome produces a more and more representative government that truly works for the people.