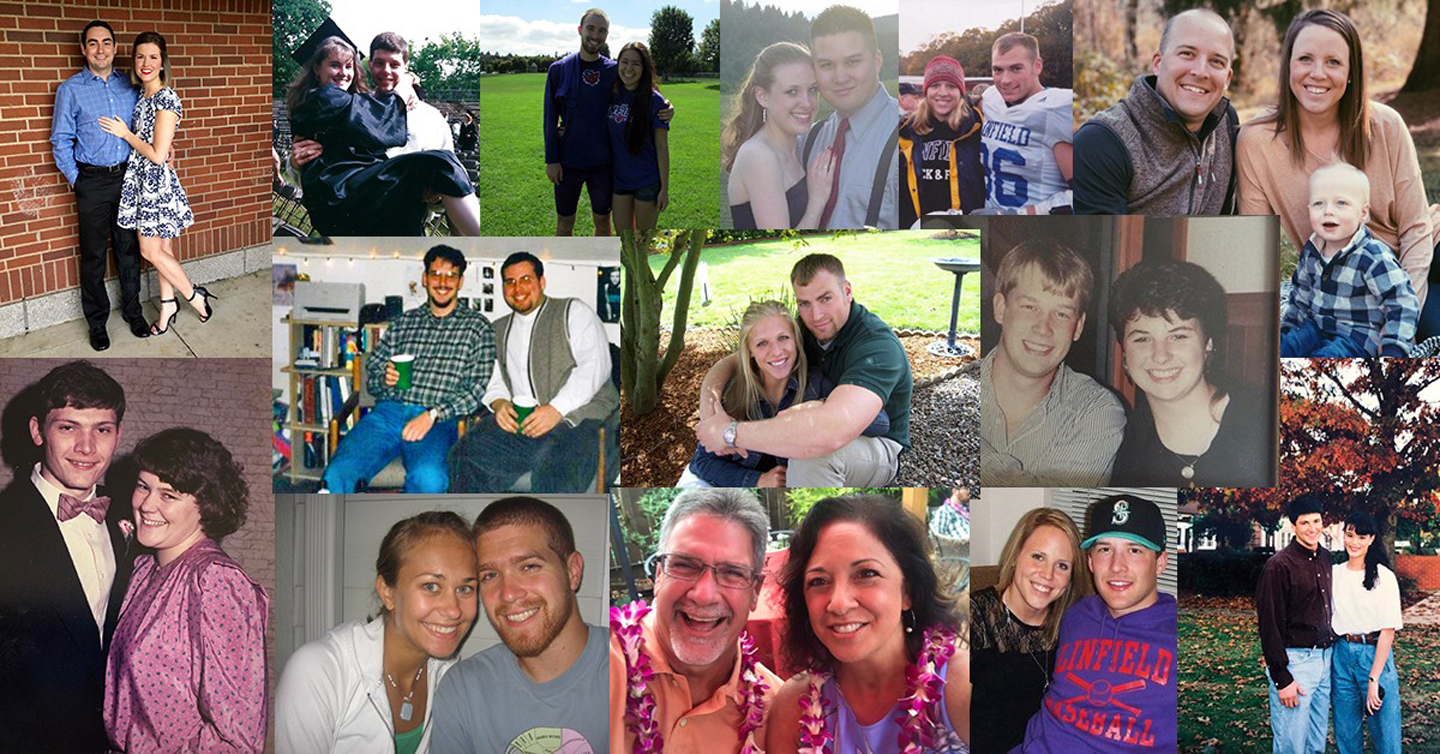 Alumni share how they met their spouse
Finding love at Linfield
Linfield has been called "Swipe Right College" by some. There's good reason for that nickname. There are nearly 1,500 alumni couples ranging from the late 1940's all the way to the end of the 2010's. How did these Wildcats meet? Alumni couples share their unique "Linfield Love Stories."
Mike '15 and Morgan (Gerke) Nardoni '16
Mike and I met while I was a freshman and he was a sophomore. We met through mutual friends, though we were both in other relationships at the time and never really saw each other in a romantic way. At one point, I even tried to help set Mike up with one of my sorority sisters! Fast forward three years — I am a senior and Mike has graduated. We ran into each other at another mutual friends karaoke birthday party in Portland and immediately hit it off. We then met up again at the Linfield vs. UMHB football game at Linfield — and were inseparable from that moment on.
Mike and I love that we both share a love for Linfield. We even considered using it as our wedding venue for a brief moment. We love going to different events, and continuing to support different groups on campus in any way that we can. Mike with football, and me with Alpha Phi and admission.
Mike and I are who we are today because of the time we spent at Linfield, and neither of us would change it for the world because it also brought us together.

Joe '93 and Jill (Wilkens) Wilkins '94
We "officially" met on the bench outside of Taylor Hall at the end of my sophomore year. It was finals week, and I was waiting for my friend to finish her economics test. While waiting on the bench, Joe walked out, and we briefly chatted. Even though we had been in the same class all semester, we hadn't personally met each other.
I sent a letter to Joe that summer, and he responded – and we made our relationship "official" the next fall. Joe was on the swim team, and I was on the basketball team, and it turned out we had some wonderful mutual friends. I knew he was "the one" when I was willing to swap my "A" for his "C" during a Jan Term class! My last name was WilkEns and his last name was WilkIns, and our professor inadvertently associated the grades with the wrong person.
Joe graduated in 1993 and I graduated in May of 1994, and we tied the knot two weeks later. And here we are still married after 25 years, with three awesome kiddos! We love Linfield and feel fortunate to be a part of such an amazing college. In 2017, we chose to move to McMinnville from Portland, which has enabled us to support and be a part of the Linfield community, such as hosting incoming college students in August, supporting YoungLife or holding homecoming get-togethers. We love the people who are connected with the school – and are so thankful that Linfield brought us together!
Josh '07 and Kelly (Copeland) Merrick '08
We met in Dillin Hall in Spring 2005. Josh remembers it was a Tuesday because it was a burrito day. Mutual friends were meeting for lunch and we both tagged along. We kept up that Tuesday tradition for a few weeks, and Kelly kept making sure she sat next to Josh, even though he obviously didn't notice. After getting acquainted that spring, we went on our first date over the summer. We'll be celebrating 10 years of marriage this coming summer. Thank goodness for burrito Tuesday.
Eric Deffenbaugh '00 and Justin Ball '00
Eric and Justin met on their first day at Linfield in 1996. Eric's friend from high school attended Linfield and was in the same residence hall as Justin. With move-in winding down, Eric's friend and Justin came for over a visit and this was our first meeting. Throughout the first year at Linfield, Eric and Justin served together in ASLC and got to know each other better. The next year, the couple began dating and have been together ever since. Eric and Justin were married in 2017 in Palm Springs on the 20-year anniversary of their first "date" at a Delta house party.>
Tim '81 and Anna (O'Sullivan) Bowman '82
Tim was a sophomore and a starting offensive guard for the football team. I was a freshman and first saw him in Dillin Hall at dinner. I thought he was loud, a bit obnoxious, had shaved his head for football (so kind of homely). Ugh. Fortunately, Dr. Leslie Anderson Russell, '81, and a fellow Failing Hall dweller said, "He's really cute with hair." She had gone with Tim to a Sigma function the year before. Leslie showed me pictures and he really was cute. This was in September.
Fast forward to May. Roy Rose asked me if I would go out with Tim for Miller Hall's Screw Your Roommate function. (Yes, it WAS called that!) Because this was well before cell phones, I set up a plan with my friends; come find me every hour on the hour in case I need to bail from a crappy date. And they did! However, Tim's and my time together was wonderful! Those well-meaning friends kept showing up and jamming up my hot date.
Tim proposed on the front steps of Failing Hall in October 1979, after a football game. We were married in the chapel at Punahou School by Dr. Tom Yonker, our favorite education department professor in June 1981. This year, we will have our 39th anniversary. I hit the jackpot!

John '94 and Mari (Moore) Colbourne '95
John and I met in 1993 while serving on ASLC together — John was president and I was intramural director. Early that fall, I was on my way to the feed store to pick up a big load of 50 lb. bags of powder chalk used to line the IM fields. John kindly offered to drive me (he had a bigger car) and help me load the bags. The errand turned into a very messy endeavor, for his car and the both of us, but he didn't seem to mind (even though I found out later it took him hours to clean out his car and there was lingering chalk residue for months). The rest is history and 26+ years later we're still going strong…although he doesn't offer to haul messy things in his car for me anymore.
Calvin '15 and Ashley (Kimi) Howell '14
Ashley and Calvin, met in an Intro to Marketing class in T.J. Day Hall. Ashley was involved with the Hawaiian Club while Calvin ran cross country and track at Linfield. Ashley turned Calvin down when he asked her out for the first time, but after some positive words of encouragement from a mutual friend, Ashley reconsidered! They began dating in the spring of 2013, danced in the Linfield Lu'au together in 2014, and got married in Honolulu in 2017.
Matthew '93 and Shiela (McMahon) Zerngast '92
Matthew and I met on the second day of our freshman year. My dorm neighbor was Matthew's big sister on campus. He was visiting her, and we met and quickly became friends. We started dating by January, and we were married the summer after graduation. He is a Delta and I am a Sigma, so our story is steeped in Linfield traditions. When we got pinned and engaged, we got serenaded on the steps of Melrose by the Deltas and Sigmas. It was magical. Matthew asked me to marry him under the Old Oak in the Oak Grove.
We have three great daughters and have built a wonderful life. We are so thankful for our days at Linfield.
Ryan '05 and Monica (Nelson) Devlin '07
Ryan and I met during our Jan Term study abroad trip to Spain in 2005, where we studied the Arab legacy on history, architecture, and culture of the Andalusia region. I was a sophomore sociology major, and Ryan was a senior finance major, that had just helped the Wildcats win the National Championship as an assistant football coach. We both wanted to get to know one another better on the trip.
One day, we started chatting for hours and spent what we now consider our 'first date' watching the sunset while walking the cliffs of Ronda. From then on, we've been inseparable! In 2010, we were married in the academic quad outside of Melrose Hall, with many of our Linfield friends in attendance.
Chris '06 and Dani (Bielenberg) Miles '06
Our Linfield "love story" began when I first laid eyes on him at the Rutschman Fieldhouse my freshman year.
I was playing coed intramural volleyball with one of Chris' football teammates and Chris was manning the fieldhouse desk for his work-study job. I convinced my teammate to introduce me to his good-looking football buddy.
Chris and I quickly found out that we had some common interests including a love of sports and particularly, our history of competing in track and field. We soon started hanging out; I began attending and cheering him and his teammates on at the football playoff games; and we ended up forming a closer bond and solidified our relationship that spring while competing on Linfield's track and field team together.
The rest is history! We made many wonderful memories together at Linfield. Chris proposed to me during my senior year at Linfield and we married the summer of 2006 after I graduated.
We now have three amazing children together and have continued to build our lives in the wonderful and supportive community here in McMinnville. We are so grateful for our experience at Linfield, which was truly life-changing for us!

Jordan '13 and Brynna (Fuller) Harlow '12
Brynna was a point guard on the basketball team and I played baseball. To get in shape for baseball season, myself and a few teammates would serve as practice players for the women's basketball team a few times a week in the winter. I noticed that the point guard was pretty cute and mustered up the courage (she was way outta my league) to ask her on a date after the basketball season was over. I guess you could say the rest is history, all thanks to a special place called Linfield!
Peter '89 and Aron (Meyer) Carleson '89
Peter ran cross country and track for Sunset High School and I went to a lot of the meets. On February 13, 1985 we were both a part of a four-person tour of the Linfield College campus as seniors in high school. We were both in a class taught by Dr. Love called World Geography and Cultural Ecology in fall of 1985. Word for a study group went around in December and I asked Peter to come, just cause I knew he was in the class. We met in the basement of the library and through the course of the evening, 10 students turned to just us two. We figured out our link from nine months prior when I pressed him about his Sunset High School track t-shirt. We started seeing each other every day. I (and my bud Kim) drove him home to his house. For the holiday, then we talked on the phone for hours every day. I invited him to New Years' at my house and played Trivial Pursuit through midnight.
—
Happy Valentine's Day, Wildcats!