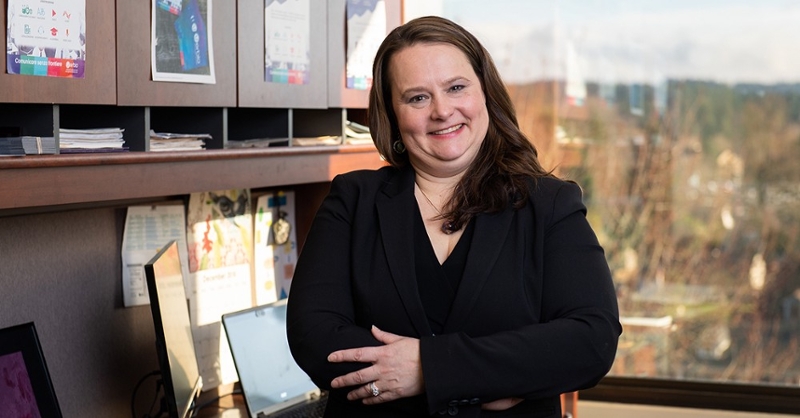 Meet Virginia (Zander) Joplin '97
Breaking down language barriers
No two days are the same for Virginia Joplin
One day she might be speaking both French and Spanish, and the next she could be learning one of 200 languages she works with each year. Or she could be creating a website while also hustling for clients like Nike and the Oregon Secretary of State.
Joplin, founder and CEO of the translation company, Verbio, credits her liberal arts education for helping her excel in an always-changing environment.
"You have to have a broad education to do work in this industry," says Joplin, who was a French major and minored in Spanish and European studies at Linfield.
"Every day is different. Every day we learn, see and do new things. A liberal arts education at Linfield exposed me to a broad range of fields, that formed the foundations of my career and a successful business."
Today, Verbio is the most diverse business in Oregon and Southwest Washington, according to Portland Business Journal, and they have clients that include Nike, the Oregon Department of Justice and Columbia Sportswear. The company recently opened a branch in Munich, Germany, and received a federal appointment to the District Export Council — a selection of public and private sector individuals fostering international trade in their state. Joplin is also a sworn translator for the Consulate of France and the Consulate of Spain.
Verbio originally focused on translation and web localization — the process of adapting an existing website to match the local language and culture in the target market. She has since ventured into audio video recording and subtitling, mobile app and eLearning localization and spoken or sign language interpreting.
"The breadth of these changes requires expertise in IT networking and database schematics, legal, international trade, web design, business management, human resources management, diversity and inclusion and more," Joblin says. "I have staff to perform the detail work, but, as owner, I understand and handhold each of those major projects from start to completion.
Joplin's day-to-day work can vary from working with spy cameras to overseeing major corporate lawsuits or helping food and beverage manufacturers ship goods to Asia.
"Translation is like a little window into every single industry out there," she says. "The blend of multidisciplinary experiences I had while I was a Linfield student opened my mind to puzzling together how each facet of life and industry impacts and plays off another."