A passion for adventure and wine
Meet Brenna Patterson '12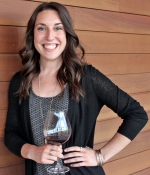 National Sales Associate and Export Sales Manager
Ponzi Vineyards
Major: Business Marketing
What are you doing now?
I am the National Sales Associate and Export Sales Manager at Ponzi Vineyards, a founding Oregon winery in the beautiful Willamette Valley. Ponzi Vineyards is a second-generation, sister-run business, founded in 1970. We pride ourselves on more than 45 years of experience producing benchmark Pinot Noir and other cool-climate wines.
I work directly with our President in our sales department handling the day-to-day sales tasks. This includes opening new international markets and acting as the direct liaison between the winery and our national distributor.
In addition to this work, I host trade guests at the winery's state-of-the-art tasting room and winemaking facility, located in Sherwood. This includes sharing the Ponzi story and spreading the word about the wines and company initiatives to domestic and international trade guests. Traveling for trade shows, tastings and dinners is a rewarding aspect of my position. I also collaborate with our marketing, direct sales and hospitality teams on promotions to drive sales.
Tell us about yourself.
I currently live in SW Portland and enjoy spending the majority of each week in the serene landscape of wine country. On the weekends, I am back in the city to explore Portland's thriving food and beverage scene. I spend my downtime hiking, playing sports, traveling and spending time with family and friends. I have a passion for adventure and I have a bucket list of things I want to do and see in this world. This summer, I plan to check off a few from the local list that include hiking Mount St. Helens and camping at Crater Lake.
How did Linfield help prepare you for your career?
Attending a liberal arts school gave me the opportunity to take a variety of courses outside of my major. I completed two minors during my time at Linfield; one in mathematics and the other in visual culture. The wide range of skills I acquired in these diverse minors is applicable to many aspects of my role in the wine industry.
The international experience I gained through the study abroad program at Linfield helped prepare me for my newest role in export sales by exposing me to different cultures and language barriers. Building relationships with importers is critical to the growth of our export program and the use of my cross-cultural communication skills has proven valuable in this objective.
I had the privilege of working with a local winery during a class project my senior year. It was from this real-world experience that I discovered career opportunities in the wine industry. This local winery connection referred me to the entry-level position at Ponzi Vineyards three years ago. Linfield University helped prepare me for this career and shape me into the person I am today.