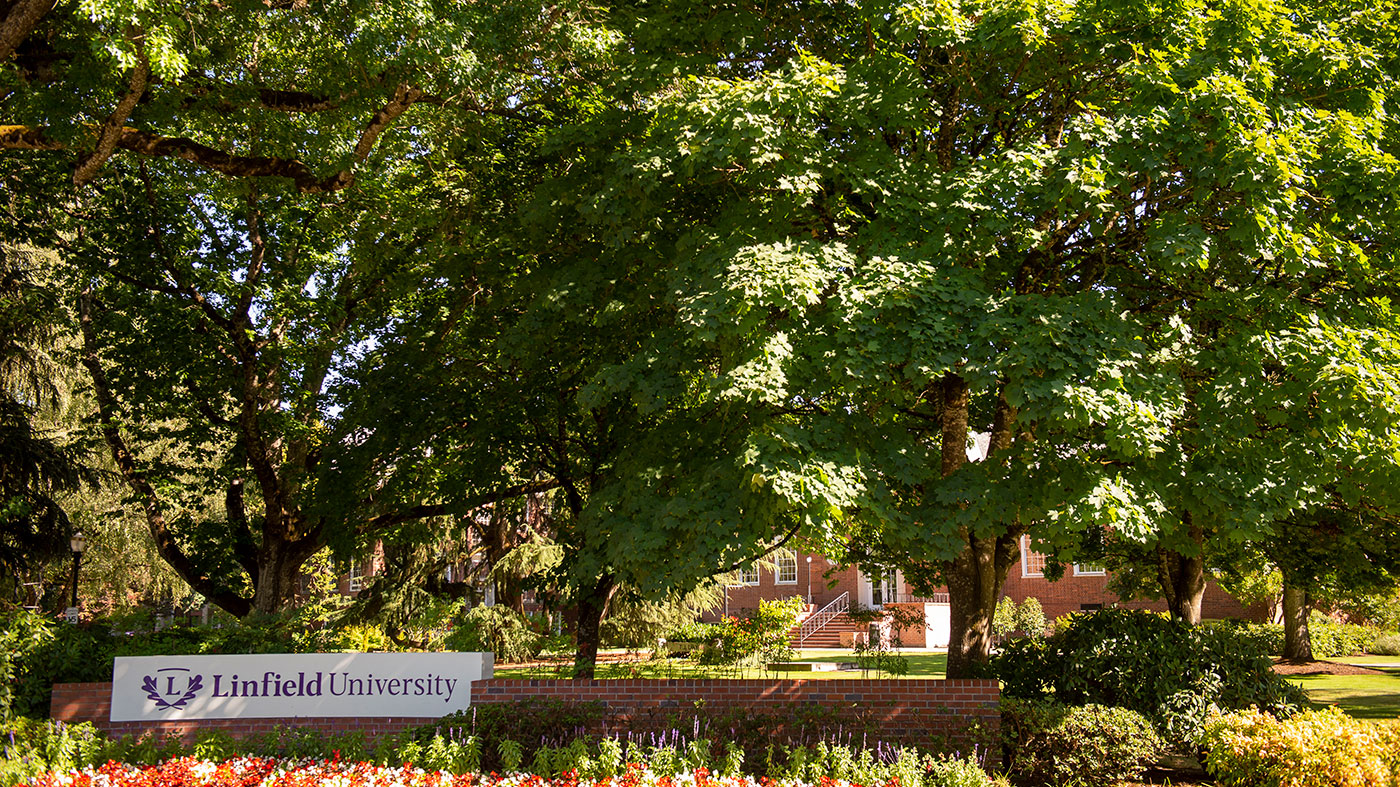 For college students, a little disposable income from an on-campus job for the occasional lunch away from the dining hall or online spending spree is nice. But for Joe Stuart '19, Efrain Martinez '19, Cristina Ortiz '20 and Vanessa Ong '22, on-campus employment opportunities are far more valuable than the monthly paychecks; they are using their on-campus jobs to bolster future careers and maximize their Linfield education.
"I am lucky to have a job that is essentially practicing for my dream career."
Stuart, a student broadcaster for the Linfield Sports Network, says. "I have wanted to be a sports broadcaster since I was a kid, and Linfield has provided me a great opportunity to prepare for that."
Stuart works in sports information and will graduate with four years of on-air experience as he prepares to pursue his sports broadcasting career. He says the experience would be rare at another school; if offered at all, it would likely go to seniors or graduate students.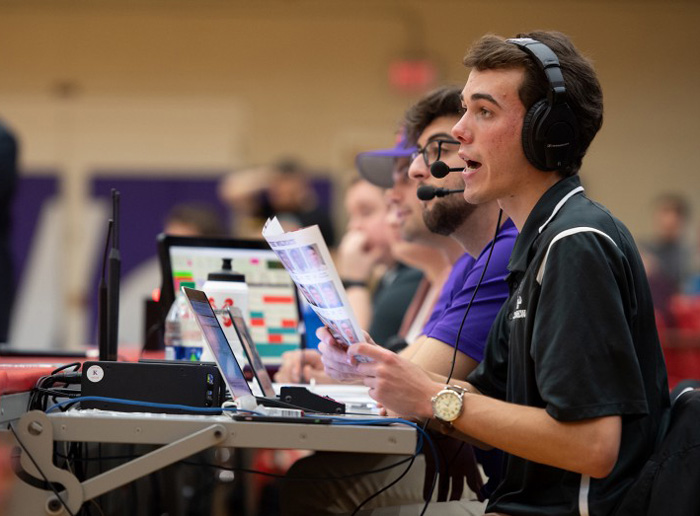 "Thanks to the sports information team taking a chance on me as a freshman and the mentorship of Kelly Bird and Kevin Nelson (Linfield staff), I feel extremely prepared and confident in my broadcasting skills as I look to the professional job market in the near future," he says.
Martinez, an accounting major, works in Linfield's accounts payable office as a student accountant, and has already used the experience to land an internship with Bernards & Associates, CPA.
"My on-campus work has given me practice for my career," Martinez says. "This job has opened up so many doors for me and has given me a view of what the rest of my working life will look like. Plus, I am able to say I have applicable accounting experience when I apply for jobs."
While Stuart and Martinez have found ways to practice for their careers, Ortiz and Ong have found ways to apply components of Linfield's lib­­eral arts curriculum to their jobs.
"On-campus employment has allowed me to show initiative and develop my leadership skills," says Ortiz, a biochemistry major who works in the Office of Career Development. "I am constantly challenged to think critically and to be a part of a team, something that will really help me in my career."
Ong's work as a Starbucks barista is strengthening her communication skills.
"I'm learning how to approach and deal with people better," she says. "You can only thrive if you work with your peers."
With 58% of the student population employed on campus, Linfield makes it easy for students to find and obtain a job. Ong, a first-year student, secured a job before starting classes at Linfield.
"I read about Cat Connect on the Linfield website, and that's how I found this job," says Ong of the website, which lists a summary of positions on- and off-campus. "You can read about the job you're applying for, schedule your classes around those times and days, and imagine yourself working there."
So, finding jobs is easy, and so is reaping the benefits. But still, how does someone with a scattered and busy schedule find time to work?
It turns out, that is quite easy, too.
Working at Linfield means all of the supervisors are also Linfield employees who understand not only Linfield's schedule but also student commitments.
"Balancing work and school is easy with on-campus employment because the supervisors are usually understanding that our academics come first," Ortiz says.
Ong was able to schedule all of her classes in the morning and schedule work at night. When she has tests or other commitments in the evening, she has the flexibility to trade shifts to match schedule.
Stuart, on the other hand, was given the flexibility to take an entire semester off from work without having to worry about losing his job.
"During my sophomore year, I struggled academically, and decided to take the fall sports season off from broadcasting my junior year to focus on school," Stuart says. "The sports information department was completely understanding and held a job for me. My supervisors are so supportive of both my broadcasting and academics, and they frequently check in with me on how my classes are going."
Ultimately, college is supposed to help people move one step closer to their goals in life. And with on-campus employment opportunities, Stuart, Martinez, Ortiz and Ong are doing exactly that.