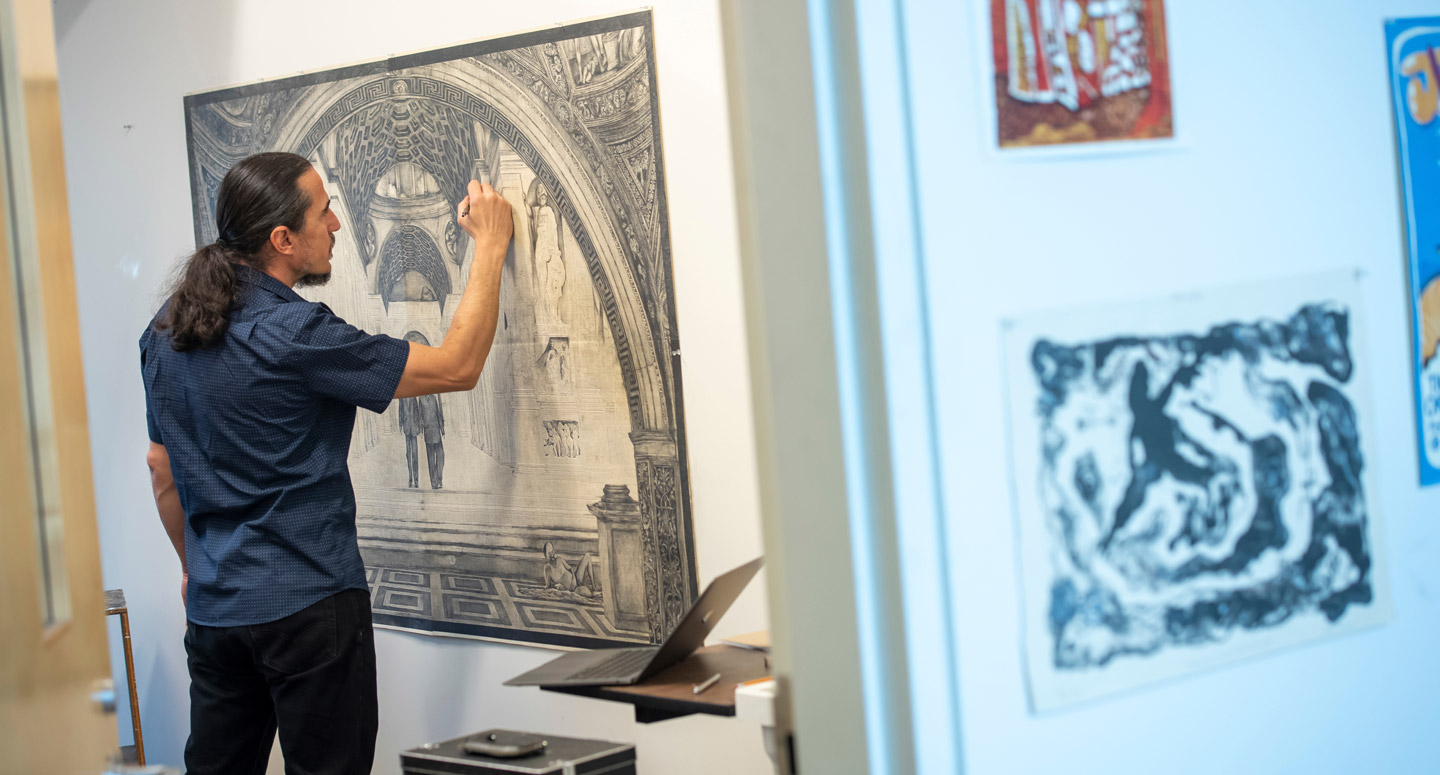 Meet Assistant Professor Serhat Tanyolacar
Using Art as His Voice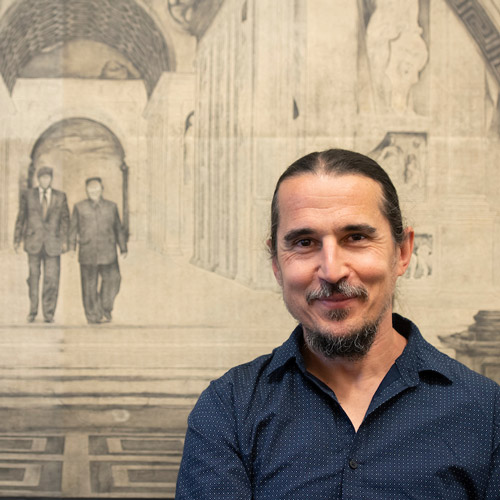 Assistant Professor Serhat Tanyolacar has worked as an instructor at a number of establishments, including the University of South Florida and a Grant Wood fellowship at the University of Iowa. And now Linfield University is lucky enough to have him as a member of the art department.
Hired June 2022, Serhat produces progressive and community-building visual arts curricula, while campaigning for people with autism spectrum disorder, and bringing attention to social justice and environmental problems.
"I am here to contribute to the department; but more than the department, my vision is to bring changes to the community," Professor Tanyolacar exclaims.
"I consider my job here not only for the school but for the community."
His soon-to-be-in-college son, identified as having autism, has given Professor Tanyolacar new perspectives into assisting and collaborating with persons with disabilities. This has brought forth his artwork advocating for individuals with autism and autism equality.
Serhat, a Turkish national who supports and upholds freedom of speech, has been raising awareness about the ongoing abuses of human rights in his own Republic of Turkey.
For more than 20 years, the Turkish-born artist and activist is recognized for his socially and politically charged artwork. During his studies in the 1990s, Serhat concentrated on capitalism, consumerism and self-alienation, which informed his later work that addresses important economic, social and political themes.
"I believe we are all free-born human beings, and we all have the right to express how we feel, how we think, as long as they don't promote and trigger violence."
The anti-authoritarianism theme in Serhat's art has also been affected by his experiences with censorship and exile in Turkey due to his public performances on Neo-Ottomanism and cultural identity.
His installations, drawing, printmaking and performance work raise awareness and effect change through conversation.
"My works have been censored. My work has been censored by corporations, governments, academic institutions and even my country, Turkey. Sometimes you can't prevent that. If you prevent, you will be diluting the intent, the impact of the artwork.
"There should be some sort of form of radicalism in art because you are working with something powerful – risk-taking – in some ways."
Here at Linfield, Serhat continues to advocate for positive changes in social, political and environmental rights through his art courses.
"My artwork incorporates the element of education and information gathering," voices Serhat.
Some of Serhat's student projects include his Painter-Printmaking course's (ARTS 369) mural project for Harvest Fresh Grocery and Deli on 3rd Street in McMinnville. This 14 by 8 foot mural promotes sustainability and environmental responsibility.
In his Drawing course (ARTS 120), Serhat plans to exhibit student work in Dillin Dining Hall in order to encourage more student-enrollment in art courses, while displaying current-student artwork.
Serhat's goal for his courses and the overall art department is to make the space more welcoming for both students and community.
Starting Saturday, April 15, Serhat has organized a weekly 2 p.m. to 5 p.m. figure drawing session. Every Saturday the drawing studio is open for Linfield students, faculty and the general public. These sessions are free for Linfield students. Using professional models the community is authorized to collectively engage and relish in the creation of art.
Serhat advises that "One thing I believe, especially for the art department, is that we are never permanent as faculty. We don't make up the art department, you all – the students – make the art department! My hope is seeing more students working and enjoying what they produce in our studios. I welcome Linfield students from all backgrounds to create art – even as a non-art majors – in order to make better, bigger things, not only for the school, but for the community."