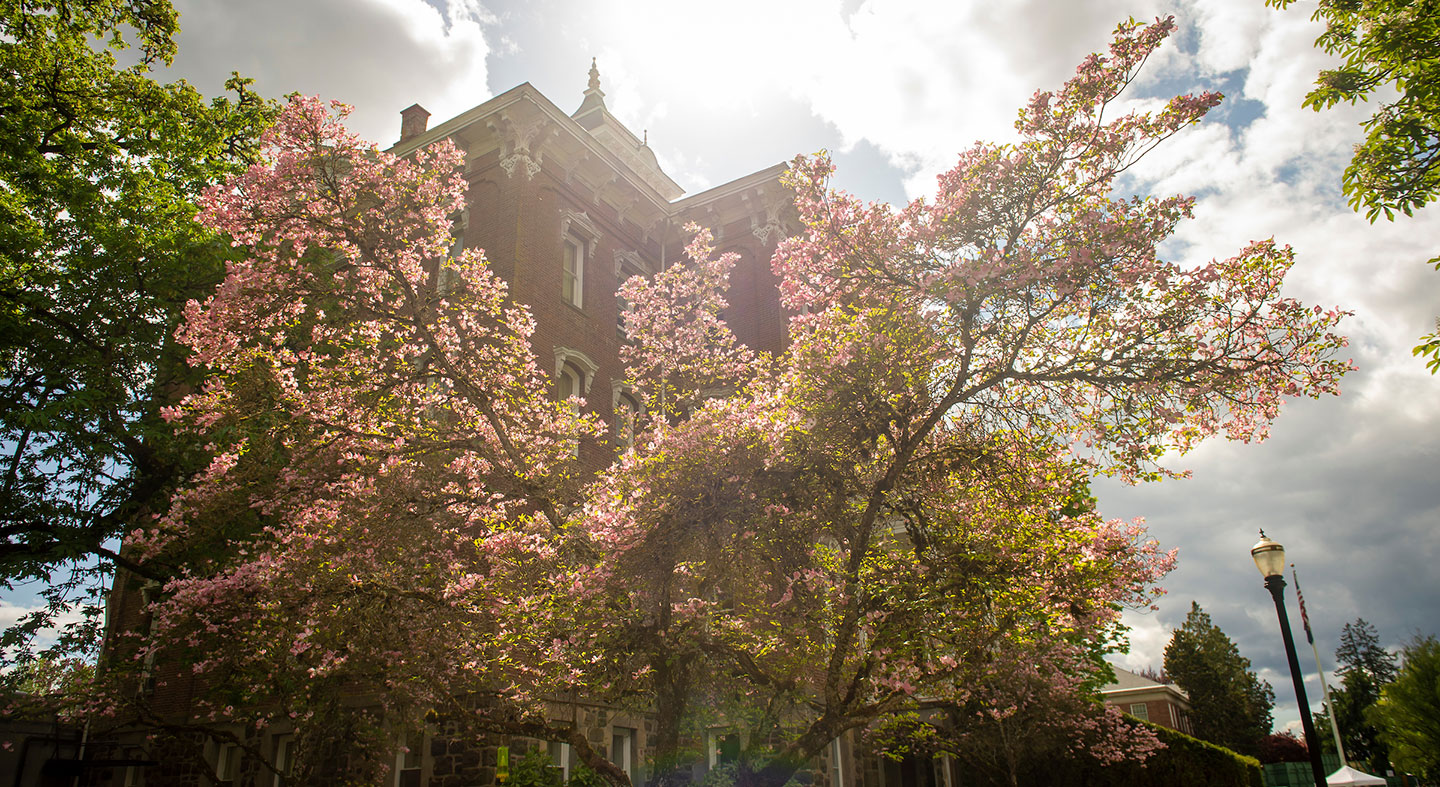 Meet Jeremy Richards
Faith Based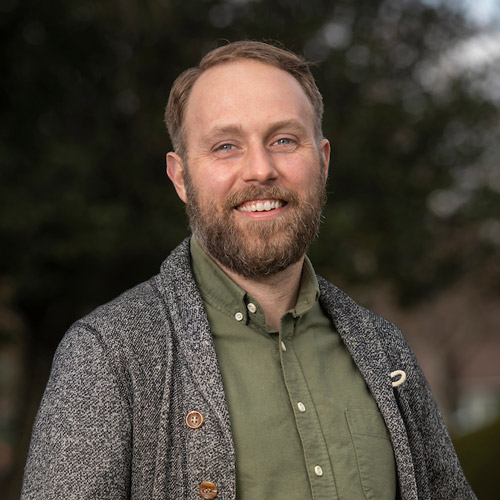 By Starla Pointer, News-Register Staff Writer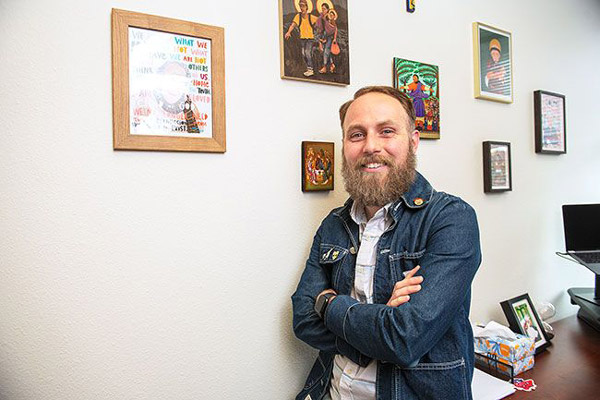 As Linfield University chaplain, Jeremy Richards will work with every student and staff member — not just those who are Christian. Not just those who profess any faith.
He also will be a counselor who will talk with members of the college community as they "wrestle with big questions" that are part of growing up, he said.
"This is a time of thinking new thoughts," he said, "of being away from home for the first time and figuring out who we are, looking at new ideas and deciding what do I keep (from before) and what do I leave."
Richards was hired at Linfield this spring. He will help welcome students back to campus next month for the Aug. 29 start of classes.
The new chaplain completed his undergraduate work at Concordia University in Portland, where he studied education and English.
The school has closed since Richards graduated in 2010. But during the years it flourished, most students enrolled because it was a religious school, he said.
It's different at Linfield.
The McMinnville-based university was founded by Baptists and long associated with the American Baptist faith. It is rooted in Christian tradition, Richards said, but is no longer explicitly a Christian school.
As its chaplain, "I want to welcome and support all students. I want to support students of all faiths and no faiths."
Richards said he believes exploring spirituality is part of being a whole person and part of society, as well.
"I want Linfield students to be whole people, and that includes being informed and committed to their spiritual journey," he said.
Richards shares an area on the third floor of Riley Hall with Linfield's activities director and its diversity coordinator. In addition to their separate offices, the space includes comfortable seating for studying or talking.
"Students can hang out here," Richards said, noting that he tries to build trust by "showing up, being present and showing I'm sincere."
"I want them to feel safe. I want everyone to feel safe," he said.
He added, "For me, being a Christian includes being on the side of those who are marginalized or oppressed."
He spent the spring living on campus, but he and his wife plan to find a house in McMinnville. His wife has her own business consulting with nonprofit organizations.
The family plans to attend church in McMinnville. They enjoy bouldering, camping, hiking, watching Netflix and entertaining.
He also likes reading, playing video games, shooting hoops with faculty and playing with his 4-year-old.
After graduating from Concordia, Richards worked in a coffee shop in Portland while deciding his next step. He thought about earning a doctorate in religion so he could teach at high school or college level.
Then, after feeling the call to ministry, he earned a master's in divinity degree from the seminary at Duke University.
He described the call as "something you try to escape, but can't." And he said it fits him better than teaching.
"I love studying, reading, but my personality is more on the ministry side than on the academic side," he said. "I love living with people."
Returning to Portland, he spent three years at Grant Park Church, pastoring a Baptist congregation in Northwest Portland, before coming to Linfield.
The roles of a church pastor and a university chaplain overlap, but are different, he said.
As the leader of a church, Richards preached sermons and served the faithful in his congregation.
As chaplain, he won't preach weekly sermons. He will lead worship services from time to time, vigils, prayers at graduation and holiday programs.
He also will help guide the community during periods of "collective tragedy or collective joy."
"You have to speak to those moments, whether it's a local funeral or a national tragedy," he said.
On campus, he will deal with a much wider range of people than he did at the church, both in terms of faith and background. Most will be students in their late teens and early 20s, although he'll also work with members of the staff.
He will help members of the Linfield community connect with clergy members in McMinnville and the Salem and Portland areas, in addition to working with them directly.
"Being a chaplain is more about living life with people," he said.
Richards grew up in New Meadows, Idaho, a town of 500 two hours north of Boise. His father taught science to seventh- through 12th-graders at the local school.
Raised a Baptist, Richards wanted to attend a Christian college, but not one that was too big — his high school graduating class had only 14 students, after all.
He also wanted to try city living after growing up in a rural area. That's what brought him to Portland.
"I loved Concordia," he said.
The idea of becoming a minister wasn't foremost in his mind, but it was there.
"I wanted to be a good Christian and a member of society" in whatever profession he chose, he said.
His studies were non-denominational, but, he said, "I found my way back to Baptist" roots when he was looking for a church to serve.
"The Baptist structure is individual autonomy and the autonomy of the local congregation," he explained. "Decisions are made by the congregation."
When he was being considered by the church in Portland, for instance, he spent some time there and preached a sermon. The entire congregation voted to hire him.
Richards decided to apply for the Linfield chaplain position based in part on the good things he'd heard about the school. "I do well in a progressive institution," he said.
After visiting campus and going through "a very friendly" interview process, he felt sure it was the right fit for him.
In his interview, Richards said, he and President Miles Davis talked about the importance of interfaith dialogue. "It takes work" to bring that about, but he plans to set the stage.
"I've been brushing up on other faiths myself," he said. "I'm very excited to talk to the rabbi and to students and faculty of faith."
He arrived partway through the spring semester. Things have been going well, he said.
In addition to being chaplain, Richards is Linfield's half-time director of service leadership. He is organizing pre-orientation trips that will give incoming students a chance to help a local nonprofit, such as the McMinnville Habitat for Humanity chapter, the Virginia Garcia Clinic or Heart 2 Heart Farms, a sustainable food pantry in the Newberg area.
This summer, he has been reaching out to nonprofits and meeting area pastors, who will be allies in his work with students. He's also learning about clubs and faculty organizations on campus.
He's confirmed that the university values having a chaplain on campus. And he believes he is a valuable part of the community, for both Christians and those who are Buddhist, Jewish or of other faiths.
"I'm not here to convert people," he said, and that helps him gain their respect. "I'm here to encourage interfaith dialogue and understanding between faiths."
Students who come to Linfield understand they will meet all sorts of people, including those from different religious backgrounds. It's a good opportunity for them to learn about others and explore their beliefs and practices, he said.
Today's students are more open to talking about different faiths than many were when he was a student, he added.
"They're less committed to a denomination," he said. "They may go to church, but not to a particular one."
Originally published Jul. 19, 2022 by the News-Register. Read more about Linfield in the News-Register archive.
Starla Pointer, who believes everyone has an interesting story to tell, has been writing the weekly "Stopping By" column since 1996. She's always looking for suggestions. Contact her at 503-687-1263 or spointer@newsregister.com.