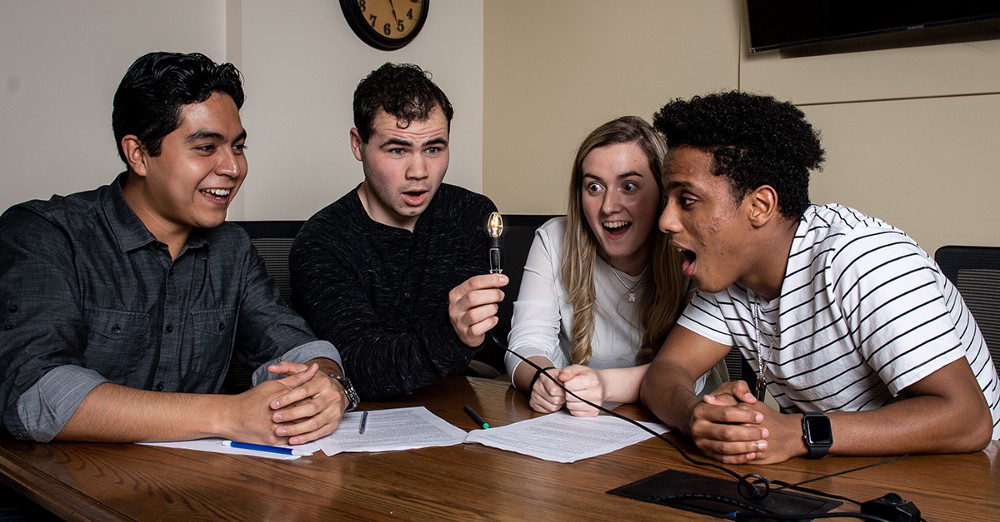 Meet the winners of Wildhack 2019
Create a solution in 24 hours
Twenty-four hours.
That's all the time Linfield students were given during the inaugural Wildhack competition to prepare proposals for rebranding and restructuring the college to increase student recruitment. The rules for creating a team were simple: teams could be up to five people and needed to be interdisciplinary, collectively representing three or more majors or academic departments.
The winning team was guaranteed $1,000 scholarships for each participant.
Here, winning team members share how they created a plan that focused on student recruitment.
Friday, April 12
4:45 p.m.: Cristina Ortiz Mateos '20 (biology and chemistry), Mihretabe Gizaw '20 (international relations) and Luis Perez Morales '19 (chemistry and mathematics) form their team for the inaugural Wildhack competition. In need of pre-competition energy, Cristina walks to Starbucks to order a drink. In line, she sees Calder Ifft '21 (nursing), who had just finished choir practice. Striking up a casual conversation, Cristina asks if Calder will join the team.
Without much knowledge of the competition, Calder agrees.
5 p.m.: The 2019 Wildhack competition begins, and Cristina, Mihretabe, Luis and Calder gather in the Fred Meyer Lounge on Linfield's McMinnville campus, alongside the other contestants, to hear the official rules.
5:15 p.m.: A prompt, "Propose an idea for how Linfield could rebrand and restructure itself going forward to improve student recruitment and retention," is announced and the four students retreat to a corner in the Riley Student Center, munching on provided snacks and scheming their idea.
7 p.m.: The whole team works diligently to create an idea. At 7 p.m., Calder leaves for a choir rehearsal. The rest of the team continues discussing ideas.
8 p.m.: The team generates the main premise of their plan. With a direction, Cristina, Mihretabe and Luis begin putting words on paper, building paragraphs that serve as the outline for the plan. Calder returns to rejoin the group.
10:30 p.m.: Both Mihretabe and Luis leave due to prior commitments. So, Calder and Cristina work tirelessly to complete the outline for their project. They contact Travis McGuire, Linfield's director of social media, to get his take on some issues. The two direct the team to some resources they could use to add some factual support to their plan.
Saturday, April 13
1 a.m.: With Mihretabe and Luis still gone, Calder and Cristina decide it would be best to take a break for the night.
4 a.m.: Calder leaves for another event in Ashland, Oregon.
6 a.m.: The rest of the team meets for coffee before getting back to work. Mihretabe lists what the team still has to complete on a whiteboard in Taylor Hall (mathematics building), and they realize there is still a lot of work to do. The final presentation is at 5 p.m. and they have yet to write out the proposal or start the presentation.
11 a.m.: The team meets with Scott Nelson, Linfield's director of communications and marketing, to talk about strategy and to ask questions about Linfield's marketing and communication tactics. They also use this time to grab lunch before getting right back to work.
4 p.m.: With the final presentation looming, and their winning idea developed, the team works on writing their proposal and making the presentation. Calder works from afar via Google Docs. In one hour, the team is required to complete their entire proposal and presentation.
5 p.m.: The team is one of seven to present before a panel of judges.
6:30 p.m.: Winners are announced and Cristina, Mihretabe and Luis celebrate. They immediately text Calder, who's on a bus returning from Ashland, and he hoots loudly despite no one around him knowing what has going on. Following the event, team members, all running on just a few hours of sleep, retreat to their respective rooms to crash.
Except for Calder, of course, who will sleep on a bus.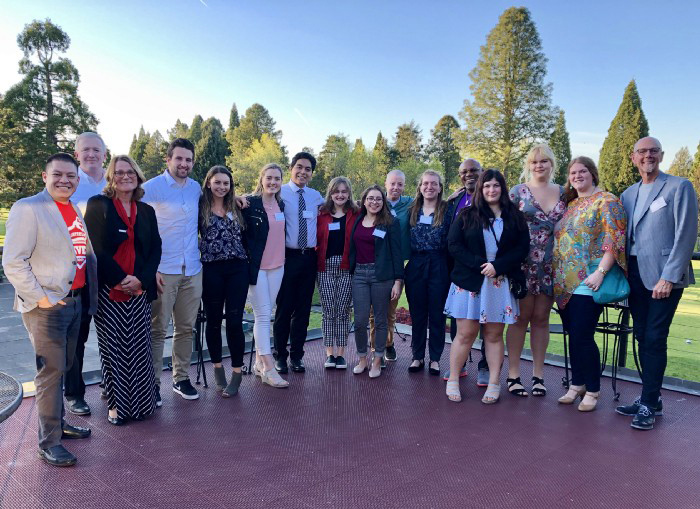 While the announcement of the winners concluded the formal competition, it did not mean the end of the project for Cristina, Calder, Mihretabe and Luis. The team will continue to collaborate with Linfield's communications and marketing team, President Miles K. Davis and the Board of Trustees. The team presented its pitch at the May 2019 Board of Trustees meeting.
Listen to an audio interview: Ortiz, Mateos and Ifft discuss with Liam Pickhardt '20 about why they joined the competition and how they created the winning proposal.