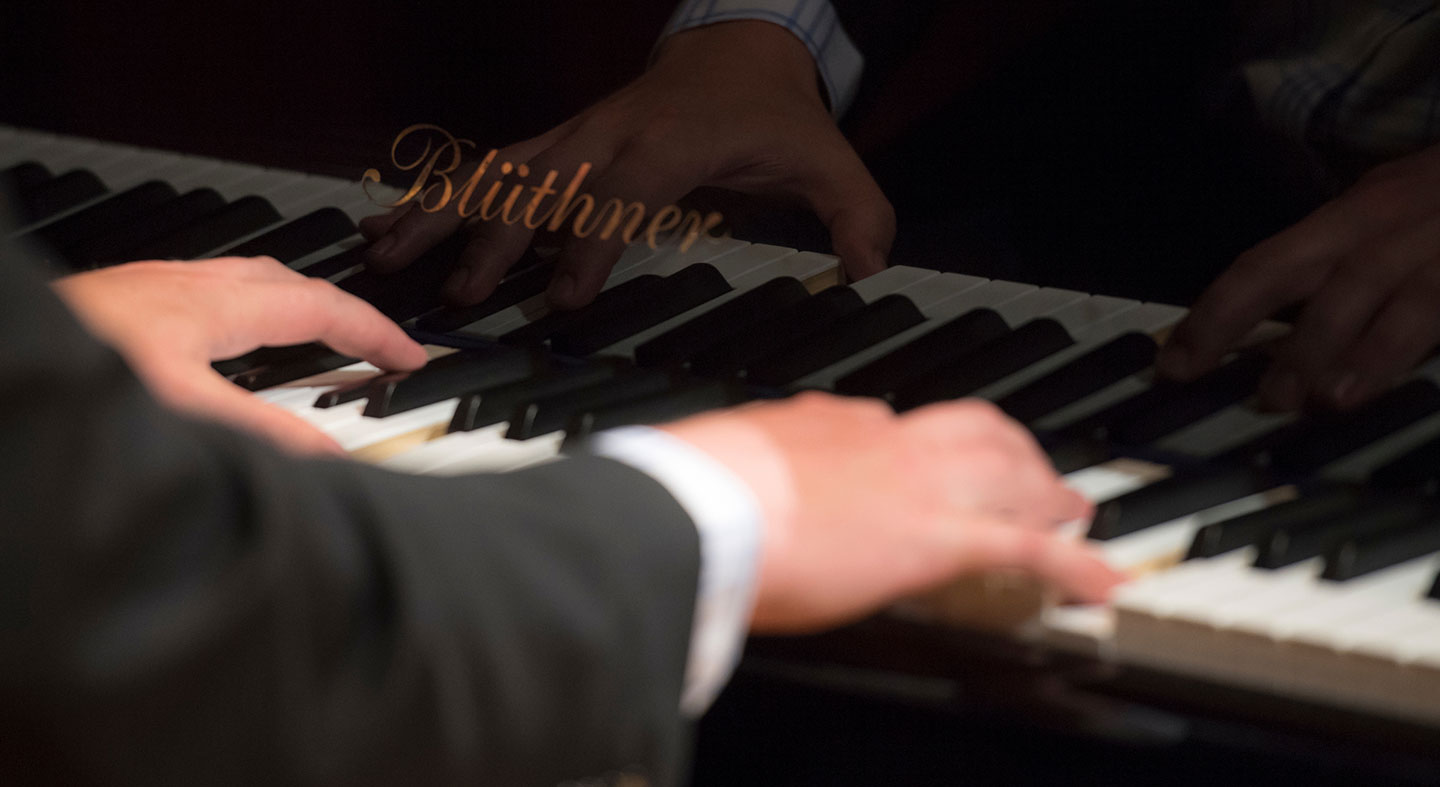 Music Faculty
Anton Belov - Associate Professor of Music - Applied Voice, Opera Theater and Lyric Diction
Vivian Bull Music Center 138
503-883-2233

abelov@linfield.edu
Education: B.M. New England Conservatory; M.M., A.D. The Juilliard School; D.M.A. Boston University
Professor Belov is a professional singer (baritone) who has performed throughout the country with many major opera companies and orchestras. In addition, he offered over 100 recitals, appearing in such venues as Carnegie Recital Hall in New Your City and the Kennedy Center in Washington, DC. He is the founder and the artistic director of the Aquilon Music Festival. He teaches Applied Voice, Beginning Voice Class, the Opera Theater Workshop, Lyric Diction, and Understanding Music. In his free time, he enjoys fine furniture making, fishing, hiking and tabletop games.
Professor Belov's Web Page
Joan Haaland Paddock - Professor of Music, Conductor and Trumpeter, Director of Instrumental Activities
Vivian Bull Music Center 136
503-883-2258

jpaddock@linfield.edu
Education:
B.M.E., M.M., D.M. Performer's Certificate. Indiana University Jacobs School of Music
Fulbright Scholar Norwegian State Academy of Music
Download Professor's Curriculum Vitae
A professional trumpeter, conductor and cultural presenter, Joan Haaland Paddock performs as soloist and collaborative musician with ensembles in Western and Upper Midwest Regions of the US, Mexico, Canada, Japan, and Norway. At Linfield College, Paddock conducts bands, coaches chamber ensembles, and teaches applied trumpet. Additionally, Dr. Paddock has led several January Term Study Abroad courses, including those on-site in the Middle East (Jordan & Israel), Southeast Asia (Bali, Java, Thailand, Singapore, & Malaysia), and Norway, always performing as trumpet soloist and ambassador for Linfield College wherever she travels. Dr. Paddock believes music is for everyone - no one should be excluded from making and enjoying music. In addition to Music Cultures of the World, Dr. Paddock teaches the Inquiry Seminar, "What to Listen for in the World," and "Drumwise," a course that students from across many disciplines benefit. "Drumwise" focuses on evidence-based rhythm and wellness, music and conflict resolution, history and uses of drums in cultural contexts, and development of community through drumming.
Learn more about Professor Paddock
Andrea Reinkemeyer - Associate Professor of Music Composition & Theory
Vivian Bull Music Center 142
503-883-2571

areinkem@linfield.edu
Education:
B.M. University of Oregon; M.M and D.M.A. University of Michigan (Composition)
Composer Andrea Reinkemeyer explores the interaction of music with other disciplines; she enjoys writing music for large orchestra and wind bands, intimate chamber ensembles, and interactive electronics. In the coming year she will teach: Music and Technology, Musicianship I/II, Women in Music, and Applied Lessons in Composition; she regularly teaches Songwriting. Born and raised in Oregon, she has also lived in Michigan and Thailand.
Professor Reinkemeyer's Web Page
Anna Song - Chair, Department of Music; Director of Choral Activities; Associate Professor of Music
Vivian Bull Music Center 143
503-883-2406

asong@linfield.edu
Education:
B.A.,University of California Los Angeles; M.M., Yale University; Ed.D., Teachers College, Columbia University
Professor Song's research interests focus on the method and practice of music teaching and learning, and on Western European vocal music before 1750 which she continues to explore with In Mulieribus, a professional female vocal ensemble she co-founded and leads as artistic director. She teaches courses in music education, musicianship, and music history, and directs the Linfield College Concert Choir and Cascara Voce.
Learn more about Professor Song
All Music Faculty and Staff
* Indicates full-time faculty
| | |
| --- | --- |
| Department Chair | Anna Song* |
| Administrative Coordinator | Shelly Sanderlin |
| Accompanists | Anne Britt |
|   | Kathy Ganske |
|   | Julie Cross, Principal |
| Dance | Eve Brindis |
| Ensembles | Anton Belov*, Opera Theatre, Wildcat Men's Glee |
|   | Diane Chaplin, Cello Ensemble, String Ensemble |
|   | Joan Haaland Paddock*, Concert Band, Brass Choir |
|   | Dana Libonati, Jazz Choir |
|   | Anna Song*, Linfield Concert Choir, Cascara Voce |
|   | Abigail Sperling, Chamber Music Coordinator, Flute Choir, Woodwind Ensemble |
| Instrumental | Diane Chaplin, cello |
|   | Pamela Goldsmith, guitar |
|   | Victoria Gunn, violin/viola |
|   | Joan Haaland Paddock*, trumpet |
|   | Michael Hettwer, french horn |
|   | Richard Krishnan, woodwinds |
|   | Greyson Boydstun, percussion |
|   | Abigail Sperling, flute |
| Music Technology | Andrea Reinkemeyer* |
| Theory/History/Composition | Anton Belov* |
|   | Andrea Reinkemeyer* |
|   | Anna Song* |
| Voice | Anton Belov* |
|   | Julie Cross, voice |