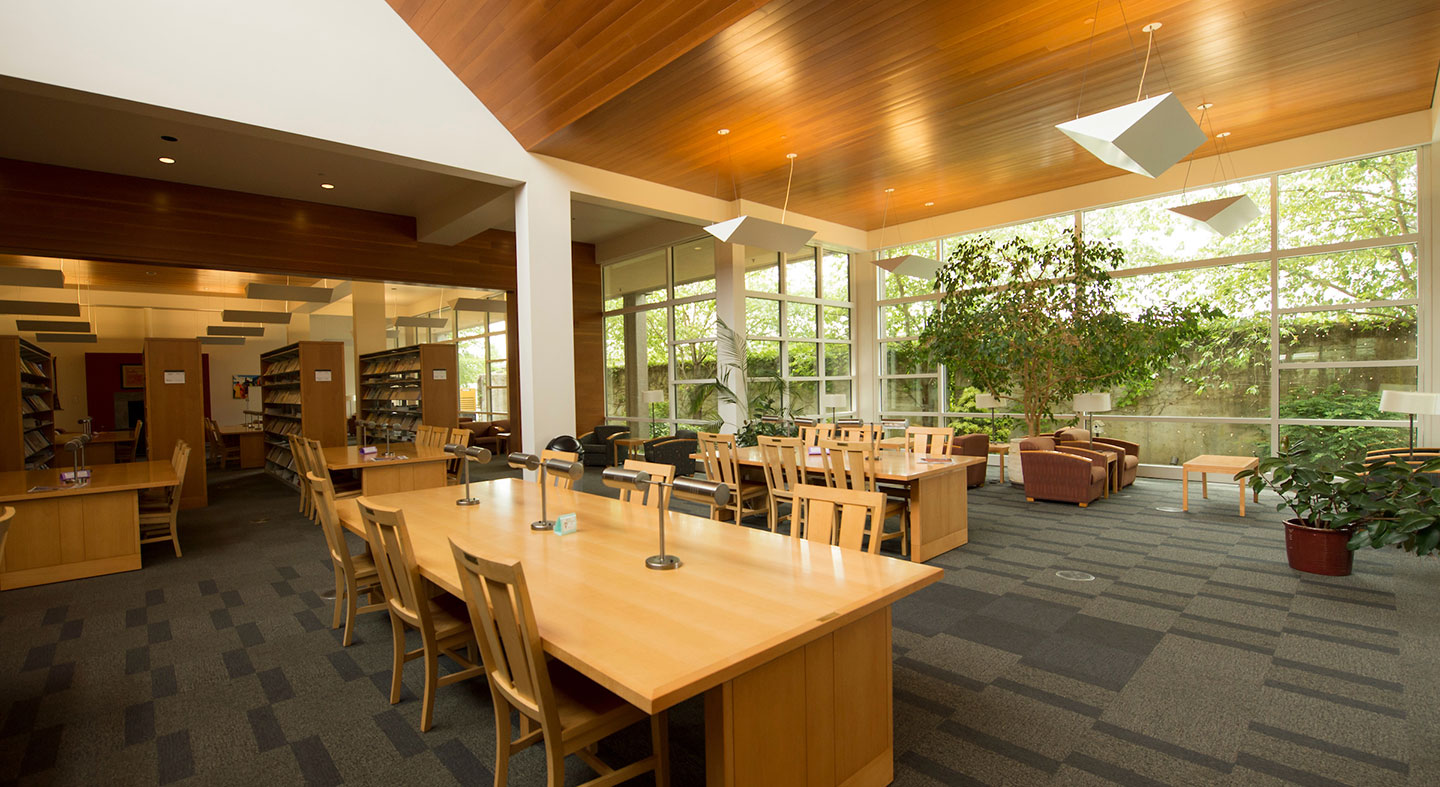 The collections at the Linfield University Libraries include more than 156,000 volumes of books and more than 31,000 bound volumes of journals. The Libraries have access to more than 56,000 current newspaper, magazine and journal titles, both paper and electronic. Based on a ten-year average, approximately 3,500 volumes of books and 600 bound volumes of journals are added annually.
Archives and special collections
The Linfield University Archives collects, protects and promotes materials documenting the history of the college and regional community, including American Baptist history, Oregon wine history and collections featuring Linfield's faculty, students, staff and alumni. The Linfield University Archives actively collects for all these areas, with a recent focus on Linfield history and Oregon wine history. The collections include books, journals, photographs, manuscripts, student theses and oral history interviews with past presidents, alumni and longtime faculty and staff, as well as other materials; some content is available online through DigitalCommons@Linfield.
Linfield is also home to the Oregon Wine History Archive (OWHA), which collects and preserves all aspects and regions of the Oregon wine industry to help reveal the story of Oregon wine. Collections often feature in-depth interviews with people across the industry, each with their own unique experiences and perspectives on the evolution of Oregon wine. OWHA's goal is to collect and preserve historical materials from winery owners, winemakers, grape-growers, wine marketers, sommeliers and wine organizations.
Children's literature
The Jereld R. Nicholson Library includes a small, active collection of about 3,600 volumes of children's and young adult books. The collection supports courses in the education and English departments. In addition to titles requested by faculty, the collection includes winners and runners-up for the major American Library Association awards (e.g., Newbery, Caldecott, Coretta Scott King) as well as "challenged" titles highlighted annually during Banned Books Week.
DigitalCommons@Linfield
DigitalCommons@Linfield is the open-access institutional repository for Linfield University. A service of the Linfield University Libraries, DigitalCommons@Linfield promotes the discovery and sharing of, and provides long-term access to, the intellectual and creative works of the faculty, students and staff of Linfield University, as well as the history and development of the college. The collections management librarian serves as the DigitalCommons coordinator and has oversight for all organizational and operational activities related to the repository, including decisions about inclusion or removal of content.
DigitalCommons@Linfield strives to remove as many access barriers as possible for the content in its collections. Collection content must fit the broad scope outlined above. Examples of content include student papers and projects, faculty/student collaborative research, previously published articles written by Linfield faculty and staff, Linfield-produced publications, conference presentations, lectures and content from the Linfield University Archives. With very few exceptions, content must be full text.
Additional information about policies, formats and other guidelines are available at the DigitalCommons@Linfield website.
For questions or requests to include content, contact the university librarian.
E-books
The Linfield Libraries offer access to many e-books through a variety of providers. In addition to individually purchased titles selected for the collection, the Libraries have access to consortially purchased and subscribed e-books through the Orbis Cascade Alliance's e-book program.
User guides explaining platform features are available for EBook Central and Wiley.
For questions, requests, or to report a problem with access, contact the university librarian.
Government Documents
This library is a congressionally designated depository for U.S. government documents. Public access to the government documents collection is guaranteed by public law. (Title 44 United States Code)
The Linfield University Libraries have been a selective depository for United States government publications since 1965, moving to an entirely online depository library in 2018. In compliance with the requirements of the Federal Depository Library Program (FDLP), the Libraries provide access to the FDLP Basic Collection of online resources. In addition, numerous research databases and search engines, like Google, also provide access to government documents.
For more information about finding government documents, contact a librarian.
Musical Scores
The Jereld R. Nicholson Library includes a small collection of about 2,400 musical scores. The collection supports courses in the Music department, as well as various musical ensembles at the college.
Newspapers and Journals (Serials)
The Linfield Libraries provide access to more than 56,000 current newspaper, magazine and journal titles (collectively known as serials), many of which are available electronically. To see whether a title is available in print or online, use Linfield Libraries Search to search by journal title; click the Get It tab to find more info about which specific print issues have been received. To find an online title, you can also search the Ejournals A-Z list.
Current print subscriptions are shelved alphabetically by title in the Austin Reading Room (journals and magazines) or in the newspaper cases in the grand avenue. Back issues are located either in the compact shelving area (as bound volumes) or in the microform area (either microfilm or microfiche) in the Jereld R. Nicholson Library. A small number of print serials are available at the Portland Campus Library.
For new subscription requests, contact the university librarian. For all other questions, contact the serials coordinator.
Reference
The Linfield Libraries collect reference materials in both print and electronic formats. Print materials are available for use in the library and may also be available for limited checkout at the discretion of library staff. Print reference materials are interfiled with the main collection at the Portland campus library. The Jereld R. Nicholson Library maintains a separate physical location for print reference. Online reference collections include Gale eBooks and Oxford Reference Online, which contain specialized reference sources for multidisciplinary research. Other reference e-books can be found by using Linfield Libraries Search.