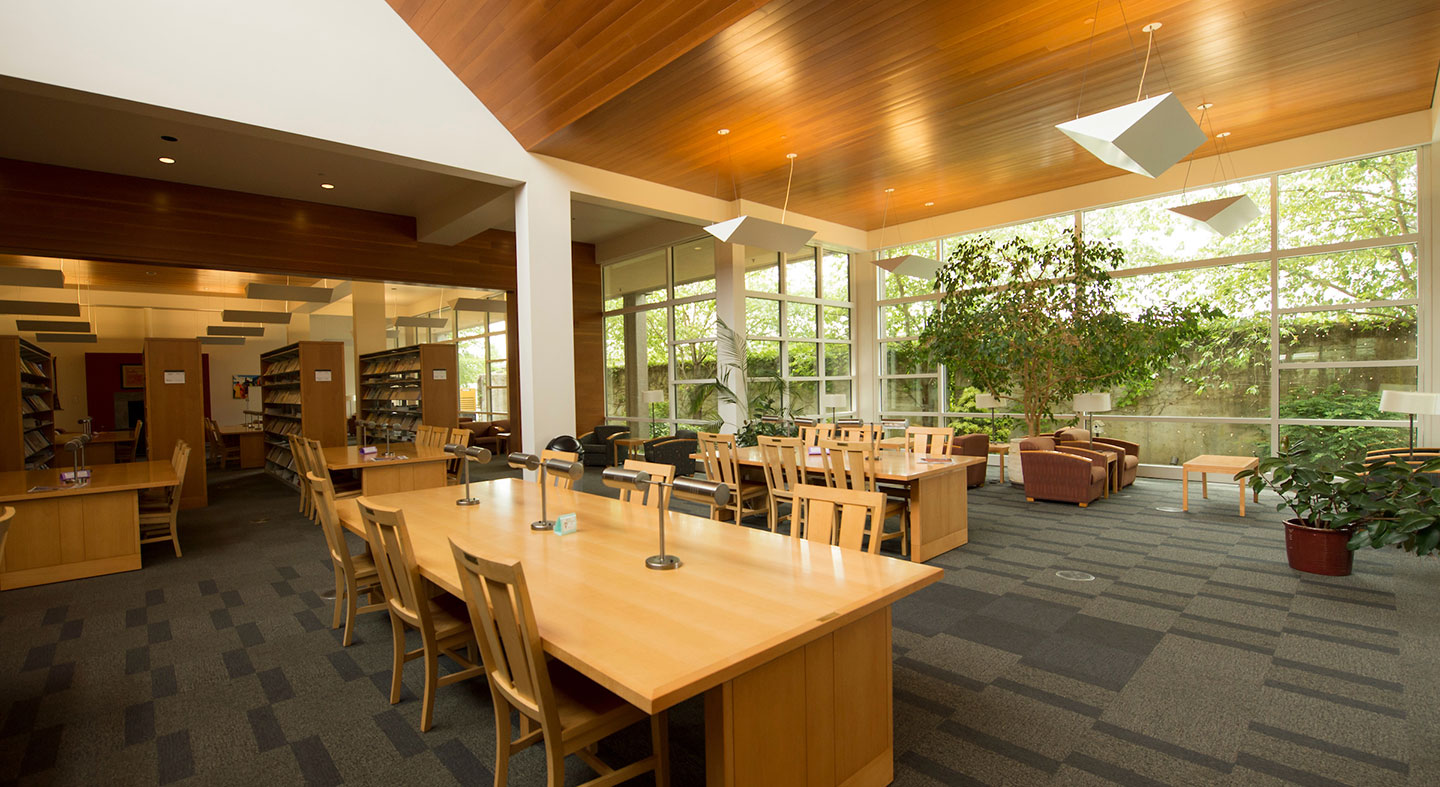 Jereld R. Nicholson Library on the McMinnville campus and the Portland campus library serve the research information needs of the Linfield community by providing the library resources and services necessary for teaching, learning and scholarly achievement.
First-year students learn library skills as part of the Linfield Curriculum requirement. Independent library research is an integral part of many courses at Linfield; students in these courses learn to use appropriate library resources through extensive classroom and in-library instruction by librarians.
Librarians also provide personal reference and research assistance for students using the college library collections, the internet and the resources available through nationwide interlibrary lending networks.
The library mission
The Linfield University Libraries are teaching libraries serving Linfield students, faculty and staff by providing and encouraging access to the intellectual resources necessary for teaching, learning and scholarly achievement in the liberal arts.
The library vision
We at the Linfield Libraries will work to:
Continue to partner with the Linfield faculty in promoting the Linfield vision of learning, life and community.
Actively support Linfield's vision of sustaining intellectual challenge and curiosity within a curriculum that values both theory and practice.
Support the Linfield curriculum in our teaching, collection and services.
Explore ways to make information more easily accessible to Linfield students and faculty and in the most cost-efficient manner possible.
Build effective working relationships with Linfield faculty and staff so that the library sustains deep connections with the teaching and learning environment at the college.
Integrate information literacy in a meaningful way into the Linfield curriculum and majors so that our students graduate with the habits of mind for effective engagement in this information-dense world.
Balance collection development between print and electronic resources.
Continue to build on our consortial relationships which maximize access to more resources.
Collaborate more closely with Information Technology Services.
Pursue digital initiatives with the Linfield community and with the Alliance.
Look forward creatively and with agility while intentionally keeping the Linfield students and faculty at the core of our services.