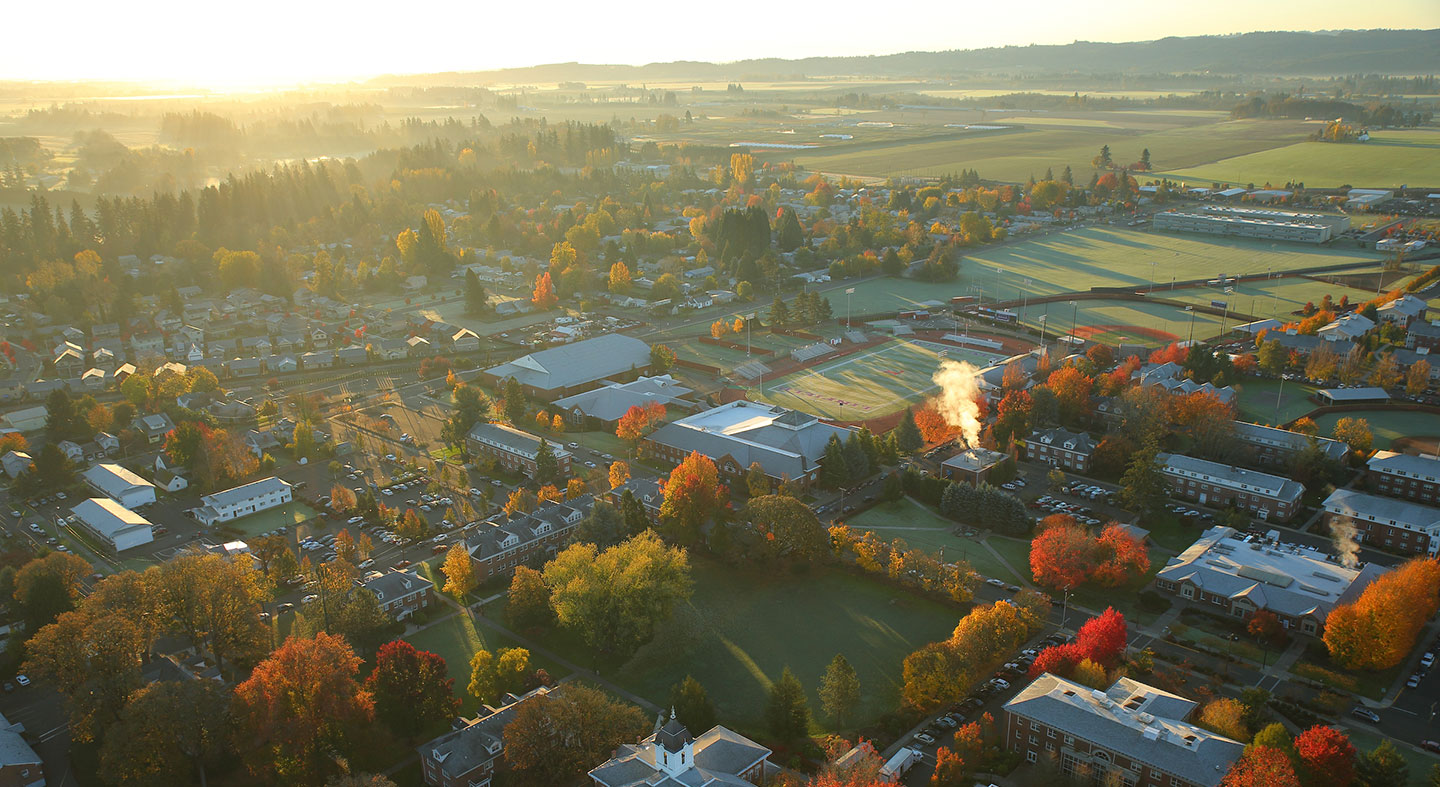 HHPA Faculty
Sarah Coste - Associate Professor
Cook Hall 116
503-883-2481

scoste@linfield.edu
Education:
BA Linfield College 1990; MS Oregon Health and Science University, Behavioral Neuroscience 1993; PhD Oregon Health and Science University, Behavioral Neuroscience 1997
As a physiologist/neuroendocrinologist, Sarah has a passion for studying the function of human body systems, particularly the cardiovascular, nervous and hormonal systems. Her current research program focuses on how physical activity and exercise improves our responses to stress. Sarah thoroughly enjoys teaching, and working closely with students in their junior and senior year as they design and carry out their own research projects.
Lawrence Doty - Associate Professor
HHPA Complex 209
503-883-2416

ldoty@linfield.edu
Education:
1974 graduate of West Linn High School, West Linn, Oregon. 1979 graduate of Linfield College, Bachelor of Science Degree in Physical Education and Health, Masters Degree in Education.
I am a life long Oregonian. Graduated from West Linn High School in 1974. Attended Linfield College where I earned my B.S. degree in Physical Education and Health, with a Masters in Education. I played basketball, football and baseball. I began my teaching/coaching career at Hillsboro and West Linn High Schools before coming to Linfield in 1987. I was the Men's Basketball Coach for 26 years and the Men's Golf Coach for eight. I begin my 34th year as a tenured faculty member in the Health and Human Performance Department. My wife Devri and I have three adult children, Dominic who was the Women's Soccer Coach at Linfield, and MacKenzie and Rennika whom both graduated from and played soccer at Linfield for their older brother.
Duane A Duey - Head Athletic Trainer; Clinical Instructor
HHPA Complex 205D
503-883-2415

dduey@linfield.edu
Education:
MS - Midwestern State University, 1995; BA - Western Oregon University 1993
Duane's areas of expertise include lower leg foot and ankle biomechanics, manual therapy, and Kinesio Taping. Duane is a former vice president of the Oregon Athletic Trainers Society and is active in local and national athletic training interests. He continues to stay up to date in current treatment methods on concussions, sickle cell, and the care for the spine injured athlete.
Emily Eaton - Instructional Associate
HHPA Complex 106B
503-883-2758

eeaton@linfield.edu
Education:
B.A. Carleton College; D.V.M. University of Illinois, Urbana-Champaign
As a veterinarian who has had the opportunity to care for a wide variety of species over the years, Emily is interested in comparative medicine, disease processes, therapeutic methods, zoonotic disease and public health. Her years in practice have enhanced her understanding of the need for a One Health approach - one that recognizes that human, animal and environmental health are interconnected. She enjoy sharing her love of anatomy, physiology and their medical applications with Linfield students.
Greg A. Hill, MS, ATC, CSCS - Associate Professor
Cook Hall 114
503-883-2386

ghill@linfield.edu
Education: B.A. Linfield College, M.S. Oregon State University
Greg is a Certified Athletic Trainer (ATC) and a Certified Strength and Conditioning Specialist (CSCCS), who completed his undergraduate degree at Linfield (B.A. in Athletic Training '97). He came back to Linfield in January of 2000 and has served a number of roles in the Health, Human Performance, & Athletics department. Besides teaching various courses within the Athletic Training Program, he serves as an athletic trainer for the inter-collegiate sports programs at Linfield, and is primarily responsible for Volleyball, Men's Basketball, and Baseball. His primary area of interest is the use of aquatics in rehabilitation and recovery.
Laura Kenow - Athletic Training Program Director; Professor
HHPA Complex 206A
503-883-2580

lkenow@linfield.edu
Education:
PhD in Kinesiology, University of Minnesota; MS in Exercise Science, University of Arizona; BA in Athletic Training, Gustavus Adolphus College.
Download Professor's Curriculum Vitae
Laura's work focuses on the social and psychological factors that influence performance. She is actively involved in teaching and applying mental training to enhance performance in multiple domains, including sport, exercise, and injury rehabilitation. She currently directs the athletic training program. Laura's research efforts have focused on identifying social and psychological factors that affect the rate of sport injury and integrating psychosocial skills into the rehabilitation process to enhance recovery.
Jeff McNamee - Professor and Chair
HHPA Complex 219
503-883-2604

jmcname@linfield.edu
Education:
Oregon State University Ph.D. Human Performance, 2004 University of Wisconsin La Crosse B.S. Exercise and Sport Science, 1996 M.S. Exercise and Sport Science, 1997
Jeff's areas of expertise include the use of effective leadership strategies in physical activity environments, physical activity assessment, and the promotion of physical activity engagement in communities and schools. Jeff is the HHPA Department Chair and is a steering committee member of the Physical Education for All Kids (PEAK) Coalition. His research efforts have focused on innovative strategies to increase youth physical activity engagement in communities and schools.
Bruce Patnoudes - Instructional Associate
Cook Hall 105
503-883-2763

bpatnoud@linfield.edu
Education:
M.A., Physical Education-Exercise Science, Western Michigan University; B.S., Health Education, Eastern Illinois University
Bruce was a YMCA director before coming to Linfield and has extensive programming experience with both youth and adult sports leagues and tournaments. He also has considerable experience in strength training and fitness evaluations. He has also taught Anatomy and Physiology for over 25 years.
Janet Peterson - Professor
Cook Hall 101
503-883-2255

japeters@linfield.edu
Education:
Doctorate, Loma Linda University - Preventive Care; Masters - CSUN- Kinesiology (exercise physiology); Bachelors- USC -Premed- Biology.
Janet's focus is in lifestyle and wellness in health and disease. As well as being a fellow of the American College of Sports Medicine, Janet is a registered dietitian nutritionist, a registered clinical exercise physiologist and a wilderness emergency medicine technician. Janet studies the impact of nutrition and exercise in health and disease. She is also passionate about wilderness medicine having published on the health of porters in Nepal. Janet encourages students to actively engage in the regional professional organizations such as the American College of Sports Medicine, American Dietetics Associations, and the American Public Health Association. Janet loves to play and learn in the outdoors which includes teaching an introduction to backpacking class.
Cisco Reyes - Associate Professor
HHPA Complex 218
503-883-2397

greyes@linfield.edu
Education:
Ph.D., University of Idaho; M.S., University of Idaho; B.S., Pacific University
Download Professor's Curriculum Vitae
Cisco's area of expertise encompasses aspect of sports performance enhancement (strength and conditioning). More specifically, Cisco has examined neuromuscular adaptations to strength and power training and athlete profiling. Outside of Linfield, Cisco holds official positions within the National Strength and Conditioning Association (NSCA) and serves the strength and conditioning community by bridging the gap between scientific knowledge and practice. Cisco is also a certified strength and conditioning specialist (CSCS) through the NSCA and runs an athletic performance business in the Portland Metro area called The RISE Lab, designed to elevate and empower the youth athlete.
Professor Reyes's Web Page
Daniel Zajic - Assistant Professor
Cook Hall 115
503-883-2318

dzajic@linfield.edu
Education: Ph.D. Biology, Portland State University; B.A. Biology, Whitman College
Daniel has a passion for teaching human anatomy and physiology and hopes to impart that passion unto his students. Daniel's research focuses on the physiological mechanisms that allow for vertebrate survival during exposures to anoxia (no oxygen). He has been investigating the neurotransmitter γ-aminobutyric acid (GABA) and its role in survival of embryos of the annual killifish, Austrofundulus limnaeus, during bouts of no oxygen. Daniel believes that nature, through evolution, has already solved many problems that cause or contribute to human diseases. By studying organisms that have evolved to survive in conditions that challenge human physiology or cause damage to human tissues, we can better understand how to treat and prevent these diseases in humans. In his spare time, you can find him in the kitchen mixing up a batch of cookie dough while watching the Blazers play.