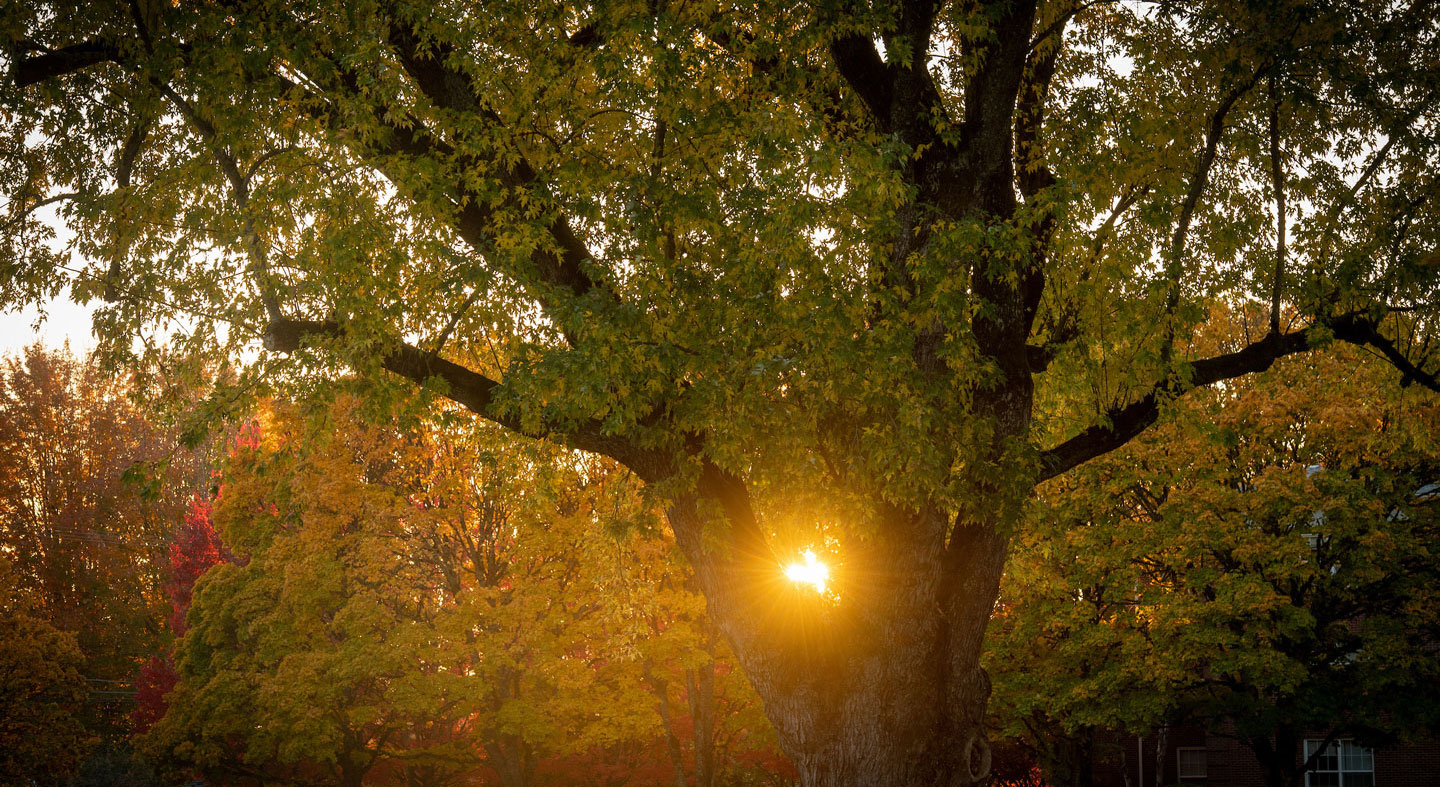 Environmental Studies Faculty
Elizabeth (Liz) J.O. Atkinson - Chemistry Chair, Professor of Chemistry, Director of Linfield Research Institute
Murdock 115
503-883-2621

eatkins@linfield.edu
Education: B.S., Creighton University, Ph.D., University of Arizona
Download Professor's Curriculum Vitae
Courses taught: organic chemistry, analytical chemistry and general chemistry.
Liz Atkinson teaches courses in general, organic, and analytical chemistry. Her primary areas of interest include both analytical and organic chemistry. Her research investigates novel molecular materials synthesized via sol-gel chemistry as novel sensors or catalysts incorporated various noble metals and target molecules. New materials are characterized using Raman, fluorescence, UV-visible and atomic force spectroscopy. Dr. Atkinson works with students each summer to collaborate on various chemistry projects creating new materials.
Nancy Broshot - Professor; Department Chair
Renshaw 207
503-883-2753

nbrosho@linfield.edu
Education:
B.S. Biology, M.S. Biology, Ph.D. Environmental Sciences and Resources: Biology, Portland State University, Portland, Oregon
Nancy teaches Environmental Science, the Senior Environmental Studies Capstone Sequence, Forest Ecology, Conservation Biology, Environmental Health, and Epidemiology. She conducts research into the effects of urbanization on the plant and avian communities in forests. She also is interested in forest soils and the impact of urbanizaiton on mycorrhizael fungi in forests. She regularly does research with students in the field and laboratory.
William Fleeger - Visiting Senior Scholar of Environmental Policy and Sustainability
Renshaw Hall 203
503-883-2341

wfleeger@linfield.edu
Education:
Ph.D. Natural Resources and Environmental Studies, University of New Hampshire, 2007; M.S. Natural Resources, University of New Hampshire, 2005; B.A. Speech and Communication, University of Oregon, 1988
Dr. Fleeger is an environmental policy scientist with interests in collaborative natural resource management and community involvement in environmental decision making especially around issues of forest restoration and community wildfire protection.
Professor Fleeger's Web Page
Robert Owen Gardner - Professor of Sociology (Chair); Faculty, Program in Environmental Studies
Walker 216
503-883-2677

rgardne@linfield.edu
Education:
B.A. Bowling Green State University, Bowling Green, Ohio 1997; Ph.D. University of Colorado- Boulder 2004.
Rob Gardner joined the faculty of Linfield College in 2004. His research examines the growth of temporary or "portable" communities cultivated within settings as diverse as post-disaster relief centers, bowling alleys, and bluegrass music festival campgrounds. Professor Gardner's teaching interests include community (SOAN 330), environment and sustainability (SOAN/ ENVS 250), social theory (SOAN 385), and music subcultures (SOAN 254). He has taught month-long travel courses to post-Katrina New Orleans to study disaster induced community change and to Mumbai and Varanasi, India to examine the role of non-governmental organizations in addressing persistent poverty.
Learn more about Professor Gardner
Randy R Grant - Professor of Economics
TJ Day 307
503-883-2402

rgrant@linfield.edu
Education: B.A. Pacific Lutheran University; Ph.D. University of Nebraska-Lincoln
Professor Grant began teaching at Linfield in 1993. The Kent, Wash. native was originally a business major with aspirations of owning a business, but decided to pursue economics instead after taking his first class in the subject. He has been named both Edith Green Distinguished Professor and the Greek Letter Organizations Professor of the Year, and is particularly interested in the economics of college and professional sports, macroeconomic theory and policy, and the economics of Australian aborigines. Professor Grant has co-written several books, including "The Economics of Intercollegiate Sports" and "The Evolution of Economic Thought." He currently teaches sports economics, macroeconomics, history of economic thought, and the January Term course in Environmental Studies (Aboriginal/Environmental Economics in Australia).
Learn more about Professor Grant
Jennifer Heath - Professor (Chair)
Graf 101
503-883-2267

jheath@linfield.edu
Education:
Ph.D., Physics, University of Oregon; M.S., Physics, University of Oregon; B.A., Mathematics and Physics, Whitman College.
Download Professor's Curriculum Vitae
I teach throughout the physics curriculum, including Circuits, Electricity & Magnetism, and Energy & the Environment. I particularly enjoy mentoring independent projects and senior theses. My research team currently includes four students. They are working to unravel the novel physics that emerges in two-dimensional (2D) materials, and to create electronic devices by layering together various 2D materials in different combinations and geometries. I have also studied the properties of low-cost materials for solar cells. My research is funded by the M. J. Murdock Charitable Trust and the National Science Foundation.
Learn more about Professor Heath
Thomas F. Love - Professor Emeritus of Anthropology and Environmental Studies
Education:
BA Columbia University; MA, MS, Ph.D. University of California, Davis
Thomas Love joined the Linfield faculty in 1983, teaching anthropology, environmental studies and Latin American studies courses, including human ecology, South America, global political economy, and socio-cultural change and collapse.
Working in the central Andes and the Pacific Northwest, he has written on energy, human ecology and rural livelihood issues in Anthropology Today, American Ethnologist, Ambio, and the J of Sustainable Forestry, among others. Salient publications include:
- a recently authored the monograph The "Independent Republic of Arequipa": Making regional culture in the Andes (U Texas Press), now in translation with the press of the Pontificia Universidad Católica del Perú/Universidad Católica Santa Maria de Arequipa)
- co-edited Cultures of Energy: Power, Practices, Technologies (Routledge Press, 2016), a reader in energy anthropology, with S. Strauss and S. Rupp;
- coedited J of Economic Anthropology 3:1 (2016), an edited number on the theme of Energy and Economy (selected papers from the 2014 meeting of the Society for Economic Anthropology that we organized) with Cindy Isenhour, which also included our co-authored introduction Energy and Economy: Recognizing High Energy Modernity as an Historical Period;
- wrote a chapter and co-edited State, Capital and Rural Society:Anthropological Perspectives on Political Economy in Mexico and the Andes (Westview Press, 1989) with B. Orlove and M. Foley.
As recent (2019) emeritus he remains "lightly employed", including teaching, writing and research on these topics, especially the socio-cultural consequences of declining net energy.
Learn more about Professor Love
Jackson B. Miller - Chair of the Department of Theatre & Communication Arts and Professor of Communication Arts
Ford T107
503-883-2625

jmiller@linfield.edu
Education:
B.S., M.A. Ohio University; Ph.D. Southern Illinois University at Carbondale
Dr. Jackson Miller has been a member of the Communication Arts faculty since 2001. He has previously served as Dean of Faculty and Associate Dean of Faculty at Linfield, and has held numerous other leadership position on campus. Dr. Miller's research and teaching focuses on protest and reform rhetoric, performance theory, and nonverbal communication. He has taught debate courses for inmates at the Oregon State Penitentiary and presented debate workshops throughout the world in places like China, Guatemala, Mexico, and Turkey. Dr. Miller also has expertise in interactive theater techniques, and he has facilitated more than 80 sexual assault prevention trainings on military bases and on college campuses.
Learn more about Professor Miller
Joelle Murray - Associate Professor
Graf 105
503-883-2427

jmurray@linfield.edu
Education:
Ph.D., Physics, Michigan State University B.S., Physics & Mathematics, Beloit College
Next year, I'll be teaching INQS 125 (Nuclear Society), PHYS 210 (Introduction to Mechanics), PHYS 215 (Modern Physics), PHYS 325 (Computational Physics), and PHYS 420 (Classical Mechanics). I incorporate active learning pedagogies in each of my courses in order to best challenge and support students while they learn how to do physics. My current research revolves around my interest in complexity, particularly in biological systems, and is conducted in collaboration with undergraduate students (mainly during the summer). Currently, we are building a computational model for insect swarming, which we use to investigate emergent properties of swarms.
Learn more about Professor Murray
Janet Peterson - Professor
Cook Hall 101
503-883-2255

japeters@linfield.edu
Education:
Doctorate, Loma Linda University - Preventive Care; Masters - CSUN- Kinesiology (exercise physiology); Bachelors- USC -Premed- Biology.
Janet's focus is in lifestyle and wellness in health and disease. As well as being a fellow of the American College of Sports Medicine, Janet is a registered dietitian nutritionist, a registered clinical exercise physiologist and a wilderness emergency medicine technician. Janet studies the impact of nutrition and exercise in health and disease. She is also passionate about wilderness medicine having published on the health of porters in Nepal. Janet encourages students to actively engage in the regional professional organizations such as the American College of Sports Medicine, American Dietetics Associations, and the American Public Health Association. Janet loves to play and learn in the outdoors which includes teaching an introduction to backpacking class.
David Thomas Sumner - Professor of English and Environmental Studies, English Department Chair
TJ Day 316
503-883-2389

dsumner@linfield.edu
Education:
B.A. University of Utah
M.A. Brigham Young University
Ph.D. University of Oregon
Professor Sumner loves teaching, discussing, and writing about books, landscapes, and the American West. He offers courses such as Literature and Landscape, and a travel course called The Literary Biology of the Sea of Cortez. In this course, he travels with students to Baja, Mexico and follows the path of John Steinbeck and Ed Ricketts. In the fall of 2020, he will be teaching an Inquiry Seminar INQS 125: In Search of the Goodlife, and his version of the literature major's senior seminar: "Nature's Nation: An Ecocritical Perspective."
Professor Sumner is the author of a variety of academic articles on topics such as American nature writing, the American nature tradition, environmental ethics, the use and abuse of the term "ecoterrorism," writing pedagogy, rhetoric, and the novels of Edward Abbey. In addition to teaching at Linfield for the past 16 years, he has been fortunate to also teach at the University of Bayreuth, Germany on a Fulbright fellowship, and as a member of the faculty for Semester at Sea while circumnavigating the globe aboard the M.S. Explorer .
When not teaching and writing, Professor Sumner enjoys backpacking and flyfishing with family and playing bluegrass with the other members of the Bootleg Jam.
Learn more about Professor Sumner
John Syring - Professor
Murdock 206
503-883-2466

jsyring@linfield.edu
Education:
B.S., Resource Ecology and Management, University of Michigan
M.S., Forest Ecology, University of Michigan
Ph.D., Molecular Plant Systematics, Oregon State University
Research interests:
Plant evolution and diversity
Phylogeny
Population gentics
Learn more about Professor Syring
Chad Tillberg - Professor
Murdock 230
503-883-2221

ctillbe@linfield.edu
Education:
B.A. Biology, University of Kansas, Lawrence, KS.
PhD Environmental, Population, and Organismic Biology, University of Colorado, Boulder, CO.
Postdoctoral Research, Department of Animal Biology, University of Illinois, Urbana-Champaign, IL.
Research Interests:
Terrestrial invertebrate community ecology

Behavioral ecology

Food web interactions
My research focusses on terrestrial invertebrate community ecology. Specifically, I am interested in how ants affect food web interactions. Recent work has investigated invasive ant species in Oregon, how ants affect the population of an endangered species, and how ants affect plant/herbivore/predator interactions. Linfield students have always played an important role in my research, participating in field and lab studies and presenting our findings at regional and national meetings.
Teaching Principles of Ecology, Animal Behavior, Insect Biology, and Principles of Biology provides me the opportunity to read, think, discuss, and share concepts around these topics with students. Students also have the opportunity to conduct collaborative research with classmates in these areas.
Learn more about Professor Tillberg
Barbara Van Ness - Senior Lab Coordinator
Renshaw 207


bvanness@linfield.edu
Education:
BA Biology, Knox College, Galseburg, IL (1975)
MS Biology, Cal Poly State University, San Luis Obisbo, CA (1978)
MS Computer Science, Cal Poly State Univeristy, San Luis Obispo, CA (1988)
Masters Certificate in Geographical Information Systems, Portland State University, Portland, OR (2006)
Download Professor's Curriculum Vitae
Barbara is the Lab Coordinator for the Environmental Studies program at Linfield. She is involved with Environmental Science, Forest Ecology, Conservation Biology, and the Senior Capston courses. She is also the instructor for Introduction to GIS (Geographical Inforamtion Systems).
Lissa Wadewitz - Professor & Department Chair
Pioneer 208B
503-883-2719

lwadewi@linfield.edu
Education:
Ph.D. UCLA (U.S. History) M.A. UCLA (U.S. History) B.A. Cum Laude Pomona College (Asian Studies)
Professor Wadewitz teaches courses in American environmental, western, and Native American history--all key topics for better understanding this place we call home. Her current research focuses on the history of Pacific whaling. She has worked with students in summer student-faculty collaborative projects, supervised departmental student workers, and is a co-founder of the Linfield College Oral History Project.
Learn more about Professor Wadewitz
Jeremy Weisz - Associate Professor (Chair)
Murdock 211
503-883-2704

jweisz@linfield.edu
Education:
B.S. in Zoology from University of Wisconsin-Madison
Ph.D. in Marine Sciences from University of North Carolina at Chapel Hill
I'm a microbiologist, a marine biologist, and an ecologist. At Linfield, I teach the Fall semester of Principles of Biology, Principles of Ecology, and General Microbiology. I also teach Marine Ecology, Microbiology of Grapes and Wine, and Bioinformatics. My research interests generally involve interactions between microorganisms and their hosts. I focus on marine inverts/microbes as well as wine grape/microbes.
Learn more about Professor Weisz