COVID-19 on our Campuses
Linfield University is committed to updating our community on the number of confirmed COVID-19 cases among students and employees at our McMinnville and Portland campuses. The data on this page reflects individuals with a positive COVID-19 test who visited one of Linfield's campuses at least once in the 14 days prior to testing positive and whose test is confirmed by a public health authority.
Starting in February 2021, Linfield will report data twice per week, on Mondays and Thursdays. 
This page was updated April 12. The next update will be April 15.
McMinnville Campus
Cumulative cases reported since Jan. 1: 54 cases
Confirmed cases by reporting date (numbers indicate positive tests confirmed between reporting dates):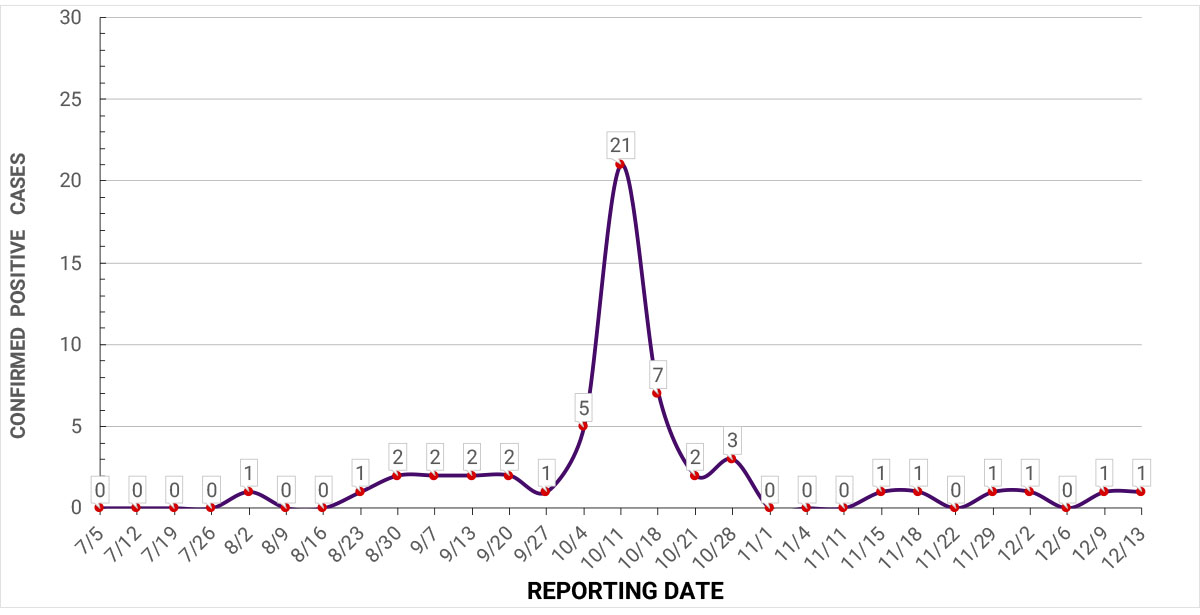 Portland Campus
Cumulative cases reported since Jan. 1: Fewer than 5
Note: At the advice of our state and local health authorities, we will report "fewer than five cases" until the fifth cumulative case of the semester to protect the privacy of affected individual(s). 
Cumulative Cases 2020-21
Cases organized by date that Linfield reported them to the community. Represents all confirmed cases of COVID-19 among Linfield's faculty, staff and students at the McMinnville and Portland campuses. View the fall 2020 weekly archive.
Note: Confirmed cases for the Portland campus starting in January will be added once there are five or more confirmed cases of COVID-19 reported. Until then, only fall 2020 numbers will be reported for the Portland campus.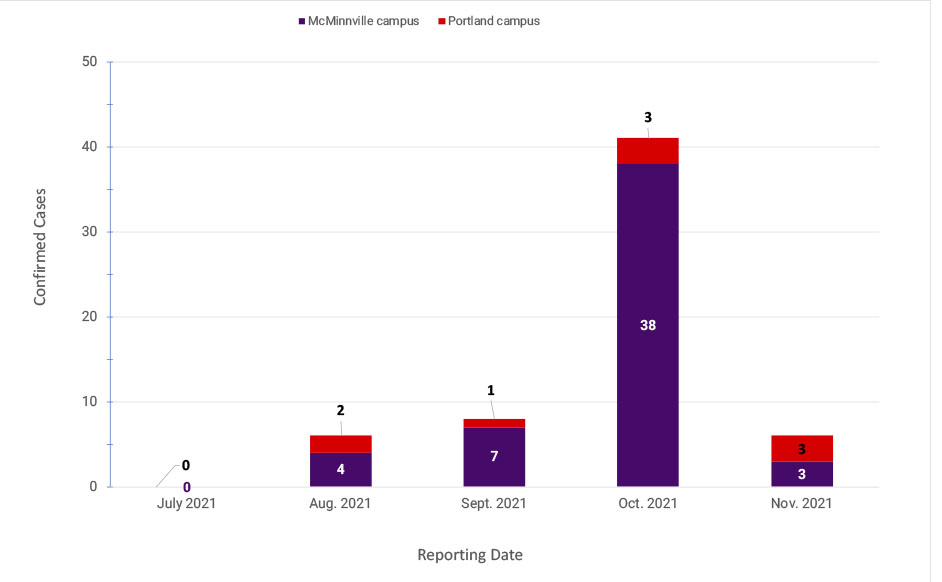 Reporting guidelines
Guidance from public health officials prevents Linfield University from announcing a positive COVID-19 case on campus unless it is confirmed by Yamhill County Public Health or the Multnomah County Health Department. Any release of information would be made in concert with public health authorities. Linfield is committed to maintaining the privacy of any community members who test positive for COVID-19 in accordance with FERPA and HIPAA guidelines.
If you have are at high risk of exposure from someone who has tested positive for COVID-19, you will be contacted by one of the local health authorities or a member of the university's contact tracking team (Student Health, Wellness and Counseling Center; Student Life Portland, Human Resources). If in the course of the ​case investigation it is deemed that you do not have a high risk of exposure, you will not be contacted.
How to self-report
If you are being tested or if you tested positive for COVID-19, you must notify the university.
What to expect when a case is confirmed
Linfield will follow the guidance of Yamhill County Public Health, the Multnomah County Health Department and the CDC, which recommends sharing information about COVID-19 in ways that do not increase fear and/or stigma. Because of that, we plan to update the COVID-19 case count here weekly and provide updates in Linfield Ahead. The university will not make general announcements when a student or employee tests positive for COVID-19.
Contact tracing:
The local public health authority will be notified of any positive cases on campus. They will begin contact tracing with the assistance from the Student Health, Counseling and Wellness Center ​on the McMinnville campus, Student Life on the Portland campus or human resources for employees.
If a student, faculty or staff has been in close contact with a member of the Linfield community who has tested positive, they will be notified privately and in a timely manner through contact tracing led by the local public health authority. If they have been exposed, either the Student Health, Wellness and Counseling Center (McMinnville students), Student Life (Portland students) or Human Resources (employees) will provide the individual with specific directions regarding staying home, testing and returning to campus.
Any faculty, staff or student known to have been exposed to COVID-19 (e.g., by a household member, roommate) within the preceding 48 hours should stay in their place of residence and follow instructions from the local public health authority.
Students, faculty, or staff will be notified if the local public health officials, in the course of the infection investigation determine there is a risk of exposure warranting notification.
Given all the mechanisms in place such as face coverings, physical distancing, disinfecting surfaces and hand sanitizing, it is possible that public health will not consider a faculty member or others in the classroom to have been exposed and there will be no formal notification.
Students, faculty or staff should seek a COVID test, if advised to do so by public health.
Testing after​ documented infection is not advised because non-infectious viral remnants may be present for days to weeks after the illness and infectivity have cleared.

People who have been exposed to COVID-19 but have been fully immunized with a COVID-19 vaccine (both doses administered at least 14 days before exposure) are not required to quarantine. However, they should still monitor themselves for symptoms of COVID-19 for two weeks after exposure, seeking testing and isolating if they develop symptoms.
If a student tests positive:
If a student tests positive, the student will be contacted by the local health authority, Student Health, Wellness and Counseling or Student Life. If a student lives in campus housing, they will either be moved into an on-campus, dedicated isolation room or they may choose to return to their off-campus home​ for the entirety of the isolation period. Students will remain in this room for a period of 10 days from either the day first symptoms developed or were tested AND are free of fever without the use of fever-reducing medication for 24 hours. Students will be medically cleared and released from isolation housing.