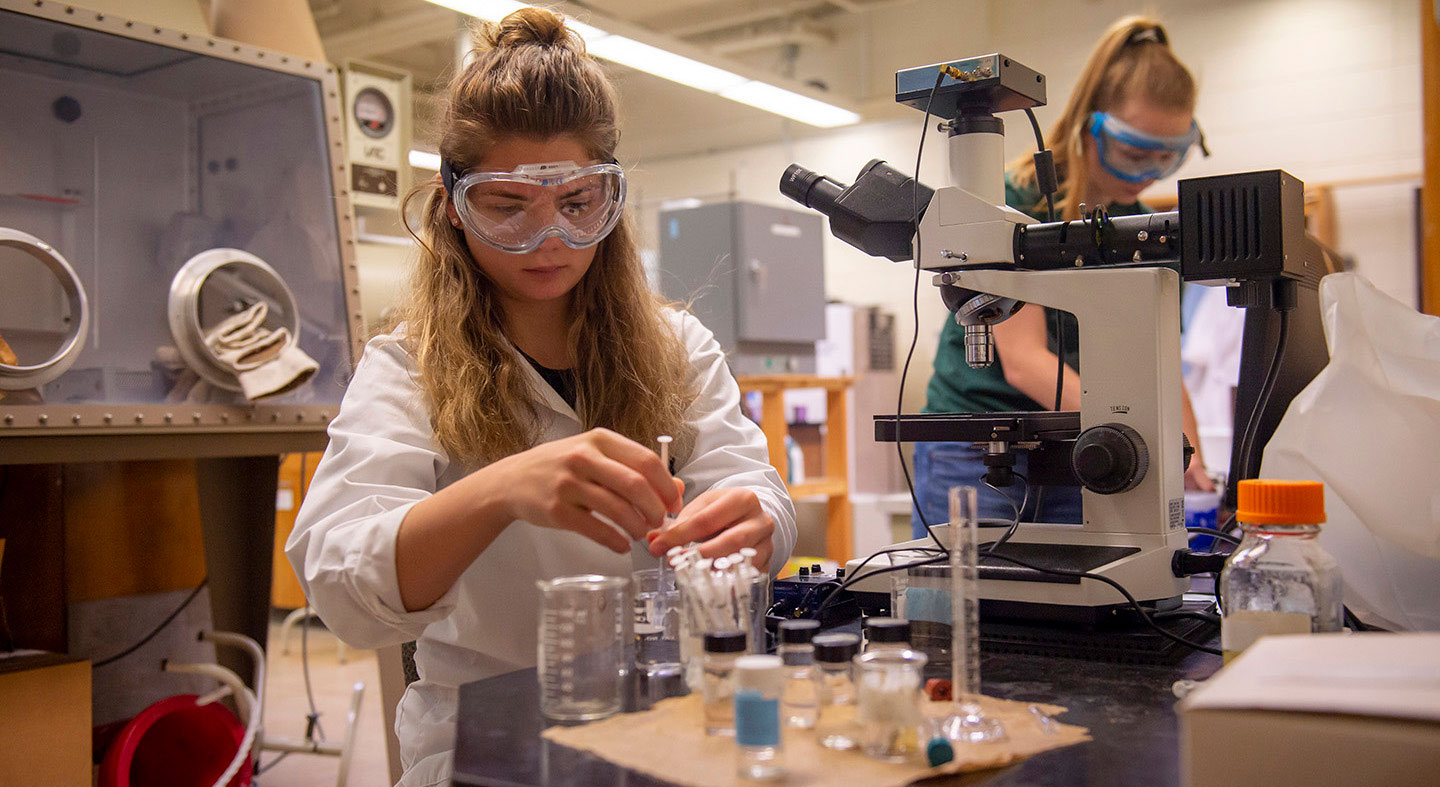 Meet our Chemistry Faculty and Staff
Chemistry Faculty
The chemistry department consists of five full-time faculty members and one full-time staff members. The mission of the chemistry department is to help interested students learn chemistry. In pursuit of our mission, we offer students a sequence of courses, seminars, discussions, research, and other study opportunities designed to help them learn chemistry and attain their goals.
For our students, we intend to:
generate and sustain their interest in natural philosophy,
expose them to the beauty of theoretical chemistry,
provide appropriate learning experiences for those whose goals include employment as chemists or graduate study in chemistry, and
provide assistance to those who need to acquire basic chemical knowledge in pursuit of goals in other disciplines.
About one hundred students (chemistry, biology, physics, and general science majors) enter the general chemistry sequence each year. About six to eight chemistry majors graduate each spring. Each year, undergraduate science majors collaborate with faculty on a wide range of individual research projects.
Elizabeth (Liz) J.O. Atkinson - Chemistry Chair, Professor of Chemistry, Director of Linfield Research Institute
Murdock 115
503-883-2621

eatkins@linfield.edu
Education: B.S., Creighton University, Ph.D., University of Arizona
Download Professor's Curriculum Vitae
Courses taught: organic chemistry, analytical chemistry and general chemistry.
Liz Atkinson teaches courses in general, organic, and analytical chemistry. Her primary areas of interest include both analytical and organic chemistry. Her research investigates novel molecular materials synthesized via sol-gel chemistry as novel sensors or catalysts incorporated various noble metals and target molecules. New materials are characterized using Raman, fluorescence, UV-visible and atomic force spectroscopy. Dr. Atkinson works with students each summer to collaborate on various chemistry projects creating new materials.
Andrew Baggett - Assistant Professor
Murdock
503-883-2471

abaggett@linfield.edu
Education: B.S. (summa cum laude), LeTourneau University, 2009; Ph.D., Boston College, 2016.
Courses taught: general chemistry and organic chemistry.
Dr. Baggett's research interests are on the discovery and applications of a variety of copper-catalyzed homocouplings and cross couplings of boronic acid derivatives (esters or amides) to form aryl-aryl bonds, aryl-alkyl, and alkyl-alkyl carbon-carbon bonds.
Megan Bestwick - Associate Professor
Murdock 120
503-883-2468

mbestwic@linfield.edu
Education: B.S., Southern Oregon University, 2001; M.S. University of Washington, 2002; Ph.D., University of Utah, 2009.
Courses taught: general chemistry, analytical chemistry, and biochemistry.
Dr. Bestwick's research interests focus on biochemical processes within the mitochondria of cells. Currently she is interested in determining how transcription factor proteins within the organelle stimulate or repress transcription of mitochondrial DNA using an in vitro transcription system.
Brian Gilbert - Professor
Murdock 118
503-883-2469

bgilber@linfield.edu
Education: B.S. Chemistry, University of Arizona, 1989 Ph.D. Physical Chemistry, Indiana University, 1994 Postdoctoral Fellow, Massachusetts Institute of Technology, 1996
Brian's areas of expertise include molecular spectroscopy, nanoparticle based sensors/drug delivery and the chemistry of beer. He has led January-term courses in Chile, Germany, Czech Republic, Belgium, and New Zealand. Brian typically teaches CHEM 300: The Art and Science of Brewing, CHEM 361: Physical Chemistry I and CHEM 362: Physical Chemistry II.
Schedule an office hour meeting with Brian. | Learn more about Professor Gilbert.
Thomas Reinert - Division Chair/Professor Coordinator of General Science
Murdock 122
503-883-2468

treinert@linfield.edu
Education: B.S., Iowa State University, 1979; Ph.D., University of Illinois, 1985.
Courses taught: general chemistry, analytical chemistry, inorganic chemistry, advanced group theory, advanced chemistry laboratory courses, and research methods.
Dr. Reinert's major interests are focused in inorganic chemistry, including porphyrin chemistry, organometallic chemistry, and chemical applications of group theory. His current research interests include the controlled synthesis of asymmetric porphyrins, the chemistry of wine-making, molecular modeling, and the design of computer-integrated laboratories for the general chemistry curriculum.
Kristin Ziebart - Visiting Assistant Professor, Assistant Director of Writing
Education: B.S.(cum laude), Oregon State University, 1999; Ph.D., University of California, Davis, 2010
Courses taught: general chemistry, writing in chemistry, instrumental methods of analysis.
Chemistry staff
Veronica Siller - Organic Chemistry Laboratory Coordinator
Ms. Siller is the laboratory coordinator for the organic chemistry program. She serves as principal lab instructor and supervises the student teaching assistants and student tutors for organic chemistry.
Emeritus Faculty
James J. Diamond - Professor Emeritus
B.S., St. Joseph's University (PA), 1972; Ph.D., Stanford University, 1978.
Courses taught: chemistry in the atmosphere, seminar, general chemistry, physical chemistry, research methods, research, and writing in chemistry.
Dr. Diamond's interests include physical chemistry, nonlinear dynamics in chemistry, and spectroscopy. His research interests include molecular modeling, ab initio calculations of electronic structure problems, and fundamental aspects of quantum mechanics.
Robert G. Wolcott - Professor Emeritus
B.A., University of California, Riverside 1966; Ph.D., California Institute of Technology, 1972.