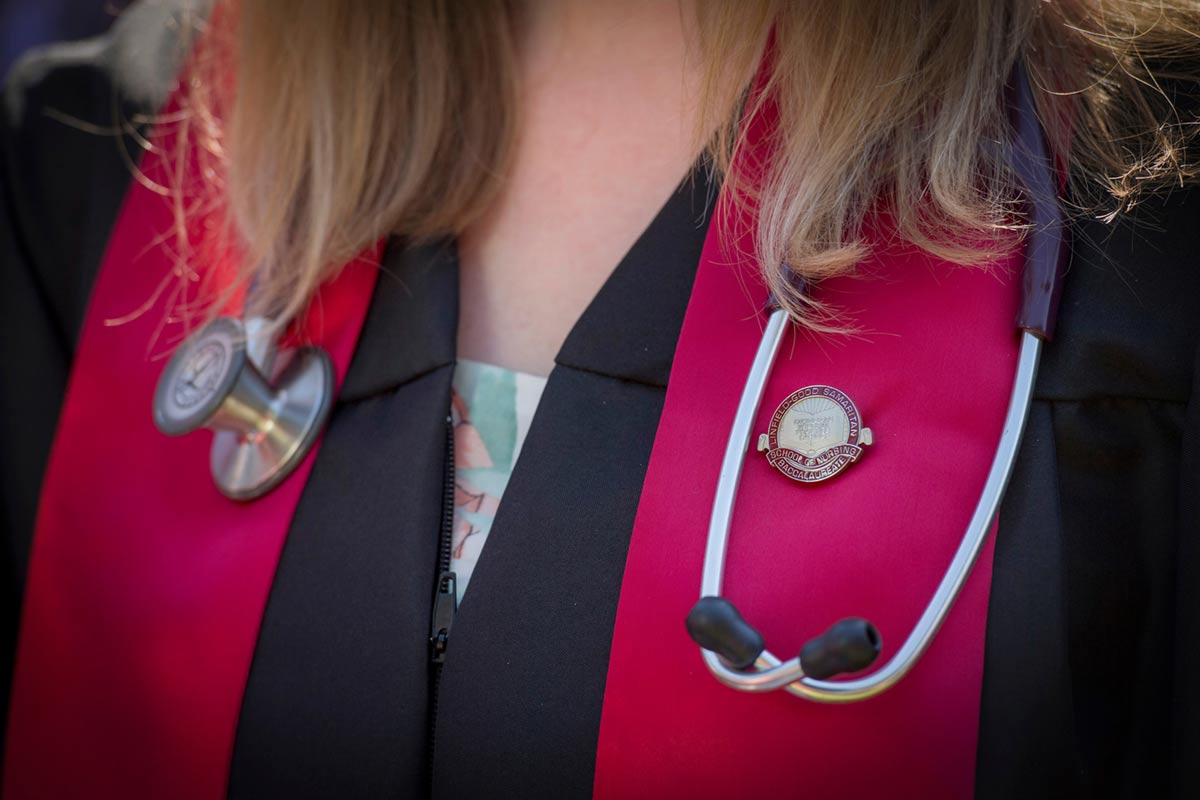 Alumni Benefits
Nursing and health sciences alumni can take full advantage of the Linfield Alumni Association benefits. Learn more about these benefits. You may also call 503-883-2547 or email alumni@linfield.edu for more information about alumni benefits and programs.
Alumni Events
The Linfield-Good Samaritan School of Nursing often hosts events, reunions, and opportunities to come back to the university. Visit our events and reunions page or contact Joni Claypool, director of constituent engagement, for more information.
Distinguished Nursing Alumna/us Award
Nominations are due September 30.

Purpose: To recognize a professional nurse who exemplifies nursing excellence. Candidates for the award should demonstrate professionalism, innovation and dedication to the field, as well as excellent communication skills.
Eligibility Criteria: The individual nominated must be a registered nurse and baccalaureate alumna/us of Linfield-Good Samaritan School of Nursing or associate alumna/us of Good Samaritan Hospital and Medical Center School of Nursing.
Distinguished Nursing Alumna/us nomination form
History of Recipients
1991 Patricia Hough
1992 Carol (McEwen) Lawson
1993 Shari (Friesen) Pfeiffer '72
1994 Shirley (Bowers) Tighe '60
1995 Patricia (Williams) Leonard '45
1996 Dorothy Davy '57
1997 Muriel (Cherry) Brainard '53
1998 Wilma Pope '56
1999 Jackie Mason '53
2000 Alicia (Lang) Swindel '48
2001 Diane (Hall) McLean '68
2002 Sharon Fassett '71
2003 Ngozi Nkongho '69
2004 Tammy (Lanning) Schuman '84
2005 Col. Carol McCleary '55
2006 Marni (Shrode) Allen '96
2007 Myrna (Buoy) Butler '63
2008 Dr. Beverly (Baggenstos) Epeneter '68
2009 Marcie (Hilts) Gowan '77
2010 Patrick Roden '85
2011 Dr. Nancy Rollins Gantz '73
2012 Jane (Lemieux) Carpenter '75 
2013 Rhawnie (Nelson) Hilchey '05
2014 Denise (Trayler) Fall '98
2015 Sara (Mansfield) Mosher '01
2016 Eric Timmons '10 
2017 Mika Sunago '06
Do you have news to report?
Please reach out! We love hearing from you.