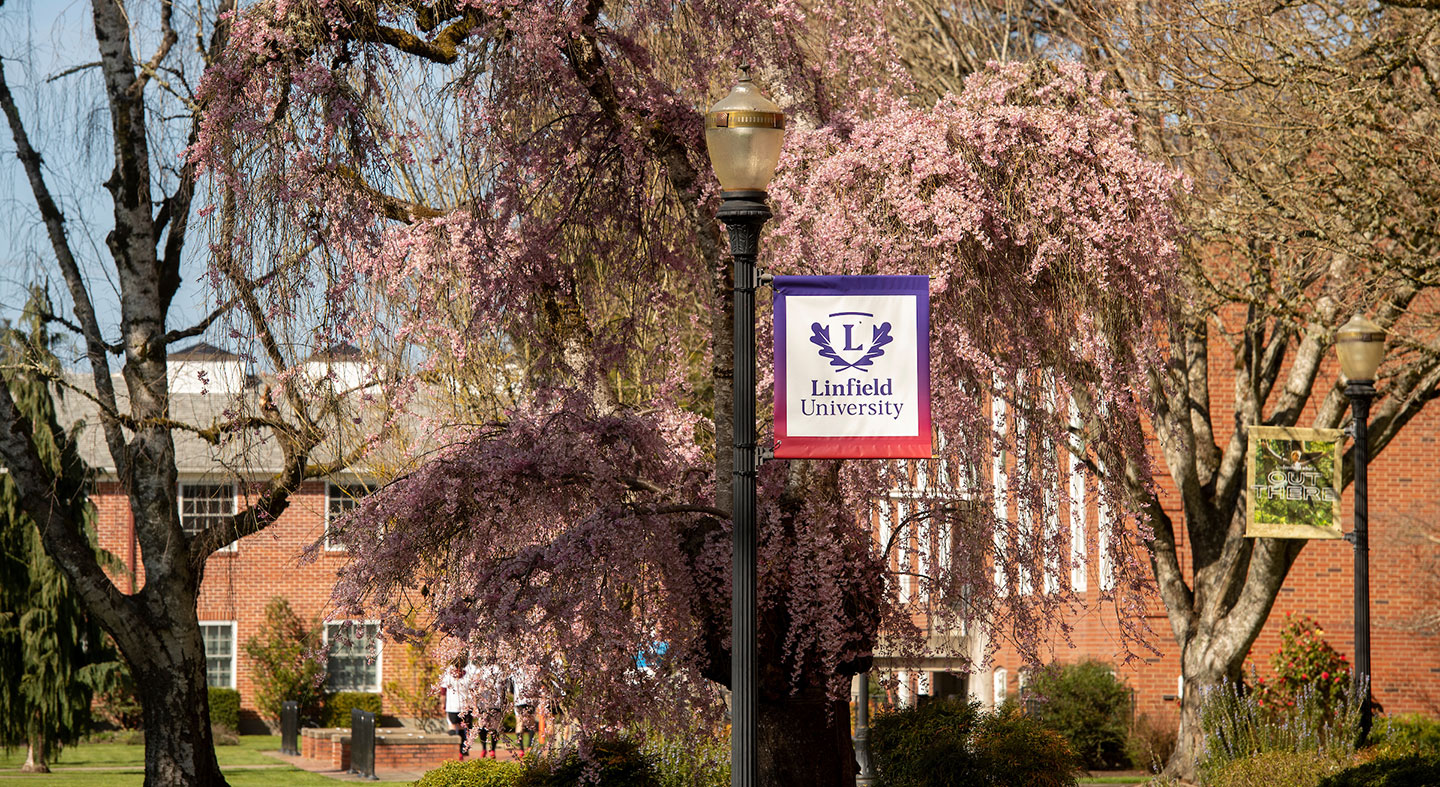 The Linfield Core Themes are fundamental institutional values that embody our mission of "connecting learning, life, and community." All four of the Linfield Core Themes are infused throughout the curriculum as well as co-curricular, extra-curricular, and institutional programming.
Core Theme 1: Culture of Engagement and Excellence
Linfield cultivates a community engaged in the pursuit of excellence within its educational programs, across the institution, and in the broader community. Students, faculty and staff develop expertise as they investigate the breadth and depth of their chosen disciplines and professional fields, examine multiple perspectives, apply best practices, and defend informed judgments based on creative and critical thinking.
Objective 1.1: Students accomplish educational goals 
Key Performance Indicator 1: Graduation Rates
Key Performance Indicator 2: Evaluation of Student Learning in the Linfield Curriculum
Key Performance Indicator 3: Evaluation of Student Learning within Majors and Programs

Objective 1.2: Students, faculty, and staff engage in professional development and scholarly activities  
Key Performance Indicator 4: Collaborative Research and Creative Activity
Key Performance Indicator 5: Student Scholarship
Key Performance Indicator 6: External Grants & Scholarships
Key Performance Indicator 7: Faculty and Staff Scholarship
Key Performance Indicator 8: Faculty and Staff Professional Development 
Core Theme 2: Integrated Teaching and Learning
Linfield promotes integrated teaching and learning within and across its academic programs. Students systematically discover and practice making connections within their disciplinary studies and across the various components of their undergraduate experience.
Objective 2.1: Students transfer learning gained in one situation to a new situation 
Key Performance Indicator 9: Transfer of Concepts Across Disciplines
Key Performance Indicator 10: Transfer of Concepts from Prior Experiences

Objective 2.2: Faculty provide opportunities for students to make connections across different skills, abilities, theories, and methodologies 
Key Performance Indicator 11: Upper Division Linfield Curriculum
Key Performance Indicator 12: Team-Taught Course Completion
Key Performance Indicator 13: Interdisciplinary Degrees 
Core Theme 3: Global and Multicultural Understanding
Linfield fosters global and multicultural understanding of human differences and similarities. Students, faculty and staff use both theoretical and experiential lenses to participate in an increasingly interdependent, diverse world.
Objective 3.1: Students identify connections between the worldviews, experiences, and power structures of multiple cultural groups 
Key Performance Indicator 14: Diversity Studies Courses
Key Performance Indicator 15: Student Multicultural Understanding

Objective 3.2: Students, faculty, and staff develop the knowledge and skills to create shared understandings with individuals from different cultures 
Key Performance Indicator 16: Student Immersion in Diverse Environments
Key Performance Indicator 17: International Experiences for Faculty and Staff
Key Performance Indicator 18: Faculty and Staff Diversity Training 
Core Theme 4: Experiential Learning
Linfield facilitates experiential learning. Students apply theory and knowledge to lived experience in order to test and refine their understanding of a subject, clarify career goals, and discover the value of serving others. 
Objective 4.1: Students participate in experiential learning 
Key Performance Indicator 19: Experiential Learning Participation
Key Performance Indicator 20: Community Service and Volunteer Work
Key Performance Indicator 21: Leadership Activities
Key Performance Indicator 22: Internships

Objective 4.2: Students have opportunities to reflect on the aims and accomplishments of experiential learning 
Key Performance Indicator 23: Experiential Learning Reflections