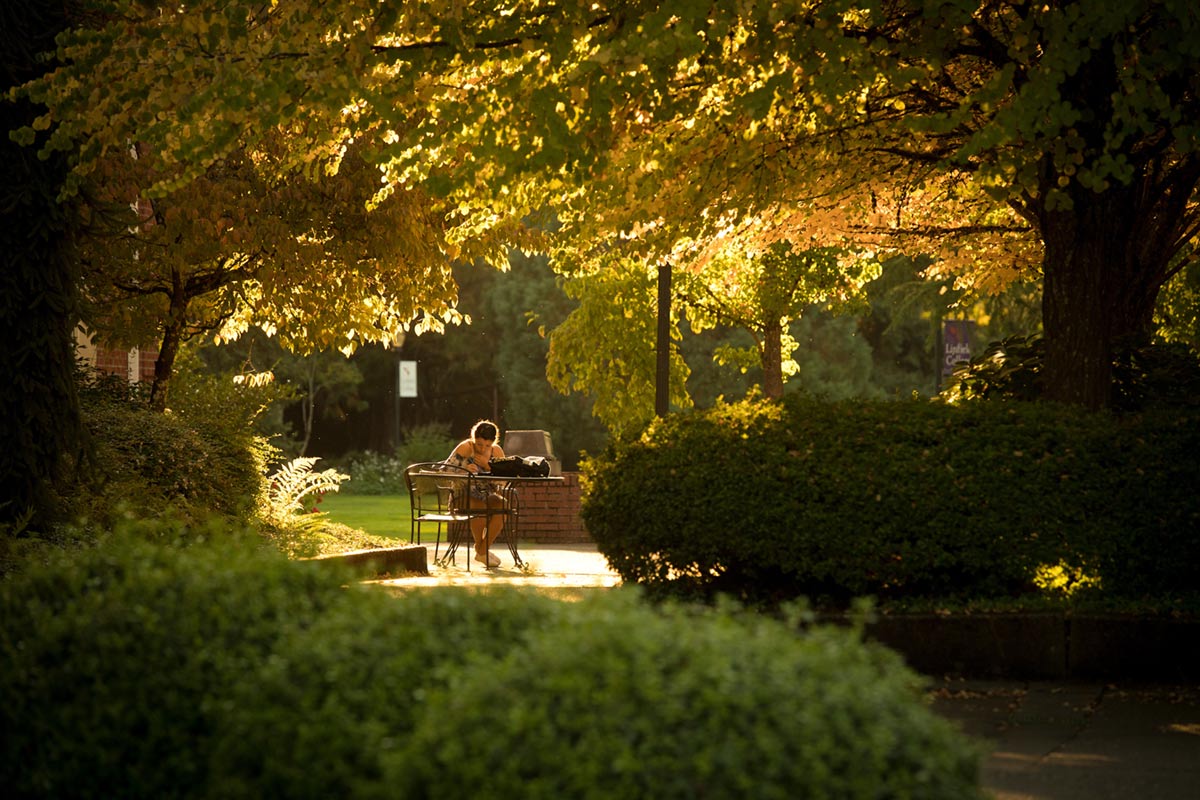 The Office of Admission hosts on-campus and virtual events throughout the year. Learn more about Linfield as you begin your college search or finalize your enrollment decision.
Explore Linfield
Explore Linfield – on-campus and online – is an opportunity to learn more about Linfield's offerings if you are just starting your college search. Families or high school counselors are welcome to join as well. Hear about academic and extracurricular offerings, as well as the admission, scholarship and financial aid process. We also offer special, topical programs that focus on a single aspect of the Linfield experience, such as the academic experience, student life or the four-year nursing pathway.

During our on-campus programs, additional opportunities to connect with members of the Linfield community will be provided through the exploration fair, other presentations and discussions, facilities and campus tours and lunch.
Linfield Scholarship and Visit Weekend
Join us online for this year's Linfield Scholarship and Visit Weekend.
If you are smart, talented and academically motivated we encourage you to apply. And, if accepted to participate, you'll have the chance to learn first-hand about our outstanding academic and international programs, and our engaging student life and competitive athletic programs. 
Previous Virtual Events and Webinars
Nursing - From Pre-Nursing to Licensure (May 6, 2020)
Covered in this webinar: the four-year, prelicensure program for students who will begin their journey on the McMinnville campus to complete general education and prerequisite courses before continuing to our campus in Portland to conclude their nursing education and clinical experiences.
Academics - A Discussion with Faculty (May 8, 2020)
Covered in this webinar: you'll learn about academics directly from the professors who you will study with while at Linfield. The moderated discussion led by Lisa Knodle-Bragiel, Director of Admission, covered the courses they teach, other areas of involvement on campus, the faculty advising model, our exciting January Term off-campus courses, unique features of a Linfield education, and how hands-on learning is integrated throughout a liberal arts education.
Student Life - Live Like A Wildcat (May 15, 2020)
Covered in this webinar: student life at Linfield. As a residential college, Linfield students are highly engaged on campus in a variety of student activities. The moderated discussion led by Jeff MacKay, Dean of Students, covered all aspects of life outside of the classroom, including athletics, activities, and residence life.
Parents of Future Wildcats (May 21, 2020)
Covered in this webinar: Parents of Future Wildcats were invited to join Lisa Knodle-Bragiel, Director of Admission, and members of the Linfield Parents Council. They discussed what attracted their family to Linfield, advice to help overcome the challenges in the transition process, how to stay connected when students are away from home, and more.